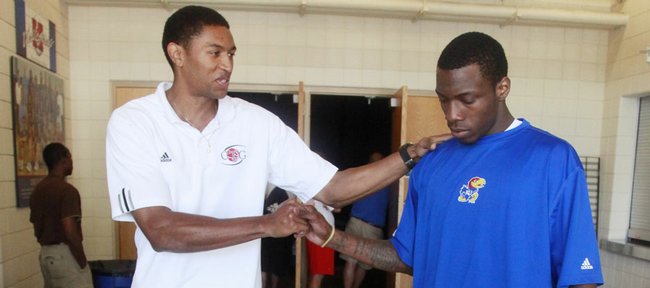 Tyshawn Taylor already has given his first assist to teammate Elijah Johnson.
Taylor, a sophomore from Jersey City, N.J., has agreed to surrender his jersey No. 15 to Johnson, an incoming freshman.
"The number meant more to him than it did me," said Taylor, who will wear No. 10 this season. "It's just a number to me."
For a while, it wasn't easy for Taylor to relinquish the jersey that treated him so well last season.
The story goes like this: Last year when Johnson, a guard from Las Vegas' Cheyenne High, came to KU on a recruiting visit, he asked Taylor about the number's availability.
"It was (KU assistant) coach (Kurtis) Townsend's fault," Taylor said with a smile. "Coach Townsend was like, 'Go ahead and just tell (Johnson) whatever. If he comes, then we'll just give him whatever number.'"
Well, Johnson did commit, and when it came time to decide jersey digits for the 2009-10 season, he phoned Townsend to see if No. 15 was available.
Instead of giving Johnson a "whatever number," Townsend instructed Johnson to call Taylor.
"(Elijah) said, 'Tyshawn, you going to give me 15?' I was like, 'I don't really want to. I don't really want to,'" Taylor said. "But he was like, 'I've never had any other number. That's the only number I like.' I said, 'You know what? You can get 15. I'll take 10.'"
Ten perfect
The switch shouldn't be too drastic for Taylor. He wore No. 10 in AAU games and also through his freshman year of high school.
When he attended St. Anthony High School, though, No. 10 wasn't available, so he switched to 15.
Last year, KU's Brennan Bechard wore No. 10.
"I never really had a specific reason why I liked it. I just always — if anybody asked me my favorite number, it was always No. 10," Taylor said. "That's just been my number ever since I was little."
So who's his favorite all-time player with the No. 10?
"Probably me right now. It's going to be soon," Taylor said with a grin. "Kirk Hinrich had No. 10 here. He's one of the players that pops to mind when you think of No. 10, especially for the university. Overall, I'm not sure of too many players that had No. 10, but I think that's why I like it so much because not too many people have it, and I can kind of set my own path."
Taylor, a 6-foot-3 point guard/shooting guard, ranked third on the team in scoring last season at 9.7 points per game. He also averaged 3.0 assists and 26.5 minutes while shooting 50.6 percent from the floor.
He hopes the number switch might also help him develop his own identity.
"Last year, I heard a lot about being Mario Chalmers, comparing me to Mario Chalmers," Taylor said. "That's cool, a great honor, but I'm not Mario Chalmers. I'm Tyshawn. I want people to talk to me about me."
As for the 6-2 Johnson, Taylor said that some form of reimbursement would be needed in exchange for the jersey number. The two will discuss it more when Johnson arrives on campus later this week.
"It's big shoes to fill — real big shoes to fill," Taylor said of his old number. "(But) I like No. 10. That's always been my number, and I'm just going to roll with that one."
Eager for movie debut
Taylor said he has seen the trailer for, "The Street Stops Here," a movie about coach Bob Hurley and his St. Anthony basketball program.
The documentary was shot during Taylor's senior year at St. Anthony in Jersey City.
"It was funny because we were only seniors in high school, and we felt like celebrities," Taylor said. "Every time we went to an away game, they followed us everywhere."
Hurley in 36 seasons at St. Anthony has a 957-106 record and has won a national-record 25 state championships. Only two of his players in 36 years of coaching have not attended college after graduation.
The movie trailer, which portrays Hurley as a gruff and demanding coach, is mostly accurate, Taylor said.
"He's probably tougher. The trailer gave him a good side," Taylor said. "He wasn't even that bad on the trailer."