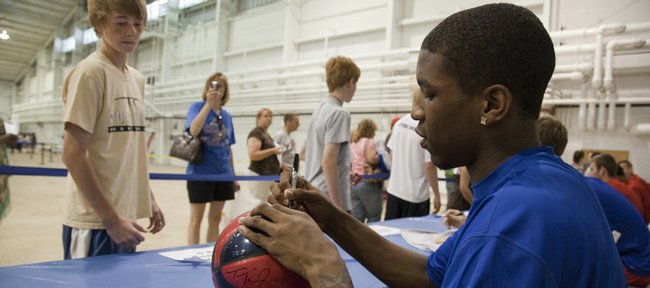 Thomas Robinson had a queasy feeling in his stomach as he waved goodbye to his mom, Lisa, and 6-year-old sister, Jayla Paris, Friday in his hometown of Washington, D.C.
"It was kind of scary. Yeah, it was," said Robinson, Kansas University's 18-year-old incoming freshman power forward from the nation's capital.
He was experiencing firsthand the unsettling feeling of leaving the nest for the unknown of college.
"I'm finally going to college," Robinson said of his thoughts.
The 6-foot-8, 225-pound rebounding machine, who last November signed a letter of intent with KU over runner-up Memphis, has been busy since setting foot in Lawrence on Friday night.
He participated in KU's Elite Camp for high school standouts Saturday. After hanging out with teammates Saturday night, he signed autographs for two hours Sunday — the opening day of the five-day Bill Self basketball camp.
In his other waking hours, Robinson did what most wide-eyed freshmen do in a new environment.
He phoned home.
How much time has he spent cell-phoning loved ones?
"Most of the time," Robinson said with a laugh. "I talk to my mom, a lot of my friends, my brother (25-year-old Jamahl), grandmother, most of my family."
Their message to him?
"That they are proud of me: 'Don't do anything stupid. Stay out of trouble. Keep working hard,''' Robinson related.
Spreading out in his own Jayhawker Towers apartment has been nice, he admits, but he sure won't complain when roomie Elijah Johnson of Las Vegas arrives later this week.
"I can't wait until he gets here … (to) have some company," Robinson said.
As the first of KU's newcomers to arrive for summer school, he has done more observing than talking.
"I'm getting to know the campus better, getting to know my teammates better. I'm not going to feel like a freshman. I've fit in with the guys right away," he said.
Robinson, who averaged 16 points, 13 rebounds and five blocks a game last season at Brewster Academy in Wolfeboro, N.H., already has impressed one of KU's older players — junior pivot Cole Aldrich. Robinson held his own in scrimmages at Saturday's Elite Camp.
"He's going to be really good. He's really quick, has unbelievable bounce, has good post moves. He's really strong," said Aldrich, who will be a big brother of sorts to Robinson in coming days.
"When you first get here, you don't really know what to expect," Aldrich said. "That's where the 'scared' (feeling) comes from. You've just got to embrace everything that comes forth from here on out because it (college) is a blast.
"We are a family," Aldrich added. "There are things we are probably not going to tell him, or exaggerate a little more. We've got Boot Camp. Boot Camp ... nobody makes it through. We'll exaggerate stuff like that. We'll embrace him. We're excited for him to be here and the other guys to get here."
Robinson tried to be the ultimate team player at the Elite Camp.
"I didn't try to do too much. There were a lot of other (visiting prep) players trying to get their looks. It was pretty much going with the flow kind of thing," Robinson said. "There were a lot of D-One players at the camp, a lot of talented players. It felt good knowing I was playing against other high school competition, but also good to know I'm out of high school and will enjoy competing on the college level."
What will he bring to KU's practices and games his freshman season?
"Defense, rebounding, hard playing, not taking a play off. I'm going to bring energy when I'm out there," Robinson said.
The 2009-10 season is still a long way off. For now, he's working Self's camp and preparing to take a sports psychology class in the first session of summer school.
"Taking the class will help me get mentally stronger for the sport I'm in and also build my confidence up," Robinson said.
His family will be there if needed. His mom said Sunday night she plans to talk to her son once in the morning and again late at night.
"To say prayers together," Lisa said of the pre-bed conversation. "It's sad he had to leave home. I miss him, but I'm more happy for him. He's happy. He's excited. He's where he wants to be."
The family will have an official party for Thomas and other Robinson relatives in a month or so.
"We'll have a big cookout, one more family get-together for Thomas and some nieces and nephews going to school, too. Everybody's proud of them," Lisa said.