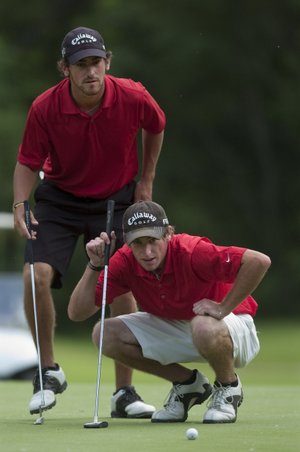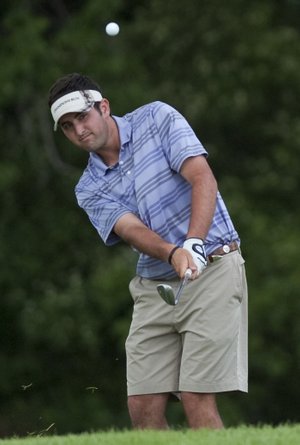 He makes his living in the insurance business, not on the golf course, but Topekan Gary Lucas might have had a difficult time convincing anyone of that Friday morning when he tore through the front nine of Alvamar public as if it were an executive course designed to build the confidence of beginners.
Lucas' super-hot start more or less made it irrelevant what sort of day the other three golfers had in the Masters Division title match of the Kansas Four-Ball Championship.
Lucas and Mike Grosdidier, a Baldwin City resident who has a Lawrence insurance business, defeated dentist Michael Rack of Lawrence and Mark Steiner of Wichita, 5 and 4, to take home the title.
In the Open Division, a pair of Kansas State golfers, brothers Curtis and Kyle Yonke, defeated Kansas University golfers Bobby Knowles and Andrew Storm, 1 up, in the title match. The Yonke brothers' grandfather, Jim Colbert, was an eight-time winner on the PGA Tour and a 20-time winner on the Champions tour. Representing Kansas State, he finished second in the 1964 NCAA championships.
Nobody in either division had a more impressive day than Lucas, 43.
On his own ball, Lucas birdied five of the first seven holes and shot a remarkable 31 on the front nine.
"Every iron he hit was at the pin," marveled Rack, a three-time club champion at Alvamar Country Club and two-time Nebraska state amateur champion. "Every drive was in the middle of the fairway. Gary's always been a good putter, and he sure put on quite an exhibition today."
The title gives Lucas exempt status for the Kansas Amateur Match Play Championship at Kansas City Country Club (July 27 to August 2). Grosdidier already had earned that by virtue of being the state's Senior Amateur of the Year.
"I was Driving Miss Daisy the front nine," Grosdidier said. "You just point him in the right direction, and he was going. We've played a lot of tournament golf together, and this was the best I've ever seen Gary play."
Interjected Lucas: "It might have been the best nine holes I've ever played."
Lucas had to be told what he scored on the front nine.
"When you start making 'em, you try not to count them" he said. "You can get out of your comfort zone in a hurry. I just tried to line them up and swing at the target."
Based on reviews from the golfers, Alvamar public also was a big winner this week.
"Alvamar's always in good shape, unless Mother Nature has a different idea, but it's been a pretty good spring," KGA executive director Kim Richey said. "I hear the golfers talking about the greens being in great shape, both true and fast, and that's what we like to hear. Overall, the zoysia fairways are fabulous. This is one of my favorite tracks in the whole state."
Richey is in agreement with most golfers in believing one course flaw could be corrected by moving the No. 14 tee box back and to the right to create a better angle for drives.
One of the stroke-play qualifying rounds was played at Alvamar private, the other at public. All matches were at the public course, and the condition of the course was ideal for scoring, according to several golfers.
"The maintenance has just been unbelievable," said Grosdidier, who has played at Alvamar public since its birth in 1968. "The greens here are the best they've been in years. You put it on line, it stays there. If you miss it, it's you."
Said Lucas: "The greens here are true but tricky. I have trouble with uphill and downhill sometimes. The conditions were perfect. These guys do such a good job here. It was a great speed, especially today since the ball kept running in the hole."
Note: Grosdidier wanted to make it clear that contrary to urban legend, while officiating a JV game between Baker University and Kansas University, he did not eject John Calipari from the game, but merely whistled him for a technical foul. "Pretty soon the story will get so big it will be that I ran him from the national championship game," Grosdidier joked.
More like this story on KUsports.com