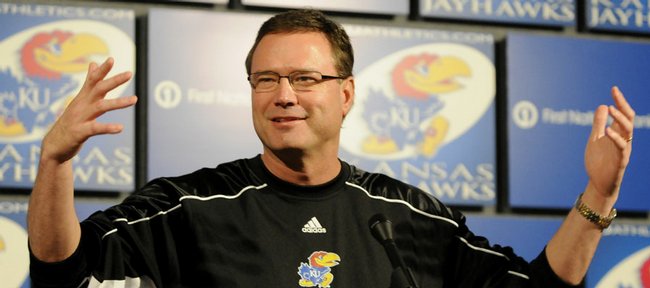 More than 50 high school basketball players from 15 states will attend Bill Self's Kansas University Elite Camp today and Saturday on KU's campus.
One of the most accomplished campers of the bunch happens to be a Kansan.
He's Wichita Heights sophomore Perry Ellis, a 6-foot-8, 215-pound forward who last spring as a freshman led the Falcons (24-1) to their first state title since 1977.
Ellis — he already has received scholarship offers from KU and Memphis and is being hotly pursued by North Carolina, Kentucky, Oklahoma and many others — averaged 19.2 points, 11.7 rebounds and 1.3 assists and shot 61 percent in becoming the only freshman in the country to earn state Gatorade Player of the Year honors.
The consensus first-team all-stater scored nine points and grabbed 20 rebounds in Heights' 73-58 Class 6A title-game victory over Wichita Southeast on March 14 in Emporia.
Ellis, who attended several KU games on unofficial visits last year, respects KU's coaches and players so much, he'll attend one day of Self's Elite camp before beginning USA Basketball Developmental National Team tryouts on Saturday in Colorado Springs.
"He has to be at the Olympic Training Center at 10 a.m. To get there, they'll drive all night from the KU camp," Ellis' mom, Fonda, said of Perry and his Kansas Players-Cowboys AAU coach, Steve Young.
"He promised KU's coaches he'd do the camp. To do both, that's the only way."
Ellis attended KU's Elite camp last year as well.
"They had him playing with the big guys as an eighth grader. They split it (camp) into two groups. It was pretty amazing he got to play with them," Fonda Ellis said.
Ellis, who recently competed at AAU tournaments in North Carolina, Norman, Okla., and Manhattan, also will attend the Vince Carter camp June 23 in Orlando, Fla.; the LeBron James camp, July 5 in Akron, Ohio; and, if he plays well at the James camp, might garner an invitation to the Nike Global event in August in Oregon.
That's a lot of basketball for the 15-year-old prospect, who will represent the U.S. in the Under 16 World Championships in July in Argentina, if he survives cuts in Colorado.
"I gave him Monday, Tuesday and Wednesday off," Fonda Ellis said Thursday, speaking from a gym in Wichita. "He's practicing tonight. We've got to give him some fun things to do. He likes Xbox. He went to the mall yesterday. We've got to be careful not to overdo it."
Ellis loves life in the gym.
"He's constantly working on his game. Since September of last year, he's gained 32 pounds of muscle," his mom said.
Ellis — who recorded a 4.0 in the classroom his freshman year at Heights — is in no hurry to pick a college, not with three years of high school left.
"He's just enjoying it right now and not ready to make a decision," Fonda said.
Asked specifically about KU, she said: "He likes KU. He went to Late Night in the Phog two years in a row. He was at the (national title) ring ceremony. Not many people get to go to something like that."
Here are some of the highest-rated players in town today for Self's Elite camp, which is closed to both the media and public.
Kyle Collinsworth, 6-5, 195, Sr., Provo (Utah) High; Luke Cothron, 6-8, 210, Sr., Flora MacDonald Academy, Red Springs, N.C.; Austin Hollins, 6-3, 1709, Sr., Germantown (Tenn.) High; Lonnie Jackson, 6-3, 165, Jr., Valencia (Calif.) High; Christian Kirk, 6-7, 195, Jr., St. Charles (Mo.) West; Keaton Miles, 6-6, 170, Jr., Dallas Skyline; Shabazz Muhammad, 6-3, 170, Soph., Las Vegas Bishop Gorman; LeBryan Nash, 6-7, 212, Jr., Dallas Lincoln; Marcus Paige, 5-10, 140, Soph., Linn Mar Community, Marion, Iowa; Benny Parker, 5-10, 160, Soph., Kansas City Sumner; Jabari Parker, 6-3, Fr., Chicago Simeon; Zach Peters, 6-7, 203, Soph., Prestonwood Christian, Plano, Texas; Trevor Releford, 5-11, 170, Sr., Roeland Park Bishop Miege; J.P. Tokoto, 6-5, 165, Soph., Menomonee Falls (Wis.) High; Josiah Turner, 6-3, 175, Jr., Sacramento (Calif.) High; Dominique Wilson, 6-8, Soph., Kansas City Washington; Kyle Wiltjer, 6-9, 200, Jr., Portland (Ore.) Jesuit, Devonta Abron, 6-6, 170, Jr., Dallas Seagoville.
More like this story on KUsports.com