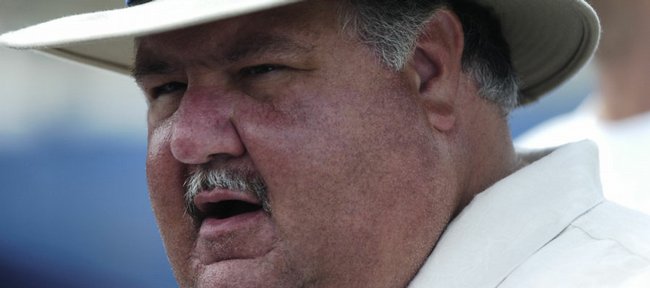 The Phil Steele preseason college football magazine hits the stands next week and consider yourself warned, fans of Kansas University football: You're going to see the same color your favorite players see when they look into the stands during football games in Lincoln and Norman.
Steele bills his product as "the most accurate preseason magazine in the last 10 years!"
That doesn't mean all of his picks are right. Nobody's that good. In fact, one of his picks in this year's magazine is outrageously off base; so off base most KU football fans likely will wait for the release of Lindy's to begin digesting the outlooks of 2009 college football teams.
Here goes: Steele picked Kansas to finish fourth in the Big 12 North. That's right, fourth!
Memo to Steele: These aren't the Jayhawks with block lettering on the sides of their helmets. These are the Trajan font Jayhawks. The Jayhawks of seniors Todd Reesing, Kerry Meier and Darrell Stuckey. Seniors have a way of making it happen and these guys have played like veterans since they stepped foot on campus. Sure, the schedule is particularly brutal, but fourth place? In the North?
Steele picks Nebraska first. Nothing outlandish about that selection. The Cornhuskers controlled both lines of scrimmage in the KU game in Lincoln. The Cornhuskers have size and speed and a tremendous home-field advantage, though their game against KU is in Lawrence this season, reason enough to make Kansas an even better pick for first place than Nebraska.
Anyone who cries foul with anybody picking either KU or the 'Huskers to win the North thinks with his or her heart. It's where Steele goes from there, namely off the deep end, that will draw the ire of local football fans.
Steele has Colorado and, get this, Kansas State tied for second place.
Dan Hawkins built a juggernaut at Boise State and based on that it's easy to project that he'll do the same at Colorado, if he can convince recruits that the students will come down off the slopes and support the football team in a big way once he puts a powerhouse product on the field. But better than Kansas now?
Bill Snyder II doesn't have to be as remarkable as Bill Snyder I for the Wildcats to become a contender, but to think that will happen in the first year after Ron Prince would be to believe luck had anything whatsoever to do with Lawrence High's state-championship baseball team's 9-0 record in one-run games. The best indicator of a team's balance, pitching depth, unity, toughness and ability to perform in the clutch is its one-run record.
OK, enough baseball talk. Back to football.
The gargantuan advantage KU has at quarterback over the rest of the North teams is enough to make the Jayhawks the team to beat.
Joe Ganz is gone for Nebraska. Dual-threat Zac Lee leads Cody Green and Latravis Washington in the competition. Smart money says runner-extraordinaire Daniel Thomas will beat out Carson Coffman at K-State. Neither Cody Hawkins nor Tyler Hansen of Colorado approaches Reesing in ability.
What do Lee, Green, Washington, Thomas, Coffman, Hawkins and Hansen have in common? Given the choice, I'd take Meier to quarterback my team over any of them. Instead, Meier will catch Reesing's perfect strikes. Advantage Kansas.
More like this story on KUsports.com