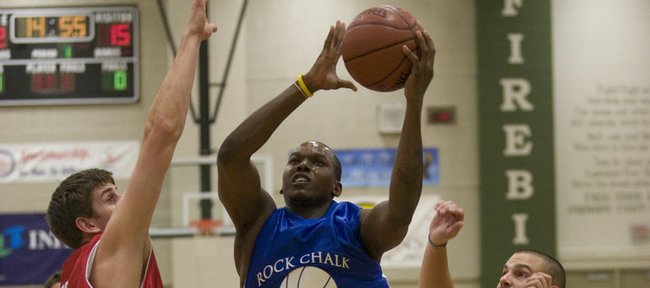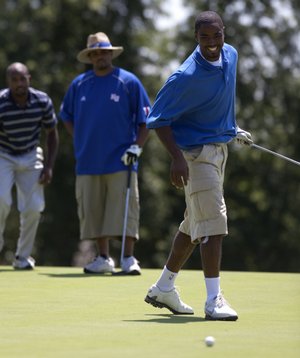 Basketball notes compiled on a gorgeous, sunny, mid-80 degree Friday at Alvamar Public Golf Course, site of Mario Chalmers' inaugural National Championship Golf Classic. ...
• Russell Robinson, who played well for the Orlando Magic NBA summer league team in July, has accepted an invitation to attend the preseason camp of the Cleveland Cavaliers.
Robinson, starting point guard on Kansas University's 2008 national championship team, said he also had received a veterans camp offer with the Magic.
"The situations are very similar," Robinson said of Cleveland and Orlando. "Both teams need a third point guard. Being able to play with Shaq (O'Neal), LeBron (James) and Darnell (Jackson), of course, you can't go wrong with that."
Robinson said there's still a chance he could end up in Orlando's veterans camp, but for right now "I decided with Cleveland." He said the Cavaliers would probably bring him in for workouts in August or September with vet's camp in October.
• Robinson now has played golf twice in his life.
"The first time was in Steve Vinson's backyard somewhere around here," Robinson said of the former KU walk-on guard.
Will Robinson ever take up golf? "Probably when I get older. It's an old man's sport I heard," he said with a laugh.
• Robinson was in New York earlier this week, "with my family, working out there, back in my old grounds. I came out for this. Anytime you hear the guys will be back, I don't want to miss out. I like it here. It's my second home. Anytime I can get back, that's good."
• Mario Chalmers, who held a camp for 130 youths in Salina earlier this week, will hold a camp Aug. 13-17 in his hometown of Anchorage.
"The camp in Salina went well," said Chalmers, who is committed to holding a benefit golf tournament in Lawrence every year.
"This means a lot to me, shows a lot of people still care. Diehard KU fans always want to have you back and support you."
He was happy to see Robinson, former KU guard Aaron Miles and all of the coaches from the '08 title team at the tourney, but missed Darrell Arthur and Darnell Jackson, who had to back out at the last minute.
"Like anything else, I got some phone calls yesterday," said Mario's dad, former KU director of basketball operations Ronnie Chalmers. "Darrell called and said, 'My team said I had to go to Las Vegas for the weekend (big man camp). Darnell called and said he was ready to get on the plane to come to Kansas and Danny Ferry (Cavaliers GM) called and said, 'You've got to go to Vegas.' He (Jackson) was upset. Brandon (Rush) had to go to China to play in Basketball Without Borders and Sasha (Kaun) is with the Russian international team. The guys are excited about coming back. They are rookies now with a lot of responsibilities. If not this year, they'll all be back next year."
• KU athletic director Lew Perkins was happy to be a part of the tournament.
"Mario has a very special place in everybody's heart," Perkins said. "I love the fact Mario and his family chose to do something like this (have tourney to benefit Chalmers' foundation). I think it's awesome to have that happen.
"Anytime we can play for any foundation, I think it's important. Plus I said to somebody, 'Whoever planned the weather for today ... I've got seven days in the fall I need to be the same,''' he cracked, wanting great weather for KU's home football games.
More like this story on KUsports.com