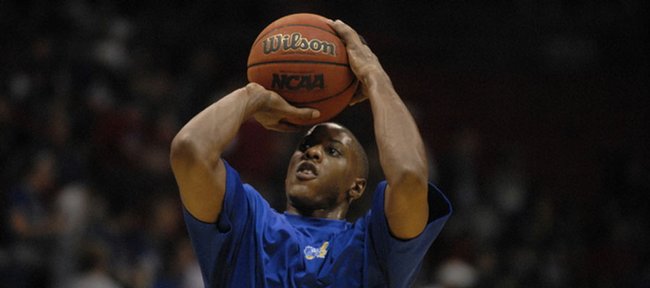 Mario Chalmers, who hit the biggest shot in Kansas University history, did so on the basketball court — not the golf course.
"I do a little putt-putt, not much else," said former KU guard Chalmers, confessing he's not much of a linksman heading into today's first National Championship Golf Classic, set for a 1 p.m. shotgun start at Alvamar.
"I've been practicing a little bit," added Chalmers. "I'll mostly interact with the people, take some pictures, take a couple putts."
Most of Kansas University's basketball players and coaches from the 2008 NCAA title team will participate in the fundraiser, which includes a dinner banquet. Two '08 champs who won't be here are Brandon Rush, who is playing basketball in China as part of the Basketball Without Borders program, and Sasha Kaun, playing with Russia's national team overseas.
Chalmers — who hit the three-pointer that forced overtime against Memphis in KU's '08 title victory — chuckled when asked what it'd take to make today a successful day.
"If I hit a hole-in-one," Chalmers said, adding, "It'll be a good day if everybody has fun. We're all out for a good cause."
The cause is the "Mario V. Chalmers Foundation," that cites as its mission to "create and support community based programs that encourage the positive development of youth through sports and education and fund initiatives for breast cancer research and treatment."
Mario's dad, former KU director of basketball operations Ronnie Chalmers, explained the inspiration behind the foundation.
"It's something Mario wanted to do when he decided he wanted to be an NBA player," Ronnie Chalmers said of Mario, who just completed his rookie season with the Miami Heat. "He wanted to start a foundation, to do it in honor of a close friend who died his sophomore year at KU."
That person is Pauline Peterson, mother of one of Mario's YMCA and AAU teammates — Paul Peterson of Anchorage.
She cheered her son and Mario as they grew up playing basketball.
"She was like a second mom to Mario," Ronnie said of Pauline, who died after a battle with breast cancer. "My wife and she were good friends. Mario decided his foundation would be to support awareness and cure for breast cancer along with youth initiatives to make kids aware of making the right choices on and off the court."
Mario added: "I am very happy to give back. This is a great opportunity, something I always wanted to do, especially in the name of Mrs. Peterson. This is a great way to kick it off."
Chalmers had success on the court during his 2008-09 rookie campaign. Starting all 82 games during the regular season and seven playoff games in a first-round loss to Atlanta, the second-round draft pick averaged 10.8 points with 4.9 assists, 2.8 rebounds and 2.0 steals per game.
He set a team record with nine steals against Philadelphia back in November.
"I'd say the highlight of my season was breaking the steals record," the 6-foot-1 Chalmers said. "It was just like college, still playing the lanes, getting ready for the offense."
Of his starting role on the team, he said: "It was not given to me. It's something I worked for. For my second season I need to improve, get more comfortable with the game and teammates, know the system better and keep finding my way."
Chalmers said he has enjoyed playing in Miami thoroughly.
"I love it there. It's a great place and great fit for me," he said. "I think we'll definitely be back in the playoffs next year and win a lot of games."
He also loves Lawrence and never tires of talking about "the shot" and KU's NCAA title.
"It's still vivid in my mind. We've got pictures hanging up in the house," Chalmers said. "We talk about it. Now it's on to bigger and better things, trying to win the NBA championship now."
Mario's parents still own a house in Lawrence.
"It's on the market," Ronnie said, noting, "we are back and forth, probably 70 percent of the time in Miami and 30 percent in Lawrence. We'll always be part of the Lawrence community, especially now with the establishment of this foundation. We wanted it based out of Lawrence. Lawrence is embedded in our lives forever."