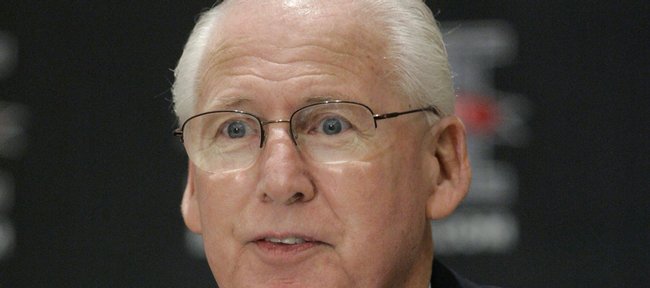 Irving, Texas — The meeting was held in the old Big Eight Room on the Kansas State University campus, a fairly primitive enclave with a concrete floor and a number of folding chairs that — on this day — were filled with 22 departing senior football players.
It was 1989, and Bill Snyder, the new head football coach of the laughingstock Wildcats, had asked the players to meet with him for a kind of exit interview. He wanted to know what their experiences had been under the old regime. What it was like for them to suffer through two straight winless season. What they felt could be done to turn the tide of a program that had managed one winning season in the previous 18 years.
And for the next hour or so, that's exactly what he got.
One by one, the players spoke their minds. They talked about the humiliation that came with constant losing. How they were too embarrassed to go to Aggieville, the town's bar district, following games. Or wear their letterman's jackets on campus. Or go to classes the week after an especially lopsided loss.
"(The losing) had really impacted them in so many ways," Snyder said. "And that was unfortunate."
So Snyder set out to make sure none of his players ever felt like that again.
'Things have changed'
Twenty years later, the state of affairs in Manhattan is a far cry from what it was two decades ago — and, thanks to Snyder's initial turnaround efforts, most likely never will regress that far again.
But after a string of subpar seasons, a three-year experiment with a coach who never quite won over a passionate fan base hungry for a return to the glory days and a recent and public scandal that involved secret payments within the athletic department, things aren't exactly rosy, either.
"Certainly, things have changed dramatically (since '89)," Snyder said Wednesday, during Big 12 Media Days outside Dallas. "But there's a lot of similarities, I think, as well."
To start with, it wasn't boredom that brought Snyder back. He wants you to know that. Shortly after he announced his retirement, he got a call from Penn State's Joe Paterno. Paterno, who very well could go down as the sport's winningest coach, pointed out the number of Little League games Snyder now would be expected to attend. He then explained how those games would last seven innings apiece and how the final scores, at that age, would be in the neighborhood of 35-33.
"How many of those are you going to be able to handle?" Paterno asked.
Snyder chuckled, but in the end, he never did get tired of the family stuff.
No, what brought him back was something else altogether. A sense of duty, perhaps, to help salvage the program he and his staff had built through pain and sweat and 17-hour work days. The desire to come to the aid of a town that had embraced him so thoroughly.
"Primarily," Snyder said, "it had to do with the people of Kansas State, the tremendous support people that we have, K-State Nation, so to speak.
"Our football family."
A new Snyder?
So he's back now, in a conference that has undergone some significant changes since he last stalked its sidelines, and already there are signs of change, of a more tightly run ship.
Multiple players, including talkative receiver/returner Deon Murphy, have moved on since the coach's return.
While meeting with members of the media this week, players wore suits — a contrast to the more casual polo shirts sported by other teams.
Even the dialogue seems different — no comments like the ones issued before last year's Kansas game, in which players openly questioned the Jayhawks' heart and Murphy famously stated that KU coach Mark Mangino would wish he'd recruited all of Kansas State's players following the conclusion of their upcoming game (which Kansas went on to win, 52-21).
At the same time, there are indications that this is a kinder, gentler Bill Snyder.
After informing players recently that they wouldn't be allowed to wear earrings in the team's football complex, for instance, he added that he, too, would abide by the rule if he ever decided to pursue a piercing.
"But (he said) he doesn't wear them because he can't find a pair that he liked," tight end Jeron Mastrud said.
"He's a lot sharper than you think," added Mastrud. "People want to say he's old — yeah, he's older, but an old coach can still coach."
An old coach can also keep up in a digital world, apparently.
Though he still considers himself a "hard-copy kind of guy" — a title that surely served him well following a recent incident in the football offices, in which a KSU server crash resulted in staff members losing the contact information for various recruits — he has picked up a BlackBerry and become adept enough with it to read through the 250 e-mails or so he receives each day.
"I get up every morning early in the morning, and you get this BlackBerry thing out, and it's got all the recruiting services (on it), and they each have a long story on every youngster that is above the age of 4 in the nation," Snyder said. "Tells you what he had for breakfast and what position he plays and who's recruiting him and so on."
Still, he says, the quickening pace of the game — and in this case, pace refers to the immediate nature of the recruiting process — makes him a bit uneasy.
Currently, the Wildcats have offered approximately 130 recruits scholarships and have between 15 and 17 commitments. Which means that young guys — young guys that haven't even begun their senior year of high school, haven't really proven themselves for an extended period of time — are already a part of the Kansas State program.
"It's a little frightening in that respect," he admits.
His disciples, however, many of whom now lead Big 12 teams, have had little trouble adjusting to the new way of doing things, and this week, as they gathered in Irving, they had little concern that having Snyder in their conference would make their lives a bit more difficult this season.
Said Mangino of his team's Nov. 7 game with the Wildcats in Manhattan, "It'll be the first time I'll ever coach a game where the highway leading into town is named after the opposing coach and the stadium you're playing in is named after the opposing coach."
To be perfectly honest, Snyder doesn't know how the story will end, so to speak, any more than he did 20 years ago, sitting with 22 departing seniors before building a dynasty where no one thought a dynasty could be built.
Maybe things will work out. Maybe he'll buck the trend of coaches who have come back to coaching after retirement, only to fail to match their previous success.
Then again, maybe he won't.
In the end, that's not necessarily the point.
"You know, what the outcome will be, I have absolutely no idea," he said. "But, you know, if we can — and I've said this so many times — if we can settle the waters, it will have been worth the effort."
More like this story on KUsports.com