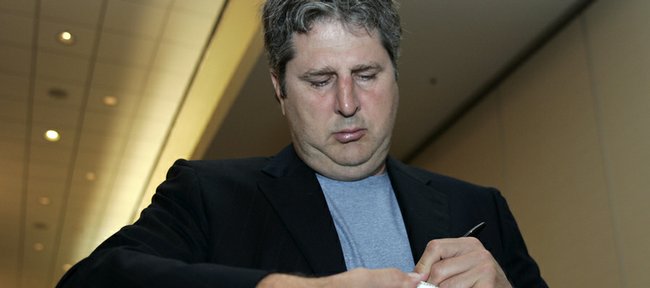 Irving, Texas — It's one of the most disputed topics in the sports world today: The Bowl Championship Series.
Fans, coaches, columnists, bloggers, Congress and even President Obama have voiced their opinions for and against the system decided by polls and computers that determines college football's national championship.
Mark down Texas Tech coach Mike Leach as someone who's undoubtedly against the BCS.
"I think the bowls need to be an important part of a future playoff system, which I hope comes about. I don't know if it will," Leach said on Wednesday, the final day of Big 12 Media Days. "There's a lot of 'Oh my God, this has never been done, we've never heard of such a thing.' There ain't nothing unique about what I'm saying. I'm the mainstream. This other system (BCS), that's what's not mainstream. The mainstream is everybody has playoffs that involves a lot of teams. None of this let's have four (teams), and play one or any of that crap."
Texas Tech was involved in the BCS madness last year when it finished conference play 7-1 and in a three-way tie with Oklahoma and Texas. The Red Raiders never seemed to be seriously considered to represent the South in the Big 12 Championship game, due to the 65-21 waxing they took at Oklahoma on Nov. 22, 2008.
"The truth of the matter is if we lost to Oklahoma the second game of the season instead of the second-to-last game of the season, we would have gone to the championship game," Leach said.
So what's the solution?
Leach said he'd cut the regular season from 12 to 10 games, and have a 64-team playoff, where the national champion would end up playing 16 games. A reporter immediately laughed after the 10th-year coach's suggestion.
"You see this guy (reporter) here?" Leach asked during a laid-back interview with reporters that invoked laughter on several occasions. "What, I'm not off the mark here. You're off the mark. Everyone else does it this way. Hey, Texas high school football champion: 16 games. Division II champion: 16 games. Division III — well, depending, because some of those guys will fudge on a game — 15 or 16 games. NFL, the old guys? Even more than that. Everybody thinks that I went into a cave and carved all this out."
The BCS has crowned a champion since the 1998 season.
Texas Tech is coming off an 11-2 season, considered one of the best in school history. The Red Raiders lost to Mississippi, 47-34, in the Cotton Bowl.
Most pundits are predicting Tech to finish next year fourth in the rugged South division. Quarterback Graham Harrell and Michael Crabtree are no longer in Lubbock, and Oklahoma State is expected to challenge Oklahoma and Texas in the South.
More like this story on KUsports.com