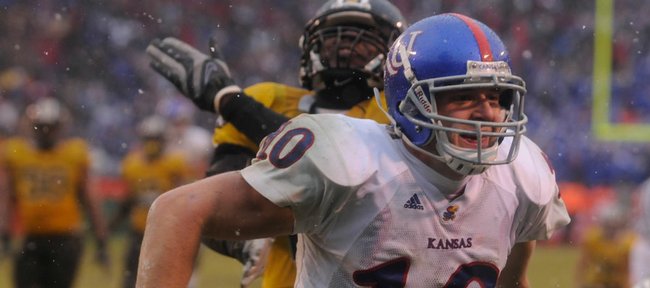 Irving, Texas — Missouri offensive lineman Kurtis Gregory flipped through some television channels this summer while relaxing at his home.
It's fair to say he wasn't fond of what he was watching.
The opponent: Kansas University, the Tigers' biggest rival. The date: Nov. 29, 2008. The location: Arrowhead Stadium in Kansas City, Mo. The result: Kansas 40, Missouri 37, thanks in large part to an improvisational gem of a pass from Todd Reesing to Kerry Meier on 4th-and-7 with 27 seconds left.
"You talk about just being frustrated for the last two weeks just having to watch that over and over," Gregory said on Tuesday at Big 12 Media Days.
It could be said Missouri underachieved last season. The Tigers were ranked No. 6 in the country to start the season, but finished the year at 10-4 (5-3 Big 12) with an ugly victory in the Alamo Bowl. The Tigers lost two of their last three games.
"Props to Kansas because they came out, were on top of everything and played a great game," Gregory, a senior right guard, said. "We didn't come out and get the job done and I think that's the most disappointing thing. It's like, 'Man, we could have done so much better.'"
Was the loss more frustrating because it came against KU?
"Oh, definitely," Gregory said, laughing. "Oh yeah."
The Tigers have reason for optimism this year, despite having six players selected in April's NFL Draft, more than any other Big 12 team.
• Derrick Washington returns at 100 percent after a sophomore season of rushing for 1,036 yards and 17 scores on a hurt left knee. Sophomore back De'Vion Moore is also ready to make immediate impact.
"I think it's probably the best one-two punch we've had at the running back position since we've been here," ninth-year coach Gary Pinkel said. "That will be significant."
• Sophomore quarterback Blaine Gabbert isn't nearly as experienced as the departed Chase Daniel. But at 6-foot-5 and 235 pounds, Gabbert's more physically gifted and possesses a laser-beam of an arm. Working against Gabbert will be the losses of Jeremy Maclin and Chase Coffman, who accounted for 192 of the Tigers' 404 catches (47.5 percent) last year.
• On defense, the Tigers return preseason All-Big 12 linebacker Sean Weatherspoon, who finished with 155 tackles last year, good for second most in Missouri single-season history. He intercepted three passes and returned two for touchdowns.
"I think Sean Weatherspoon without question, I think if he's not the best linebacker in the country, show me someone who's better," Pinkel said.
And, well, he can hit. Hard.
"They put a device in his helmet (last year) so when he hits, it records how hard he's hitting," MU defensive lineman Jaron Baston said. "He hits very hard. He doesn't care who you are. I remember it was maybe a year, maybe two years ago, his best friend, Kevin Rutland, was on the scout team offense (at quarterback). He knocked him out and messed his hip up for like a week."
• And finally, there's no clear-cut favorite in the North this season. Nebraska and Kansas are expected to battle for the rights to play for the Big 12 Championship in Arlington, Texas, but Missouri has represented the North the past two years.
If the Tigers are going to make it three years in a row, they will likely have to beat the Jayhawks on Nov. 28 at Arrowhead Stadium. That may also be the only way to erase the bitter taste from last year's loss.
"The Texas game was embarrassing (56-31 loss in Austin last season), but the KU game hurts the worst because you know you should have won, and you know if you did one extra thing that you would win," Baston said. "It hurts and at the end of the day, that's what happens and you have to move on and get ready for the next season."
More like this story on KUsports.com