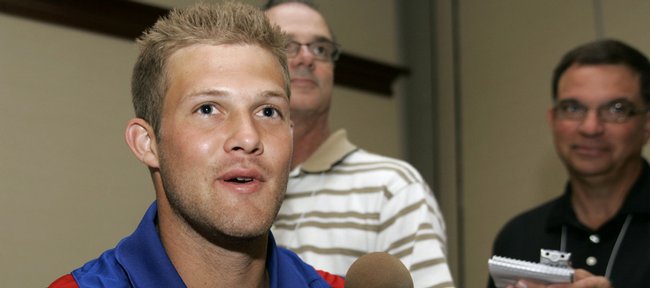 Irving, Texas — When you have been playing football at Kansas University for three years, as Jayhawks quarterback Todd Reesing has, you learn to temper your expectations in matters of media affection.
And so, when Reesing was asked during Tuesday's Big 12 media day whether he was surprised the Jayhawks weren't picked to finish first in the conference's North Division despite a promising roster of returning players, his answer was an unequivocal "No."
"After being here for a couple of years at Kansas, you start to accept the role of underdog," said Reesing, smiling. "And you realize that you're probably not going to get picked for anything."
As usual, expectations — at least those outside Lawrence — are modest for the Fighting Manginos on the eve of 2009. If recent media projections come to fruition, the Jayhawks will turn in a second-place showing in the Big 12 North. Nebraska will advance to the conference's championship, and the Jayhawks will get an extra week of rest before heading off to their designated bowl game.
Of course, Kansas' players point out, that's if those projections come to fruition.
Despite their unencouraging views, the preseason prognosticators have done little to rattle the collective focus of a team that — with the return of 15 starters, including nearly every offensive skill position player — has determined that nothing less than a Big 12 North title will do.
From the moment the Insight Bowl concluded last New Year's Eve in Arizona — literally, while players were still on the field — talk was immediately centered on the team's quest to advance to December's conference championship in Arlington, Texas.
And in the months since, that goal has become well-entrenched within the program's collective consciousness.
"Daily," said senior receiver Kerry Meier, asked how often the North title comes up. "... We emphasize the whole offseason program toward winning the North. Not necessarily just getting to the (conference championship), but winning (it). It's something that we've bought into daily."
Everywhere you look this offseason, that goal is evident.
On T-shirts. On posters. On billboards overlooking I-70, alerting a steadily growing fanbase that, in 2009, "History Awaits". And while "history" in this case is not overtly defined, it is safe to assume that given their singular focus this offseason — as well as Mangino's well-documented desire to "compete for championships" — it is in reference to a first-ever outright North crown.
"It's one of our slogans every day," said senior safety Darrell Stuckey, a preseason all-Big 12 selection. "We see it everyday on the wall or on the T-shirts. I think it's one thing we know we have to do to really establish ourselves as a top tier program in the Big 12 North."
On Tuesday, Mangino was asked about his team's perceived "window of opportunity." With a senior class as talented as any in recent memory and a once-in-a-generation quarterback who'll be playing his final season of college football, now — it was suggested — is the time for the Kansas Jayhawks.
And it is with this mentality that the team enters an '09 season it is convinced has the potential to be special.
"This year, we can honestly say we have a legitimate shot to win the North," said Meier. "And we're excited to get out and try to do it."
More like this story on KUsports.com