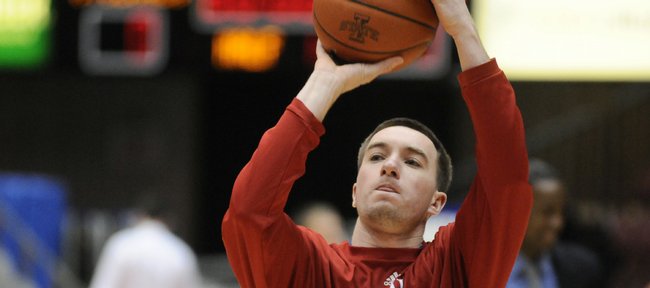 Brady Morningstar, who has spent a vast majority of his life in Lawrence, decided to check out another part of the country this summer.
"A lot of the guys on the team get to go home once in a while. I stay in town for the holidays. Summer's a good time for me to get out of Lawrence," said Kansas University junior basketball guard Morningstar, in a phone interview Monday from San Francisco, where he has been working out with college and NBA players since July 6.
The Bay area is where former Kansas University assistant and NBA head coach Bob Hill — as well as trainer Frank Matrisciano — run summer workout sessions.
It's a grueling five-day-a-week schedule for Morningstar, who is living in a 10-story apartment building in downtown San Francisco.
"There's 19 guys here. We get picked up at 7:15 (a.m.) and go to the gym," said Morningstar, who is joined by the likes of the Boston Celtics' Gabe Pruitt, New Orleans Hornets' Hilton Armstrong and Denver Nuggets' Nick Fazekas, as well as Kentucky's Patrick Patterson and Daniel Orton, Cal's Patrick Christopher and others.
"Coach Hill puts us through skills workouts. There's some up and down stuff. We do it two hours.
"We take a break, then at 3:15 (p.m.) we go do a workout outside in San Francisco with coach Matrisciano, whether it's running hills or stairs or going to a playground and working on pullup bars or pushups. It's all about mental toughness with him. Your body will think it wants to shut down, but you can push through it."
The summer Boot Camp also includes two nights of pick-up basketball action, where the 6-foot-3, 190-pound Morningstar has seen improvement in his game.
"We play four, 12-minute quarters with a 24-second clock. Coach Hill likes to put us through an NBA-type game," Morningstar said. "I've been playing point guard to work on my ballhandling. It's a part of my game I need to improve, seeing the floor and creating shots for others. We've got a lot of scorers on our (KU) team this year. I need to get them the ball.
"This is a big year for me and everybody else on the team. There are big expectations. I have something to prove. I had an OK year last year. I expect more out of myself so I'm trying to improve this summer."
He says he hasn't weighed himself in a while, but drinks protein shakes after his afternoon workout and before going to bed and knows he's put on some "good weight and muscle."
Morningstar says he's completely recovered from June 9 surgery to repair a stress fracture in his right foot.
"I made a quick recovery from the surgery," Morningstar said. "The main deal with surgery is the healing process for the wound. That's why I was on crutches. We have such a good staff at Kansas. They know what they are doing."
As far as fun in 'Frisco, Morningstar, who will return to Lawrence in a week or so, recently took a personal tour of the city — by air.
"It's a cool city," he said. "I don't know if I'd ever live out here, but would come out for a long extended workout or vacation."