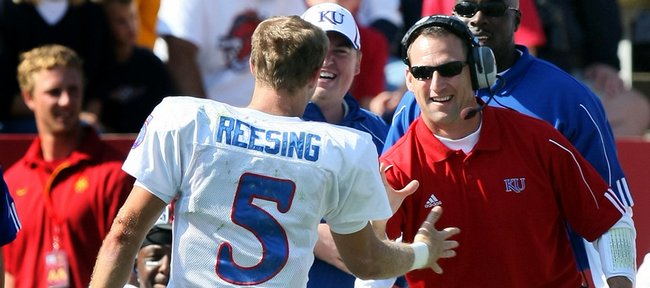 There are college football coaches who view the process of recruiting — the countless hours and the food out of boxes, the constant schmoozing and the red-eye flights — as a rather cumbersome part of the profession.
They see recruiting as a necessary evil, a temporary distraction from the real job, which is strategy and game-planning and, ultimately, winning football games.
Then there is David Beaty, whose opinion on the matter seems to differ significantly.
When KU's second-year receivers coach talks about his responsibilities as a recruiter, for instance — which he was doing on a recent afternoon from his KU office — he speaks with a sense of wonder, like he's still unsure how he managed to finagle a job in which he gets paid to watch top-tier high school football.
"I feel like I have the greatest job in the world when it comes to recruiting," he said, his voice rising at the thought. "Because I get to travel all over the country and see the greatest players — basically — on the entire planet play this game."
"How cool is that?"
Cool, certainly.
What might be even cooler, at least in the eyes of the 50,000 or so fans who pack into Memorial Stadium on Saturdays in the fall, is the level of success he has had in convincing those players to come to Kansas.
While primarily recruiting the state of Texas — a football hotbed that over the past four years has produced 26-percent of Kansas' players, including all-Americans Aqib Talib and Anthony Collins and current standouts Dezmon Briscoe and Todd Reesing — Beaty quickly has established himself as one of the Big 12's top recruiters, a claim that was backed up when he was named one of the conference's 10 best by the Web site Rivals.com.
In his first full year of recruiting for the Jayhawks, the Class of 2009, he was credited with the signing of six players, none more prominent than Plano, Texas, running back Toben Opurum, who was wrangled away from the likes of Notre Dame and Florida. This year, he's off to just as quick a start, serving as the lead recruiter on three of the team's eight commitments so far in the Class of 2010.
Texas prep roots
Once upon a time, David Beaty was a high school football coach in Texas.
Day after day, he watched college recruiters from schools across the land stroll into his office, their allegiances worn proudly on the breast of their polo shirts, asking about this player or that. Some were slick, able to bend the truth to conform to what they figured a player wanted to hear. Some were brutally honest. Each had his own way of doing things, convinced it was the best way to accomplish the task at hand.
Each interaction was a lesson, and by the time Beaty had earned his first college coaching job — in 2006 as the receivers coach at Rice University in Houston — he'd seen enough to determine what worked, what didn't and what he himself had come to value.
Now on the other side of the desk, he's finding that those lessons helped shape a recruiting philosophy that has served him well early in his college coaching career, one based on straightforwardness and the ability to build lasting relationships.
"From my standpoint, I always appreciated those guys that operated from an honest point of view," Beaty says. "I didn't always like what they had to say. But it was honest, and I respected that. And those were the guys that I really felt comfortable sending my kids to."
Ask a Beaty recruit what convinced him to head to Lawrence, and you're likely to notice a certain trend — statements regarding the bond and level of comfort they've developed with the coach.
"That had a lot to do with my decision," Opurum said. "He's just a good guy. He keeps it real with you. He's down-to-earth, and he will just let you know how they want to use you in the offense."
His ties to Texas, meanwhile, have proven to be an invaluable commodity, as well. On various recruiting trips, he has found himself talking to recruits from schools he coached for or against, recruits more willing to listen to an out-of-town coach given his history in the Lone Star State.
Perhaps nowhere was this more apparent than in his recruitment of Garland (Texas) High defensive tackle Jeremiah Edwards.
As it happened, Beaty himself attended Garland High, in the late 1980s. He had worn the Garland uniform, playing football and soccer for the Fighting Owls before moving on to Lindenwood (Mo.) College, and he had grown up in the same neighborhood as Edwards (Beaty's mother still lives within a mile of Edwards' home.).
And that connection, Edwards insists, went a long way in his decision process.
"At first, my mom was telling me to go to SMU, because she wanted me to be close, and she didn't know about all those schools that were far away," says Edwards, who earlier this month committed to Kansas despite offers from Texas Tech, Tulsa and Houston. "And then coach Beaty came around, and she changed her mind."
Getting to know you
When recruiting against the likes of Texas and Texas Tech, however, it takes more than a loose geographic connection to lure a player away from home.
A relentless researcher, Beaty prides himself on knowing everything there is to know about a prospect. He talks to counselors. He talks to teachers. He talks to parents. When he can, he talks to friends in the area — former colleagues and opponents — about what they know about a player and his approach to the game.
Once in the door, he thrives on finding out what players enjoy doing in their free time, which, he says, can be a good indication of work ethic and dedication to one's craft.
"If you do have a diversified background, when you like to fish, you like to hunt, or you like to do some things other than just sleep, it tells me you've got some go-getter about you," Beaty said.
What can be just as important as building a relationship with a player, however, is maintaining that relationship once the player has signed.
High school coaches in Texas, according to Beaty, take note of which coaches take care of their kids; which coaches made good on their words after the honeymoon of the recruiting process. And being able to return to a town in good standing is one thing he takes extremely seriously.
"I'm not going to bring him here, and say, 'Hey, we gotcha, we signed you, and now you're going to be on your own,'" Beaty said. "I want to be able to come back when I'm recruiting that next kid there, and I want those parents to say, 'Listen, coach Beaty said he was going to take care of my kid. And those guys at Kansas are men of their word. They did that. They took care of him.'"
The next step
What will be just as important as recruiting talent, of course, will be developing that talent once it arrives.
It is one thing to bring in big, fast, strong players who have been bestowed with a certain amount of acclaim, and it is another to transform those players into capable Div. I football players.
This will be Beaty's challenge — although, if early returns are to be trusted, there is reason for Kansas fans to be confident.
In Beaty's first season as receivers coach, Kerry Meier set a single-season school record with 97 receptions. Briscoe set a single-season school record for receiving yards with 1,407 and needs just 364 more receiving yards to become the school's all-time leading receiver. Seven players finished with double-figure receptions totals, and nine players had receptions for at least 20 yards.
The list of accomplishments goes on.
Mostly, Beaty attributes this success to the offensive genius of head coach Mark Mangino and offensive coordinator Ed Warinner, who, Beaty points out, create the plays that get the ball into receivers' hands.
The list of receivers at his disposal, he adds, hasn't hurt, either.
"Kerry Meier might take the best professional approach to this game of any kid I've ever coached," Beaty said. "Of course, I haven't been around the college game for just a long, long time, but I'll tell you, he's just a pleasure to watch work and prepare on a week-to-week basis."
Which brings us to an intriguing question: Can a receiving corps that rewrote the school's record book in 2008 — that very well might have been the most talented in the conference last season — improve? Can it be better in 2009?
"Can they improve?" Beaty asks, considering the question. "Yes, they can and, yes, they will. Statistically, we concern ourselves with wins and losses. (But) there's areas where we can definitely drastically improve, and it's going to start with those guys looking at the summer and really trying to improve upon the things that we have to get better at."