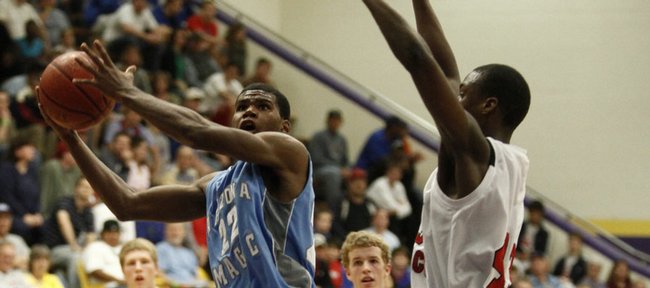 There's no rest on tap for future Kansas University basketball guard Royce Woolridge's Arizona Magic AAU team.
"I'm filling up the car now. We're going to get something to eat, drive five hours, then get up at 6 (a.m.) for the Duel in the Desert in Phoenix," Magic coach Kenny Mullins said at 5 p.m. PDT Sunday in Las Vegas.
Mullins' squad — which hit the road in a car caravan on the heels of an impressive 6-1 Final Four performance at the 104-team Star Vision Sports Center Stage Tournament — has an 8 a.m. opening-round Duel in the Desert tipoff today.
A batch of college coaches likely will be in the stands, as they were over the weekend in Vegas.
Most of them would love to be recruiting Woolridge, who exploded for 33 points in a 73-71 victory over Team Odom on Saturday. They can't, however, because the 6-foot-3, 185-pound senior from Phoenix's Sunnyslope High has been firmly committed to KU since May of 2008.
Arizona Magic point guard Blake Nash was so impressed with that 33-point effort, he grabbed Mullins after the game to say: "Royce is unbelievable. Like a robot, a frigging video game," Mullins said in his update on kusports.com's basketball message board.
Mullins expounded on Woolridge's effort in a Sunday night interview with the Journal-World on a highway in Nevada.
"Our game against Team Odom was taped. We're going to put it on YouTube or somewhere. I can't wait. People will puke on themselves," Mullins joked.
He's starting to grow weary of talent evaluators who do not believe in Woolridge, who is Rivals.com's No. 93-rated player.
"His defense is awesome. He blocks shots like a monster, can drive, can shoot," Mullins said, calling Woolridge "kind of an enigma.
"Scouts don't like him or they are not there to see him at the right time. There's a lot of hating on that young man. I don't know what there is not to like. Maybe it's because he's undersized."
Mullins pointed out that Woolridge didn't score a batch of points at the Pangos All American camp in Long Beach, Calif., and Reebok All-America camp in Philadelphia, where many recruiting analysts gathered.
"He wants to make the right play, the extra pass. He doesn't yell for the ball. He doesn't care about that," Mullins said of putting up big personal numbers.
"The target is so big on him. He committed to Kansas so early, so it's like he has to make every shot. He's held to a higher standard. Whenever you have a recruit at a major school like Kansas … when you commit, you are opening the door for scouts to say what you don't have at that level.
"When you are not committed, they are touting what you can do for schools. When you are committed, scouts don't need a report on him because he's already chosen a school. They look for a huge breakout performance. Royce has had his share of those, too, probably every five games or so."
He hovered around the 20-point mark in most of the games at the tourney in Vegas to go with the 33-point explosion.
"I know he can play at that level," Mullins said of KU. "He's a great player, a good player, man. Somebody said he can't go left. That's ridiculous. He puts 29 on the nation's No. 1 consensus player who is 6-6 and long (Harrison Barnes of Ames, Iowa at Jayhawk Invitational). He had 29 and doesn't even shoot that night, 1-of-7 from three."
Woolridge is firmly committed to KU and will sign in November.
"He wears the KU shirts around," Mullins said. "A lot of coaches are there to see us play, and he likes to wear them (KU shirts and shorts)."
He'll be up early ready to go again today.
"Some of the kids say they are sore," Mullins said of early-morning wake-up calls, "but when it's time to play, they are ready."
More like this story on KUsports.com