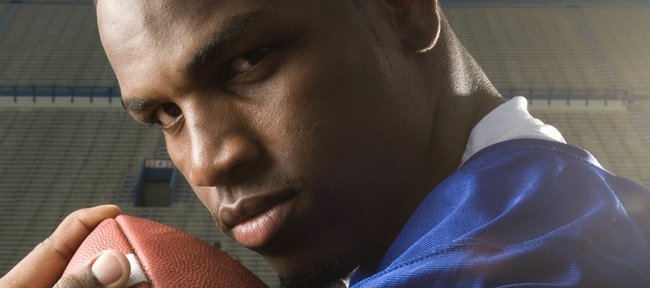 Jocques Crawford's brief and enigmatic career as a Kansas University running back came to an unceremonious conclusion this week, not much more than a year after it began.
In a press release issued Friday, the university announced that Crawford, a 6-foot-1, 230-pound Memphis native, would be leaving the program — a development that ended weeks of speculation about the player's future with the team.
Following the Jayhawks' spring game in April, KU football coach Mark Mangino first indicated there was a chance that Crawford, a senior-to-be, would not be wearing a Kansas uniform this fall. Citing what he called multiple violations of team rules in a short period of time, Mangino told reporters Crawford had been suspended indefinitely, with the possibility of a permanent dismissal from the program.
"I just don't know his status," the coach said at the time. "I'll be honest with you: I don't know ... whether he'll be back or not."
Crawford's suspension came shortly after an incident in which KU offensive lineman Ben Lueken was either struck by or fell from the hood of a vehicle in the parking lot of the Jayhawker Towers. Crawford was questioned by police regarding the incident.
Mangino, however, did not refer to that incident in an issued statement, which indicated Crawford would seek a transfer to a lower-division program.
"Jocques was looking for an opportunity to get more playing time," the coach said. "We support his decision and wish him well."
For Crawford, the quiet exit stood in sharp contrast to his ballyhooed arrival.
From the time he set foot on campus last summer, as a four-star transfer out of Cisco Junior College in Texas, Crawford was widely viewed as the immediate successor to departed running back Brandon McAnderson, who had helped lead the Jayhawks to a 12-1 record and Orange Bowl title in the 2007 season.
Before signing with KU in the Class of 2008, he'd spent two seasons at Cisco, where he was named the national junior-college offensive player of the year after rushing for 1,935 yards and 19 touchdowns in '07.
And for a Kansas fanbase still glowing from an unprecedented run in '07, Crawford's signing seemed to mark the dawn of a new recruiting day for a once-dormant program — even if it brought about a bit of controversy in the process.
While a student at Memphis' Cordova High in 2005, Crawford, then 17, pleaded guilty to a charge of misdemeanor simple assault following an incident involving a 15-year-old girl. Mangino did his best to dispel concerns about Crawford's character, citing an exhaustive background-check process by his coaching staff, although the running back quickly propelled himself into the local spotlight, when, during one of his first meetings with local media, he stated that his goal was to run for 2,000 yards during his first season at Kansas.
In the end, he finished his first and only season with 232 rushing yards and four touchdowns on 62 carries while backing up fellow running backs Jake Sharp and Angus Quigley.
Crawford's departure leaves the Jayhawks with five known running backs on their 2009 roster. Barring any unforeseen developments, Sharp will be the team's Week 1 starter after rushing for 860 yards and 12 touchdowns last season. Rell Lewis, who rushed 14 times for 64 yards in the spring game, will vie for the backup spot, along with freshmen Toben Opurum and Deshaun Sands and junior-college transfer Daniel Porter.
More like this story on KUsports.com