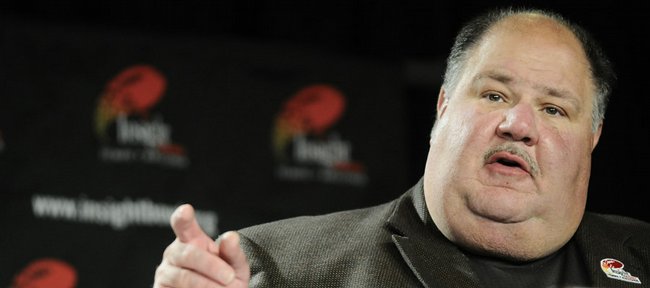 For the second straight year, the Kansas football team has been picked to finish second in the Big 12 North in the annual preseason media poll.
KU, with 164 points, was only behind Nebraska, which compiled 172 points. The Cornhuskers accumulated 17 first-place votes, while the Jayhawks had 12 and Missouri had three.
In the South, Texas and Oklahoma tied for the top spot with 174 points each. UT received 17 first-place votes, while OU had 15.
The complete Big 12 media preseason poll is below.
2009 Big 12 Football Media Preseason Poll
North Division
1. Nebraska (17) 172
2. Kansas (12) 164
3. Missouri (3) 124
4. Colorado 100
5. Kansas State 81
6. Iowa State 33
South Division
T1. Texas (17) 174
T1. Oklahoma (15) 174
3. Oklahoma State 130
4. Texas Tech 89
5. Baylor 75
6. Texas A&M; 33
(NOTE: First-place votes in parentheses)
More like this story on KUsports.com