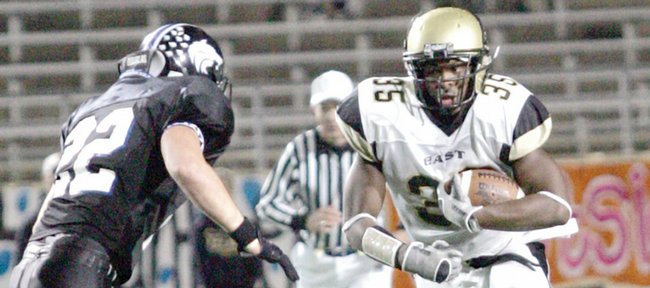 Teenagers generally don't talk the way Toben Opurum talks. They haven't lived long enough to exhibit the sort of wisdom Opurum revealed when answering questions before he handed out meals to the homeless in town recently with a few teammates.
A freshman running back from Plano, Texas, Opurum saw past the end of his nose, saw hype for its worthlessness and generally showed he already has a feel for what makes Kansas football a winning program under the direction of Mark Mangino.
If Opurum proves as mature and talented on the football field as he came across during an interview, Kansas has itself a future leader.
Opurum, who averaged 8.2 yards per carry as a senior, was listed at 6-foot-2 and 229 pounds in high school. He caught 31 passes and developed a reputation as a strong pass-blocker. Notre Dame and Purdue had him on campus for visits and offered him a scholarship. He was set to visit Arkansas and Florida, but once he came to Lawrence and was shown the ins and outs of the KU football program, he canceled the final two visits and committed to Kansas.
"A lot of coaches saw my size and immediately they were thinking, 'OK, well, there's a fullback,' or 'There's a linebacker.' But coach (Mark) Mangino, coach (David) Beaty, they realized that I could run the ball, so that was a lot of the reason why I came here," Opurum said. "I could play running back still."
It's easy to tell a high school athlete he will stay at his preferred position in college. Quarterbacks who project as tight ends routinely are told that and believe it. The coaches who would land Opurum's signature on a letter of intent needed to do more than tell him the right things. They needed to show him and show him they did. During his recruiting visit, Opurum watched film of Brandon McAnderson, KU's former featured running back built like a fullback.
"When they recruited me that's the first thing they told me about, Brandon McAnderson and how he ran and how they wanted me to fill the spot that he left open," Opurum said.
He wore No. 35 for Plano East High and will wear it for KU. He saw enough film of McAnderson, who wore 35 in college, to draw conclusions about what made him successful.
"The fact is he's real smart, he's real football smart," Opurum said. "He knows he's not the fastest dude on the field, but he knows exactly how to get himself in position to make plays and knows exactly where he needs to be going, so I definitely like that about him."
McAnderson worked as a paraprofessional and assistant football coach at Lawrence High last school year. He said he wants to give his NFL dream one more go this year and then, if he can't catch on, will pursue another career, perhaps trying to land an entry-level college football coaching job. His understanding of the game makes him a natural for teaching the sport and his directness as a communicator gives him excellent potential as a recruiter. He sounds excited about watching Opurum back up Jake Sharp.
Told of Opurum's assessment of him on film, McAnderson said, "He's thinking the right way."
McAnderson said he has watched Opurum's highlight video online.
"His size and speed are undeniable," McAnderson said. "Size and speed are usually things that translate well to college."
Usually, but as was shown in the cases of Angus Quigley and Jocques Crawford, usually doesn't mean always. McAnderson showed such a great feel for the position when running at Kansas, so it's worth wondering what he'll be looking for early in Opurum's career to see if he has the intangibles it takes to run the football well against defenses loaded with big and fast players.
"The primary thing would be decisiveness," McAnderson said. "Being able to move at a pace and make decisions on the move. What I look for is decisiveness. If you hesitate or second-guess your cuts, you miss opportunities to make a 15-yard run on the same play that if you just barrel your head in and run you would get three yards. The offensive line could be producing and performing well but because you hesitate no one can see that."
Crawford showed great speed last summer for a man his size, which led to great expectations that never were fulfilled.
"That's the first thing I noticed about Jocques, he couldn't make a decision," McAnderson said. "I had heard he had everything, all the skills, but he couldn't put them together. The biggest thing is to be patient, make the right decisions, find a way to get through there."
Opurum was decisive when making a college choice and to hear him talk about the KU football program is to believe he did his homework. The chance to be used as a featured running back played a big part in his decision, but he is fully aware that playing the position for Mangino entails far more than tucking the football under his arm.
"A lot of guys can only do one thing, but I'm a lot more versatile," he said. "I can do multiple things when I get to a defender, so I think that's one of my biggest strengths. I understand why schools would see my size and say, 'There's a fullback.' I'm actually a pretty good blocker, but I definitely think my pass-blocking is better than my run-blocking."
Listen to how Opurum evaluated quarterback Todd Reesing, Sharp and Mangino and see if you don't think he comes across as a very mature freshman.
On Reesing: "I think the thing that impressed me most about him was his pocket presence. He knows where he is at all times in the pocket and he knows how to get around and make extended plays. With the size that I bring and the style of play that Reesing has — he moves around a lot, you've got to be able to protect him — I think I'll be able to help out and protect him."
On Sharp: "His speed is the first thing you notice. He's probably the fastest guy on the team. His speed's definitely impressive, but he has more than that. He's tough, too."
On his own status as a highly regarded recruit: "A lot of times a player's recruitment doesn't always tell how he's going to pan out on the field. I think coach Mangino and his crew, they have a knack for finding players who fit what they want and they'll be able to play with that. They don't need to find high-profile recruits. I don't think that really matters. That's what coach Mangino's strength is. He can see how to use a player to his best assets. He doesn't just go off what the recruiting file says. He'll take a player and put him in the place to make the best contribution he can."
Every time the guy moves his lips he sounds like a winner.
More like this story on KUsports.com