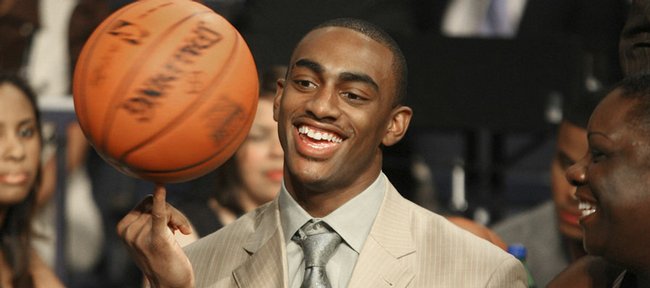 Most rookies at the NBA Summer League learn that pro ball is whole different game compared to what they just came from playing.
Memphis Grizzlies forward Darrell Arthur was no different last summer in Las Vegas.
But his true eye-opening experience came about six weeks later.
Arthur, who was selected 27th overall in the 2008 NBA draft by New Orleans before four draft-night deals landed him with the Grizz, didn't make the greatest early impression when he was sent home early along with former Kansas teammate Mario Chalmers from the NBA Rookie Training Camp in New York.
The dismissal came after police responded to the hotel room the two shared at 2 a.m. and reported that the room carried a strong smell of marijuana. Arthur denied drug-related involvement but was fined $20,000 by the NBA for missing the camp.
He'll have to repeat the camp this September, but this time will have a much different mindset.
Ryan Greene is the former editor of KUSports.com. The rest of the story can be accessed at lasvegassun.com/news/2009/jul/18/charged--arthur-ready-find-his-niche-grizzlies/.
More like this story on KUsports.com