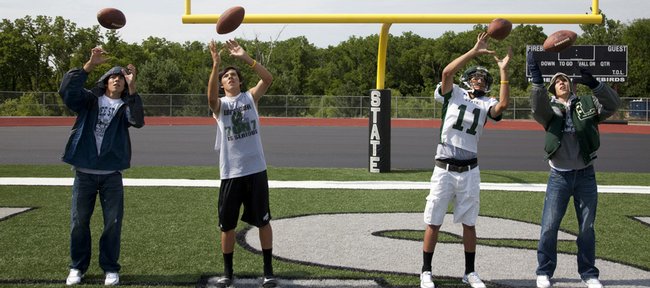 The following is the final installment of a three-part series that examines the impact of a recent rule-change by the Kansas State High School Activities Association regarding extended summer contact by coaches in basketball, football and volleyball.
Friday, the Journal-World outlined the benefits that came with the rule change this summer.
Saturday, Lawrence's high school coaches and athletes discussed the their concerns about the new system.
In Kansas, more than 78 percent of each junior college football roster is made up of in-state talent.
The eight Kansas junior colleges that field football programs are allowed 12 spots per year for out-of-state athletes, while coaches are required to fill the other 43 spots of the final 55-man rosters with quarterbacks, linebackers, offensive linemen and kickers — among other positions — from Kansas high schools.
In a world that's already ultra-competitive in terms of recruiting top talent, that makes landing the best players in Kansas even more important and leaves a lot to be desired for those who miss out.
"When you spread the Kansas kids out between the eight Jucos and then all of the NAIA schools, the talent pool gets watered down pretty quick," said Coffeyville football coach Darian Dulin, a 1993 Lawrence High graduate.
Dulin estimates that each year he and his staff recruit 60 or more prep football players from Kansas, knowing that some will choose to go elsewhere and others might not pan out.
Trolling the plains for the top players puts quite a strain on Dulin's staff — financial and otherwise — but a new set of rules put in place by the Kansas State High School Activities Association that has allowed for an increase in summer contact by high school coaches in volleyball, basketball and football, may go a long way toward making the jobs of Dulin and his colleagues a little easier in the coming years.
"I think it's a great step," Dulin said of the rule change. "And it's about time. I think everybody in the state would tell you that the out-of-state guys are head and shoulders above the Kansas guys.
To me, a lot of it is the knowledge of the game. The Kansas kids have only played football for four months out of the year," Dulin added. "Of course the strength levels and athletic abilities are different, too. You can't simulate football without playing football. There aren't many pick-up football games."
Now, however, those high school students who call the gridiron home have the opportunity to do the next best thing — practice.
In addition to getting more individual attention from their coaches — a newly-granted eight-week period of open contact ran May 23 through July 18 — it is not uncommon for athletes to be working with a large majority of their teammates on any given day.
Some days they work on conditioning and weights. Other days they work on plays, schemes and formations. Each serves as an effective formula in the complex equation that is solved when these athletes sign on the dotted line at the college of their choice.
Other sports affected
It's not just football that has faced such a dilemma throughout the years. Volleyball and basketball coaches across the state also have had to decide — on an almost annual basis — whether to give the in-state athletes a shot or take the more polished players from nearby.
"I think this is great for the kids and great for the coaches," Kansas University women's basketball coach Bonnie Henrickson said. "There are so many talented and committed high school coaches in this state. And having more time with their athletes can only help with the growth of their kids and even the growth of the younger kids they work with.
Talented players bring a lot to the table. I've always said that we have good, quality high school coaching in the state and this will only make that better."
College coaches of all three sports realize, perhaps more than any, that the rule change does not guarantee the Sunflower State soon will be buzzing with a surplus of talent.
The onus remains squarely on the shoulders of the athletes — and to some degree the high school coaches — to take advantage of what's available and use it to make themselves better.
But the simple fact that we're now talking in those terms has many of the state's elite collegiate coaches salivating over the possibilities.
"I think just the fact that kids are playing a lot under organized situations helps a lot," KU volleyball coach Ray Bechard said. "I think you can make the correlation that if high school coaches spend more time with their kids you'll start to see kids with improved skills and better technique."
Added Kansas State University volleyball coach Suzie Fritz: "I think it's a tremendous step forward. I think it allows young people the opportunity to work with their coaches, which gives them more opportunity to develop and, quite frankly, to keep up with states around us that have less limitations."
Early signs of progress
Although this was the first summer in which Kansas high schools operated under the new rules, Bechard said he had already seen great benefits of the system.
"I am encouraged by the fact that at a showcase in Miami, Fla., the 16-year-old age division was won by a team from Kansas City that beat two teams from California," Bechard said. "And the 15-year-old runner-up was from Olathe. I know that kids from all the states around us have a lot of contact with their high school coaches in the summer. We recruit Nebraska heavily and I know that's how it is there. They had more kids going D-I per capita than Kansas did."
End result?
The hope for many, is that the recent adaptation will allow Kansas' high school coaches to do what they do best — teach their games and develop talent. That alone would allow college recruiters to put more stock in what an athlete's high school coach has to say about him or her.
"These high school coaches are hired because they're the best in the community and then they're hamstringed because they can't coach kids in the summer," said Aaron Siebenthal, a 1994 LHS graduate, who currently is an assistant men's basketball coach and recruiting coordinator at Ottawa University. "Summer is best time to get better in any sport. For us, the advantage is that we can develop relationships with those high school coaches in the summer instead of having to go through a bunch of different avenues to find out about a kid we're recruiting."
There are, of course, a handful of concerns with granting more access to high school coaches in the summer. Burnout, scheduling conflicts, the dilemma of sharing multi-sport athletes and the fact that coaches now are expected to do more work for no extra pay all are issues that must be dealt with. But, according to many of those affected by the rule change, the positives of the new system far outweigh any of the potential negatives that may pop up over time.
"All in all, it's a great idea and I think it's great that they're doing it," said James Findley, Sports Acceleration Director at Therapy Works, who has contact with dozens of high school athletes each year. "I think it will help kids from Lawrence be able to get more D-I scholarships and be able to catch up with the kids from Texas who are busting their butts all year round."