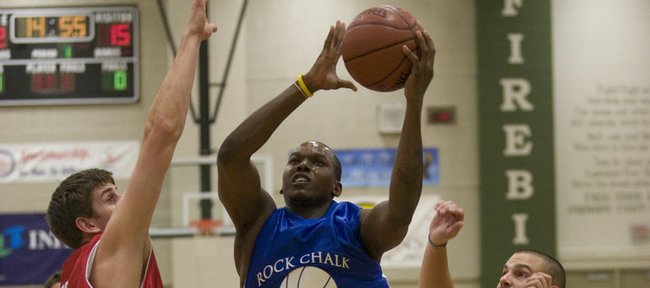 Former Kansas University point guard Russell Robinson impressed Orlando Magic officials with his solid play in last week's Orlando NBA Summer League.
The 6-foot-1 New York native, who started all five games, averaged 6.6 points off 38.5 percent shooting. He made two of seven three-point tries and 11 of 12 free throws.
"I think Russell's a very solid guy who plays under control, makes the right play, makes very few mistakes and plays very solid defense," Magic coach Stan Van Gundy told the Orlando Sentinel.
Orlando has just eight players under contract for next season.
Robinson, who played for Reno (Nev.) in the NBA Developmental League last year, scored seven points, dished six assists and had two steals against Boston. He guarded Gabe Pruitt, who played in 47 games for the Celtics last year.
"It's good to be playing against somebody with NBA experience. I think it shows the scouts I'm ready," Robinson told Orlandomagicdaily.com, adding, "I think this is a good fit for me."
The Web site said this of Robinson: "Known as an exceptional defender and smart decision-maker, Robinson could certainly have a future in this league. While his offensive game and athleticism won't blow you away, his reliability could make him a perfect third point guard."
His resume, of course, includes starting at the point for the 2008 national champion Jayhawks.
More on Pollard
The always-colorful Scot Pollard provided some interesting tidbits that didn't make Thursday's story in the Journal-World.
• Last year, the former Kansas University center had an entertaining tryout with the NBA network in which it appeared he and co-analyst Cheryl Miller were involved in an on-air argument. The video is all over YouTube.com.
"I had a much publicized job interview with Cheryl Miller. A lot of people think we didn't like each other," Pollard said. "We did some on-air ribbing. People don't realize TV is 100 percent entertainment. We were joking during commercial breaks. It was entertainment."
• Pollard, who uses Twitter regularly, is planning on improving his Web site planetpollard.com.
"It'll be a lot more interactive," Pollard said. "I'll be able to interact with people. On Twitter, I don't respond to anybody or follow anybody. If something strikes me, I'll put it down."
• Pollard, who explained in the article the decision to move his family to Lawrence for good, said he would not be asking KU coach Bill Self if he could practice with the current team.
"I've not played pick-up in over a year," he said, noting it wouldn't take long to get back in NBA shape if a team gives him a call.
Chalmers tourney
Spots remain available for Mario Chalmers' National Championship Classic Golf Tournament and dinner banquet, set for Friday, July 31, at Alvamar Public.
The tourney is a fundraiser for former Kansas University guard Chalmers' Foundation.
The cost is $250 for each person of a four-member scramble team. The cost includes an afternoon of golf, plus an evening banquet. Dinner guests of golf participants may attend the banquet for $75.
To play in the tourney or to become a sponsor, volunteer or donor, call Ronda Green at 785-819-4653 or e-mail Green at we2green@cox.net. One can sign up at nationalchampionshipclassic.com. Deadline is Friday.
Those who will participate include Self and members of his staff as well as '08 players Chalmers, Darrell Arthur, Russell Robinson, Brandon Rush and Darnell Jackson. Former KU players Keith Langford, Aaron Miles and Wayne Simien are also signed up.
Recruiting update
KU will be hoping that Fabricio de Melo, a 7-foot-0, 270-pound senior from Sagemont High in Weston, Fla., will make some official recruiting visits this fall.
"Fab Melo," who is Rivals.com's No. 5-rated player nationally has already made several unofficial visits. Louisville and UConn are the favorites of the player also considering Florida, Miami, Florida State, Syracuse and Texas.
"If he decides to wait and take official visits, it would be because he wasn't 100 percent positive on a particular school that he has already visited," Melo's high school coach, Adam Ross, told Rivals.com. "There are a handful of schools, Kansas being one of them, that Fab would consider visiting, if that were to happen."
Josiah Turner, a 6-3 point junior-to-be from Sacramento (Calif.) High, this week decided to re-open his recruiting. He committed to Arizona State on Sept. 9, 2008. Rivals.com says Turner had planned on attending Self's Elite Camp this summer, but was unable to make it. Turner told Rivals that if KU's coaching staff came calling, he would be very interested.
More like this story on KUsports.com