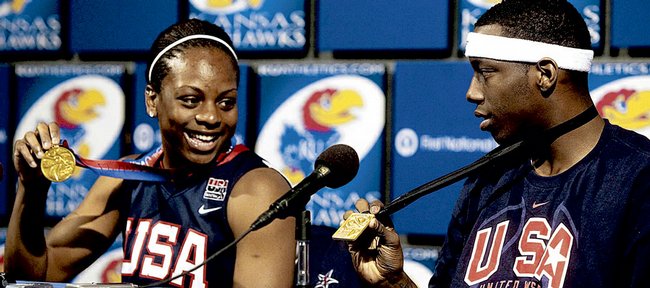 In July, you take your basketball controversies where you can get them, which brings us to the Headband Hulabaloo.
Guard Tyshawn Taylor wants to wear a headband when he slips back into a Kansas uniform. He wore one when helping Team USA to win a gold medal in the World University Games and he wore it at the press conference to discuss his New Zealand experience. His high school coach, Bob Hurley of St. Anthony in Jersey City, N.J., wouldn't let Taylor wear one. Ditto for his college coach, Bill Self.
Here's the problem: Once you've seen Taylor wearing a headband, he just won't look right not wearing one. It suits him the way a mole fits Cindy Crawford. Sorry, Cindy baby, even in my single days, had you knocked on my door and showed that you had the mole removed, I would have told you to get lost. (You think it was easy typing that sentence with my fingers crossed? Try it sometime.)
Taylor without a headband is like Kareem without the sky hook, Johnny Carson without Ed McMahon's laugh, Simon without Garfunkel, Bonnie without Clyde, Gov. Mark Sanford without a passport, a list of all-time great KU athletes that excludes Al Oerter and Glenn Cunningham.
Taylor's point that Aaron Miles wore a headband while playing for Self lacks relevancy. Miles' headband was grandfathered in. Self inherited Miles from Roy Williams and didn't recruit him. Big difference. (By the way, was anybody else impressed that Taylor knew Miles wore a headband at Kansas?)
A little headband history lesson: Ultra-quick Seattle SuperSonics guard Slick Watts made it popular and wore one because he gushed sweat at Dwight Gooden-like proportions. Now, headbands generally serve as fashion statements. So what? They aren't obnoxious fashion statements along the lines of teenagers wearing baggy pants that crawl halfway down their cans or middle-aged men wearing baseball caps backwards, equally bad looks.
Nobody is suggesting here, however, that Self merely caves and lets Taylor make his fashion statement. No point in the coach bypassing a motivational opportunity this golden. Think about it, Self could tell Taylor he can earn the privilege of wearing the head ornament when and only when he meets a specific challenge from his coach. Naturally, Self is the one and only judge and jury who determines when that challenge has been met.
For example, Self could tell Taylor that as soon as he maximizes the defensive potential of his body to the extent Brady Morningstar did a year ago, he can decorate his head. Morningstar conditions his body so well he's able to stay in a defensive stance longer than most, but his ability to become a defensive stopper last season involved far more than conditioning. Attitude played a big role. He subtly became a relentless pest, always letting his man know he was there, often by using his hands in a way that bugged the scorer but didn't draw whistles. If Taylor could get as much out of his body as Morningstar does, no guard would want to be checked by him. It could be just the solution to the Headband Hulabaloo, a raging (by July standards) controversy.