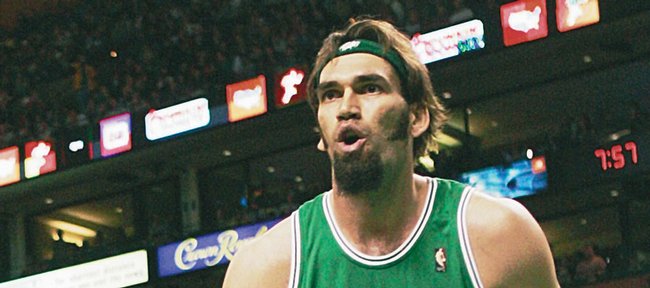 Scot Pollard knows the odds of an NBA team calling on him after a year off are slim at best.
Still, the 34-year-old former Kansas University center, who played for five teams in 11 seasons before failing to receive a free-agent offer during the 2008-09 campaign, is not officially retired and is ready for duty.
"I am in very good shape, not NBA shape, but I could be quickly," said the 6-foot-11 Pollard, who is up to 290 pounds, which he said is muscle from working out on weights, not fat. He went at 278 during his playing days.
"Physically, I feel great. It's great to wake up every day without knee, ankle problems like past years. It's the same story. The right offer would entice me. I will not go try out for a team," added Pollard, who instead would want a guaranteed contract.
He last played for the world championship Boston Celtics in 2007-08.
"Right now, it's a lack of interest on the NBA side. We had a couple nibbles overseas last year, nothing solid. We are not going to pack up and move now," he said.
Pollard, in fact, has put his house in Indianapolis up for sale, kept the one in Lawrence and has decided to make Lawrence his permanent home.
He, wife, Mindy, and children Lolli (10), Tallula (6) and Ozzy (almost 2) next year will move into a new house in West Lawrence. Construction will begin this fall.
"My oldest is in fifth grade. She's going on her fifth elementary school," Pollard said. "It's hard to ask her to move again. I will not move my family again. We have a lot of friends here and like it here a lot.
"If my kids were younger, I'd be a better basketball player. I'd rather be a better father than a pro athlete."
Still, he conceded he'd be willing to keep the family here and get a temporary place somewhere, "if a team like Boston said, 'Help us win another championship.' I'd listen to that."
Pollard is not pleased with the way his career came to an end in Boston.
He received a championship ring for a season that ended because of surgery in February.
"I got hurt in September and played until February. They said I needed surgery. It hurt that they didn't invite me back for another year," said Pollard. "I played hurt all year and then they replaced me. That's the business, the NBA. It didn't hurt my feelings, but it would have been nice if they said, 'Let's pay him back (for playing hurt) and give the guy an offer.'''
Pollard did some broadcast work for the NBA network last year and his agent is looking into some possibilities.
"I will work in front of a camera the rest of my life," said Pollard, who remains popular in the towns he played in — Sacramento, Detroit, Indianapolis, Cleveland and Boston.
He said the highlight of his career on a team level was winning the title with the Celts. But on more a personal level. ...
"I really felt Sacramento was the best time of my career because I felt most loved by fans and felt a part of the organization, city and team," Pollard said. "I was teammates with two guys (Chris Webber and Vlade Divac) who had their jerseys retired and invited me back to be in their retirement ceremonies. That meant a lot to me. I took pride in being a good teammate."
Pollard also plans on being a fixture at Kansas University sporting events this year. Though he said jokingly he "may try to use my celebrity status again to get tickets," he realizes there'll come a time soon he'll be buying tickets for all his family members.
Pollard, who was born in San Diego, plans on living in Lawrence a long while.
"My kids aren't that interested (in games) yet. Maybe go to one or two games," he said. "I probably would like to go on the road this year and see the opposing team's crowd and help out and cheer for the Jayhawks," Pollard said.
More like this story on KUsports.com