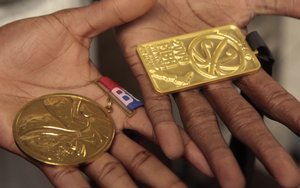 Tyshawn Taylor isn't ready to give up his hopes of wearing a headband during Kansas University basketball games.
"Me and coach (Bill) Self have gotta talk," the KU sophomore-to-be said with a grin. "I played good with it."
The 6-foot-3 guard from Jersey City, N.J., did impress with the extra accessory during the U-19 FIBA World Championships in Auckland, New Zealand, averaging a team-high 10.8 points, 4.4 assists and 1.8 steals in eight games.
But will his strong stats be enough to convince his coach that a headband might bring improved play?
"Coach (Joe) Dooley doesn't like the idea, but coach (Kurtis) T. (Townsend) said it was cool," Taylor said. "So I'm going to have coach T. help me out."
Headbands aside, Taylor said he came out of the experience as an improved player.
Team USA finished the tournament 9-0 and won the gold for the first time in the U-19 event since 1991.
Taylor, meanwhile, was named to the five-person all-tournament team.
"I think a lot of people were surprised, but I wasn't really surprised at myself," Taylor said. "I think I had the confidence before."
Taylor led his team with 18 points in an 88-80 victory over Greece in the championship game.
Though he was one of the main offensive threats for the United States team, Taylor said he didn't change his style of play.
"I don't think I was looking for my shot that much there," Taylor said. "I just think I was being aggressive and seeing what the defense was giving me. I think I always do that. If my shots come, then I'm going to take them."
Taylor's best basketball didn't come until the later rounds after struggling in the Puerto Rico game.
Though he was facing former high school teammates Michael Rosario and Jiovanny Fontan, Taylor admitted that he "got a little bit arrogant" after playing well in the previous game.
"I knew we were going to beat Puerto Rico, so I was kind of goofing off in the layup line," Taylor said. "Then I came out in the game, and I wasn't really playing good. It was just one of those games, I guess."
At one point, a frustrated coach Jamie Dixon even challenged Taylor to play harder.
"We had some words because I wasn't playing good and he was yelling at me and I was getting frustrated," Taylor said.
The KU guard finished with eight points and five assists but made just four of 13 shots.
Taylor picked up his play after that, scoring a team-high 13 points in the next game against Lithuania. He averaged 12.5 points and 5.0 assists in his final four games.
"I had real good games because I was real focused and not playing around so much and not taking the games for granted like I did that (Puerto Rico) game," Taylor said.
Perhaps the toughest part of the trip for Taylor was the travel. His flight from California to Australia was 15 hours long.
"I was going crazy," Taylor said. "I had a crying baby next to me the whole way. He cried the whole way. It was the worst."
His trip back to the States wasn't much better. Though he'd been given sleeping pills by a doctor, Taylor was so excited to get back that he wasn't able to sleep.
He also had a bad experience at a New Zealand McDonald's when he asked for a double-cheeseburger with only ketchup.
"So the guy gives me a bun with two pieces of cheese and only ketchup, no meat," Taylor said. "And I was mad, so mad."
Taylor said that the limited food choices had caused him to lose "a couple pounds that I don't need to be losing."
He guessed that the coaches would have him back into the normal training and lifting routine by the end of the week.
As for the headband, Taylor said he wasn't ready to give up the fight just yet.
He wasn't allowed to wear one in high school, and Self also shot down the idea when Taylor brought it up last season.
"My teammates, they said they think I should wear it, too," Taylor said with a grin. "So I'm going to put a petition together or something — see what he says."