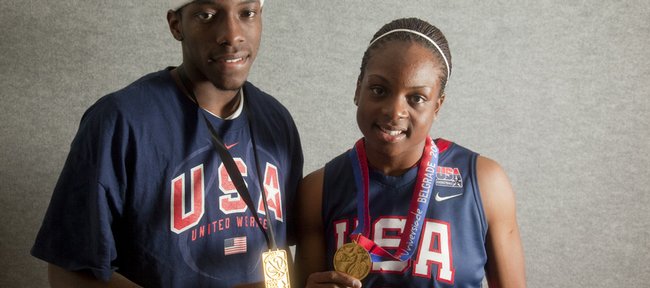 As Danielle McCray, back from Belgrade, Serbia, where she and teammates won the gold medal in the World University Games, discussed the experience it became evident just how far she has come as a defender.
Remember, this is the player of whom Kansas University coach Bonnie Henrickson said during her freshman season, "She couldn't guard me in heels."
Guarding 2009 Naismith Trophy winner Maya Moore of UConn in sneakers presents a somewhat more difficult challenge than checking Bonnie in heels, and McCray survived that challenge well enough to convince World University Games coach Charli Turner Thorne of Arizona State that the Kansas star could be trusted as a defensive stopper.
"In two-a-days, we always went against each other," McCray said of Moore. "That's how coach did the matchups to help us. Her guarding me and me guarding her. In the games, coach Charli had me guarding the other team's best player, which was totally different from Kansas because Sade (Morris) is always guarding the other team's best player. I think that has helped me, just having that defensive mentality, guarding Maya Moore has helped me build my confidence to where I think I can really guard somebody."
It appears as if McCray's evolution from a raw, intriguing blend of strength, quickness and shooting touch, into an all-around, polished basketball player took the final step overseas.
McCray didn't hesitate when asked to name the most difficult player for her to guard.
"Maya Moore," she said. "There were some good girls on the other teams too, but she's such a hard worker. She goes for everything and she does the little things. It was tough to guard her, but it was fun to guard her and go against her and play with her, too."
Moore suffered a sprained knee in a scrimmage that prevented her from playing in the seven World University Games that counted. McCray was counted upon to pick up some of the scoring slack and didn't disappoint, ranking second on the team, averaging 12 points in 17.4 minutes per game. She shot .561 from the field, .467 from three-point territory and .813 from the line. And she did all that without the nutritious diet that has helped her improve her conditioning so much since arriving at KU.
"Oh my gosh, the texture, the way it looked, it was ridiculous," McCray said of the food in Serbia. "Some things were OK, but this one time I ate lamb and it was so disgusting. I just ate at McDonald's and KFC all the time. Bonnie probably wouldn't like that, but I needed to eat something. ... In McDonald's, if you wanted ketchup you had to buy ketchup. It wasn't free."
McCray, entering her senior season, said the experience will help her "in every aspect."
"Being a leader," she listed as the first way. "I learned a lot of stuff being around tremendous girls, playing with and against great athletes has helped."
One way athletes can lead is to back their coaches with younger players.
"Sometimes in practice we did the exact same drills that we do here," McCray said. "It was neat that I had a coach who kind of did the same things and didn't go against what Bonnie was saying. Charli, our coach, said the exact same things that Bonnie taught us. It comes out that everything Bonnie says is right."
With modern technology not as readily available to the players, McCray experienced an old-school road trip.
"We were over there for two weeks without any TV," she said. "We were traveling the day of the (NBA) draft and didn't know anything about it. We didn't have any Internet in our rooms. Having to go outside to use the Internet was pretty hard and having no TV. Basically, when we were in, we were in, just talking to our teammates."
McCray's World University Games experience started with tryouts (May 14-17), continued with training camp (June 18-25) and resumed with the overseas trip (June 26-July 12).
So what did McCray do upon returning? Rest? Not quite.
"I just never can stay still, so (Tuesday) I played pickup with (KU teammates)," she said. "(The newcomers) are going to be a great help. We're in summer workouts right now and everybody's head is on right. I think the newbies are going to be able to help right away, especially with the returning players coming back knowing how important it is to make the NCAA (Tournament) and getting into the newbies' heads."
More like this story on KUsports.com