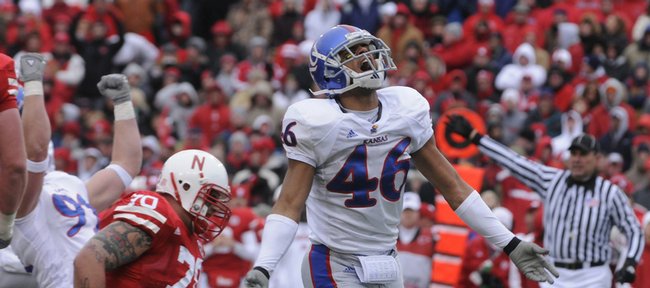 As far as holidays go, last New Year's Eve was not the most enjoyable for Justin Thornton.
While his Kansas University football teammates spent the evening in Tempe, Ariz., rolling over Minnesota in the Insight Bowl and collecting the school's second bowl trophy in as many years, the Jayhawks' then-junior defensive back was at home in St. Joseph, Mo., barely able to stomach watching the game on television.
"I almost couldn't even watch it," said Thornton, who was suspended for the game for a violation of unspecified team rules. "It was real tough. But I wanted to support my teammates and everything, so I went home and watched it with my family."
After spending the past few months making amends with teammates, however, Thornton appears to be back in the good graces of KU coach Mark Mangino and his staff. And entering his final season in a Kansas uniform, the senior-to-be has set his sights on helping the Jayhawks notch a first-ever outright Big 12 North title — a task that figures to be easier to accomplish with the 6-foot-1, 213-pound Thornton in the starting lineup.
"I've done everything I can to regain my teammates' respect and my coaches' respect," said Thornton last week, while volunteering with the Boys and Girls Club of Lawrence. "Things are back to normal. I'm just ready to get back out there and show people that I've learned (from my mistakes)."
And if his career production is any indication, his return to the lineup should bode well for the Jayhawks' secondary.
Despite flying under the radar since arriving in Lawrence in 2005 — he has shared the defensive backfield with outspoken All-American cornerback Aqib Talib and fan-favorite Darrell Stuckey — Thornton has proven to be, statistically, one of the secondary's most important pieces.
In 2007, while starting only the final four games of the season, he matched current Tampa Bay Buccaneer Talib with a team-high five interceptions, including one in the Jayhawks' 24-21 victory over Virginia Tech in the Orange Bowl.
Last fall, meanwhile, despite switching from free safety to left cornerback as part of the team's mid-season secondary overhaul, he finished with a team-best 11 pass break-ups.
"Obviously, a guy with that versatility gives you some options," said KU defensive coordinator Clint Bowen. "... (Switching positions) is not easy to do, and he did it with about one week's practice. His size out there at corner, his ability to get his hands on people and be physical, that's a nice thing to have."
Thornton is slated to remain at the cornerback position this season, where his experience will be counted on to help improve a unit that finished 10th in the Big 12 in pass defense a season ago.
And entering his final collegiate season, Thornton insists his focus is on putting last year's disappointing conclusion behind him and making sure the '09 season goes the way many preseason prognosticators predict it will.
"It's my senior year, my last year," he said. "I'm ready to get out there and do some good things. ... There's a buzz around the locker room that I don't feel we had last summer, so we're ready to get things started."
More like this story on KUsports.com