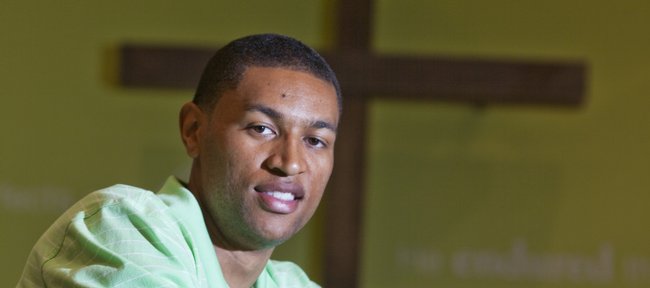 The inaugural Family Promise of Lawrence Charity Golf Tournament, set for Sept. 21 at Lawrence Country Club, will benefit the Lawrence chapter of Family Promise, a faith-based, non-profit program designed to help homeless adults with children.
The program draws hosts from local congregations to house families in need and provides food, transportation and counseling to those families.
"Every family is unique and everyone has a different story," said tourney organizer Joe Reitz, who founded the Lawrence chapter of Family Promise in 2007.
"We're there to help them figure out how they became homeless and how to get out. Within two or three months, they can wind up with a place to live, with a job, and with a reasonable chance of staying housed rather than being homeless again."
Reitz — organizer of the Dale Willey Automotive sponsored tournament — said back in '07 "a lot of people didn't realize was how big a problem this was. When they did the census in Lawrence, half of the people who were homeless had kids.
"There was no really good facility for people with kids. We have two homeless centers — the Salvation Army and the Lawrence Community Shelter, but they're not really places you would want kids to go. We want people to know about the problem, that there are lots of homeless children in Lawrence," Reitz said.
The tournament will serve as the first major fundraiser for the local program. It has drawn the support of 26 area churches as well as former Kansas University basketball players Wayne Simien and Christian Moody, honorary co-chairs.
"I had worked with Joe Reitz before helping to provide shelter and other services to those families who couldn't afford it," Simien said. "So when he told me about Family Promise, I wanted to get involved with that. I think it's a great cause and I'm glad to work with Joe Reitz again. With everything he's done, he's got a great heart."
Simien's own church, Morning Star Christian Church, is one of the congregations that helps facilitate the program by hosting families.
"I'm glad to help out through my congregation," Simien said. "Hopefully Christian and I can also put a name and a face to this tournament and help people get involved. We want to raise a lot of money to cover expenses and costs for the program. But we also want to raise awareness about this issue and get more people to help out."
Reitz said Moody and Simien are currently working on drafting some of their former teammates and other KU greats to play in the tournament.
"It can be tough to get people to come out in September because a lot of my former teammates are playing professionally," Simien said. "But hopefully we can get some people to come out."
A silent and live auction will be held at Maceli's the night before the tournament.
"We're doing it a little differently," Reitz said. "Most people have an auction after the tournament, but we're going to have it the night before. We're hoping to attract not just people who play golf, but a lot of other people. You can get tickets to the auction separately."
Some of the auction items include KU basketball tickets, an autographed KU basketball, club level tickets and a parking pass for the Kansas-Missouri football game, a night at the new Oread Inn and golf gear.
The top items to be auctioned will be will be a basketball clinic with Simien and Moody for 10 youths and a 20-person dinner with former KU football coach Don Fambrough at Lawrence Country Club the night before the KU-Missouri game.
Those interested in playing in the tournament or donating an item for the auction should contact Reitz at (785) 331-5024.
More like this story on KUsports.com