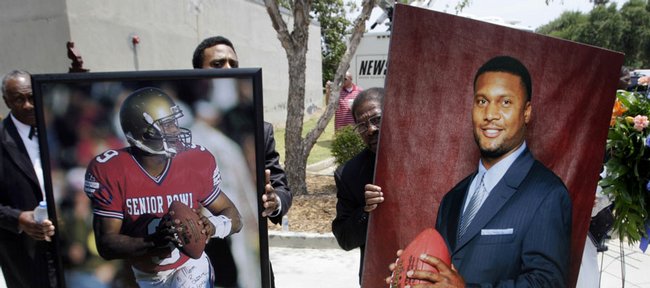 While the murder-suicide that claimed the life of former NFL quarterback Steve McNair continues to send shockwaves across the nation, it appears that the ripples of such a tragedy have traveled all the way to Lawrence.
A few years back, when his oldest brother, Shad, was a tight end with the McNair-led Tennessee Titans, Kansas University wide receiver Kerry Meier had a short encounter with the man known as "Air McNair."
Say what you will about the circumstances surrounding McNair's death — the gruesome ending, the extramarital affair, the shady company he kept at times — but Meier's impression of the father of four echoes the tender thoughts uttered by longtime friends and teammates Derrick Mason, Eddie George and Titans coach Jeff Fisher.
"When you mention Steve McNair you think of someone who was competitive and had the courage to overcome the troubles he went through," Meier said. "I actually got the chance to meet Steve. It was very briefly, but I was very grateful to meet such a great guy. My brother always spoke very highly of him. He was not only a great teammate but also a very good friend of his. My brother always said he was the toughest guy he'd ever known."
The memorials and tributes have been plentiful throughout the week, and McNair met his final resting place Saturday, with a funeral and burial near his hometown of Mount Olive, Miss. Close to 5,000 mourners turned out to honor the memory of McNair, who died July 4 after being shot four times by 20-year-old Sahel Kazemi, who later shot and killed herself.
Where Meier comes from, things like toughness, courage and character mean a lot. According to Meier's brother, McNair embodied all of those traits and more. McNair not only was the dream teammate he was made out to be but also a true friend, a compassionate man and a humble soul.
"Week-in, week-out, Steve always got banged up, but Shad said he never once heard him complain," Meier said. "And he knew that Steve was going to be out there every Sunday leading the team. He was the truest competitor in every sense of the word."
KU quarterback Todd Reesing remembers McNair as exactly that, the kind of QB that was fun to follow for his determination and refusal to give up on a play.
"He's definitely someone I enjoyed watching," Reesing said. "I think he'll be remembered for everything that didn't surround his death. He was a terrific ballplayer and a great leader and he brought a lot to the table. I remember watching him growing up, he made a lot of plays, extending plays and doing whatever it took to get the job done. Any time a guy like that passes, who so many people respected, it's definitely a tragedy."
Although more than a decade passed between their time as college quarterbacks, Reesing and McNair shared similar paths to collegiate fame.
Before becoming an all-pro quarterback — McNair was the NFL's co-MVP in 2003 — he made a name for himself at tiny Alcorn State, a far cry from the Division I powerhouses familiar to KU fans.
Despite playing in the anonymity of Lorman, Miss., which McNair helped put on the map, the Alcorn State QB finished third in the 1994 Heisman Trophy voting behind Colorado's Rashaan Salaam and Penn State's Ki-Jana Carter.
Reesing, the undersized, overlooked small prospect from big Texas, has enjoyed a similar ascent to stardom at KU. As he prepares for the most anticipated season of his record-breaking career, Reesing can't help but reflect fondly on those before him who stood tall in the face of tremendous odds stacked against them.
"I think any time guys from low-level schools that don't get any recognition fight their way through adversity and people saying they can't make it, it's always great to see and it's something you have to admire and respect," said Reesing, referring to McNair. "I've had my share of adversity to get to where I'm at, and any time you see guys who are successful like he was, it's always motivating."
Though their connection was distant, the news of McNair's passing both shocked and saddened two of the KU football program's most visible stars, along with so many others, whether they knew McNair or not.
"We lost a good one, but the skies above got a good one, as well," Meier said. "Our thoughts go out to his family at this tough time."
More like this story on KUsports.com