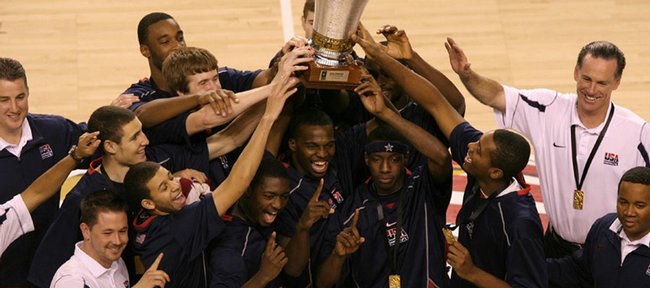 Tyshawn Taylor won't be locking his Under 19 World Championship gold medal in a safe deposit box at the bank.
"I'll hang it up in my room so everybody can see it," Taylor, Kansas University's sophomore combo guard said of the reward for leading the United States to a 9-0 record at the international basketball tournament in Auckland, New Zealand.
The 6-foot-3, 180-pounder from Jersey City, N.J., exploded for a USA-leading 18 points, dished six assists and plucked five steals in Team USA's 88-80 title-game victory over Greece on Sunday in Auckland.
"I think it's my biggest accomplishment so far. Hopefully after next year it'll be my second-biggest moment," added Taylor, looking ahead to a coveted 2010 NCAA championship. "It's a great honor to represent your country and win."
Taylor had a huge part in the U.S. ending an 18-year drought between FIBA U19 World Championships dating to 1991. He averaged a team-leading 10.8 points a game. He totaled a team-leading 35 assists and tied for the team high in steals with 14.
"It's a great accomplishment to bring in 12 guys who never played together before and them having one thing in common — wanting to win the gold medal," Taylor said.
"Everybody on our team liked each other. You'd have thought we played together as a team for years."
Instead, the U.S. team gathered for training camp on June 16 in Colorado Springs. The squad left for New Zealand on June 25 and departed the hotel for the airport and marathon return trip at 6 a.m. Monday, New Zealand time (1 p.m., Sunday in the U.S).
Taylor was to be back in Lawrence about 9 tonight.
"I am so tired. We've been going 30 days straight — non-stop," Taylor said in an early-morning phone interview from the Auckland airport. "We practiced. We played. I'm exhausted."
It didn't help that Taylor battled the flu early in the trip. He missed just one game.
"It was bad. I felt terrible," Taylor said. "If I would have felt just pretty bad, I would have played. I couldn't move at all. They gave me antibiotics and I felt better the next day."
Taylor's play in the title game helped solidify a spot on the five-player all-tourney team. He was joined by Butler's Gordon Hayward as well as tourney MVP Mario Delas of Croatia, Toni Prostran of Croatia and Nikos Pappas of Greece. Taylor hit five of 11 shots (1-1 from three) and seven of 12 free throws for a U.S. team that made 26 of 32 charities to Greece's 26 of 36.
"I knew it was going to be a tough game, but I didn't know how the whistle was going to go. You never know what the refs are going to do and you just have to keep playing," Taylor said.
"Greece had a big physical team. We knew they were going to play tough because we'd beaten them once before (85-69 on July 6). We were up by 16 at halftime and only won by eight so it was a tough game."
Pitt's Ashton Gibbs scored 13 points, while Washington State's Klay Thompson and UTEP's Arnett Moultrie hit for 10 apiece. Moultrie had nine boards.
"I don't know how you would pick an MVP with our group," said U.S. head coach Jamie Dixon of the University of Pittsburgh. "It was 11 guys (one was injured) and I can think of different guys every game. I think every guy had a game where he was probably the player of the game and that's what we thought it would be. And that made it fun too, I think every guy knew they were an intricate part of our success and what we did and so they knew that and they played for it and practiced for it."
Dixon's finest coaching job may have been convincing the team it'd take maximum effort to bust the 18-year drought in the U19 event.
"Coach Dixon kept letting us know that we hadn't won this tournament for a while," Taylor said. "This was our time. I'm so proud. I got bragging rights now, so I'm definitely going to brag."