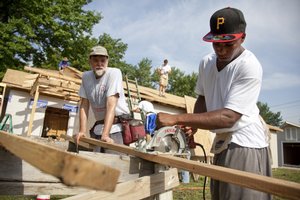 Kansas University football fans hoping to see Todd Reesing on a football field following a distinguished collegiate career could very well get their wish.
If the quarterback has his way, that is.
During a community service outing Friday morning at Langston Hughes Elementary in Lawrence, Reesing said his goal is — and has always been — to play football professionally.
"It's definitely something that's in the back of my mind," said Reesing, set to begin his senior season at KU. "It's not something that I'm going to stress about or worry about until the season's completely done. But it's something that I strive to do and something I really want to do."
For the past two seasons, Reesing has been among the nation's most efficient quarterbacks, leading the Jayhawks to a first-ever BCS bowl victory as a sophomore in 2007 and finishing his junior campaign ranked in the top 10 nationally in passing yards (3,888), passing yards per game (299.08), total offense (4,112) and completions per game (25.3). In the process, he has broken nearly every significant passing record at KU and gone an impressive 20-6 in his two years as the team's starter.
At the same time, Reesing understands the reality of his situation. Due to a lack of prototypical size — he's listed at 5-foot-11 in the team's media guide — he knows he'll be fighting an uphill battle in his quest to advance to the next level.
The NFL has long been unkind to undersized signal-callers, the most recent example being former Missouri quarterback and Heisman finalist Chase Daniel, who, at only 6-feet tall, was passed over in last spring's NFL Draft before signing a free agent deal with the Washington Redskins.
Despite the obvious roadblocks, however, Reesing said his desire to play pro football — in some capacity — has never wavered.
"I know people, at times, thought that I didn't want to play (professionally)," he said. "But it was more of a realistic thing, where I'd have to weigh my options knowing that people might overlook my height. But I definitely want to play, and I know there are options out there besides the NFL. Obviously, the CFL is a thriving league with a lot of fan support."
"All I can do is play the best I can in the games we have this season," he added. "And when the time comes, put my best foot forward and see what happens."
Until then, he said, his focus is on the Jayhawks' 2009 season and a first-ever berth in the Big 12 Championship.
"It's a bridge we'll cross when the time comes," Reesing said of his future in the sport. "But for now, it's all about KU and the season ahead."
l Players relish break from summer workouts: Under normal circumstances, engaging in three hours of manual labor under an unforgiving summer sun would not qualify as an easy-going morning.
But when the alternative is a summer conditioning regimen that has been known to be particularly grueling, Kansas players were happy to spend Saturday morning helping construct a home near the intersection of East 15th and Elmwood Streets as part of the Habitat for Humanity program.
"It's good to get away from football for the weekend, and do other stuff outside of (the sport)," said sophomore defensive tackle Darius Parish, one of a dozen or so players who took part in the event. "It's still football-oriented, but it's fun."
"It's something different, because we talk about things (other than) football," added Dexter Linton, a true freshman safety from Arlington, Texas. "So it's real good.
"Football's tiring."
More like this story on KUsports.com