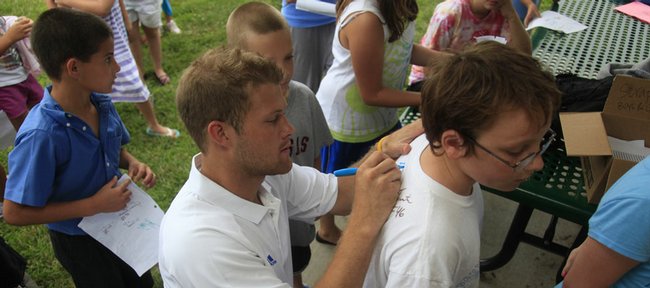 Friday was Kansas University "football player day" at Langston Hughes Elementary School — which means that, for approximately 50 youngsters ranging from kindergarten to sixth grade, Friday was about the coolest thing since SpongeBob donned square pants.
For an hour and a half, as a small group of Kansas players stopped by to spend the afternoon with kids from the Boys and Girls Club program, the Langston Hughes playground was transformed into a wonderland of sorts, as an army of knee-high citizens bopped around in a state of euphoria, trying to decide which attraction — "Knock-out" with cornerback Justin Thornton? The jungle gym with running back Jake Sharp? — most warranted their attention.
"We usually go to a park on Fridays," said Claire Willis, a group leader with the Boys and Girls Club summer program. "But I don't think any of them was too sad about missing that today."
No indeed. And in a show of their appreciation, the youngsters thanked the local celebrities by jumping onto players' backs, hanging onto players' legs, chasing players through the jungle gym and generally clamoring for the attention of the giants occupying their playground.
At one point, a bowling ball of a boy with a buzz-cut and a striped T-shirt spotted KU defensive back Thornton standing nearby, paused for a moment and then took off toward him in a rather aggressive manner. Luckily, moments before impact, Thornton noticed the ball of fury rushing toward him, shifted sideways and narrowly avoided a blow that would have likely resulted in — best case scenario: a pancake; worst case scenario: death.
Another boy, shaggy-haired and boisterous, wandered over to a pair of onlookers and stated proudly, "I've been on every KU player's shoulders!" before backing up this claim by sprinting across the playground — flip-flops smacking against the pavement — and leaping onto the back of an unsuspecting Kerry Meier (An unofficial Journal-World tally would indicate the boy successfully climbed Meier's back eight times over the course of the day).
"All the kids seemed to want to wrestle me all day," said a smiling Thornton, set to begin his senior season at KU. "I don't know what it was, but they all wanted to wrestle me."
When they were not engaged in playground pursuits or being otherwise mauled, the players acquainted themselves with Lawrence's youth.
One by one, they were called over to the playground's picnic area, where a young girl with a serious manner and a makeshift notebook subjected them to a rigorous interview process, the questions of which included: 1. "What is your favorite color?" 2. "What is your favorite animal?" 3. "What is your favorite letter of the alphabet?"
"Tough interview," quarterback Todd Reesing acknowledged afterward. "Not as grueling as the ones you guys throw at me. But pretty rough."
As is to be expected, Reesing garnered a good amount of the female attention. For most of the day, a flock of girls surrounded the Jayhawks' record-setting signal-caller, grabbing hold of his hand, inquiring about his personal life ("What's your favorite insect?" one girl asked), and proving that the female infatuation with quarterbacks — a natural and scientific phenomenon — takes hold at a very young age.
Of course, as is the case in any American playground, there was a certain initiation process that players were put through upon their arrival, and perhaps nowhere was this more apparent than during an afternoon dodgeball game in the school's gymnasium.
A boy wearing a "Yes We Can" Barack Obama T-shirt and a devil-may-care grin welcomed Reesing, for instance, by whizzing a ball toward the quarterback's head — even though, at the time, Reesing was merely watching the game from the sideline. A pair of particularly riled up youngsters, meanwhile, promptly let Thornton know that his stature as a Div. I athlete carried little weight in the context of their Friday afternoon gym class.
"A couple of kids started plotting (against) me," said Thornton, who, by the end of the day, was sweating fairly profusely. "I kept finding myself over in the prisoner's box because I kept getting tagged."
Like all good things, however, the visit eventually came to an end. And so it was that the group of players — all smiling and all looking more than a little fatigued — said their goodbyes and headed into the school's lobby, leaving a collection of exhilarated youth behind.
Before they could make their way to the parking lot, however, they were forced to deal with a small firestorm that erupted when word spread among the children that Meier had given his phone number to a boy named Nick. And so, in an effort to appease the masses, Meier stood facing a large line of girls, doling out his phone number to one ponytail at a time. (One girl, apparently figuring she'd been given the number to Meier's home phone, told the Pittsburg native, "No, I need your cell.").
Later, asked whether he figured any of the young ladies would follow up with weekend calls, Meier smiled sheepishly.
"I gave them my parents' number," he said. "So my parents are probably going to be getting a few phone calls tonight."
More like this story on KUsports.com