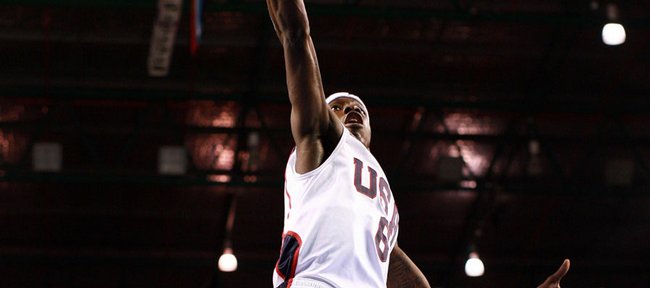 Auckland, New Zealand — Kansas University's Tyshawn Taylor, who last week was hit hard by the flu bug only to return to play well in Team USA's last two basketball victories, admits it'll be nice having a day off today.
"We're kind of tired," Taylor said after scoring a team-high 13 points and making some crucial defensive stops down the stretch in Team USA's 76-69 victory over Lithuania on Wednesday at the FIBA U-19 World Championships.
The victory gave the U.S. a 6-0 record and spot in a medal-round quarterfinal contest against (3-3) Canada on Friday.
"Everybody is tired. Everybody has played just as many games as us, so you can't use being tired as an excuse. We've got video tomorrow. We're going to rest and try to get our legs back and come back here Friday and be ready," said Taylor, a 6-foot-3 sophomore point guard from Jersey City, N.J.
Taylor, who earned his third start in five games (he missed one because of that flu bug), helped the U.S. put away Lithuania with back-to-back baskets in the final minutes.
He finished 6-for-13 shooting to go with four assists against two turnovers.
"I just wanted to be aggressive, whether it had to be scoring or looking to attack and hit one of my teammates for a layup," Taylor said. "I had open shots so I took them, and they just fell for me today. They weren't falling the last couple of games so I'm glad they fell today."
Taylor ranks third on Team USA in scoring with 9.8 points per game and is 21-for-45 (47 percent) from the field through five games. He also has a team-high 19 assists.
"It means a lot," Taylor said of the international experience. "I'm glad to have this honor. It means so much to be here. I think all 12 guys feel the same way. It's just a great honor to be here representing our country."
Two other players scored in double figures versus Lithuania. Klay Thompson and Darius Miller totaled 10 apiece, while John Shurna had nine. Gordon Hayward had eight rebounds and Thompson seven.
"I think we're just a bunch of guys that like each other," Taylor said. "We haven't been together long, but we like being around each other, and there's not really any stars on this team.
"Seth (Curry) played really good a couple of games; Ashton (Gibbs) played really good a couple of game, myself, John (Shurna), so it's just a bunch of guys that can play and like playing with each other. I think it's hard to beat us. It's hard to beat us when you don't know who is going to be the leading scorer, or the leading rebounder, or the leading assist man."
Now it's single-elimination for the U.S. team, with Canada the first foe in the medal round. The U.S. is the top seed in Group E; Canada is the No. 4 seed in Group F.
"I think most of our guys are used to this maybe (from the NCAA Tournament), playing like it's our last game just like Lithuania did tonight," Taylor said of Lithuania, which was eliminated. "We've got to play every game like it's our last. I think with more to play for our guys we will come out, and we'll start more aggressive, and we'll be ready."
U.S. coach Jamie Dixon likes his squad: "I'd probably prefer a game not so close," he said after the Lithuania contest. "But down the stretch we got it done. John Shurna, Tyshawn (Taylor) and Darius (Miller) all made some big plays and that's what you need."
NBA waters: Bob Hurley, who coached both Taylor and U-19 leading scorer Mike Rosario at St. Anthony High, told Zagsblog.net his prize pupils might be wise to test the NBA Draft process after their sophomore seasons.
Draftexpress.com projects Taylor to be the No. 17 pick in the first round in the 2010 Draft. Rosario attends Rutgers.
"I think at the end of the sophomore year, I think you need to take a look. Go in with the intention of finding out if it makes sense and not committing yourself because you can go back to school (if you don't hire an agent)," Hurley said. "I think you're only exploring something that makes sense. The NBA has put you in a position where the longer you're in college, you diminish your own value."
Hurley did tell Zagsblog he "didn't know if Ty personally would be ready to do it (after two years)."
Aldrich in Ohio: FOXsports.com's Jeff Goodman interviewed KU junior center Cole Aldrich on Wednesday at the LeBron James Skills Academy in Akron, Ohio. Aldrich reiterated he never considered entering the NBA Draft after his stellar sophomore season.
He told Goodman he watched part of the 2009 draft after returning from a round of golf.
"The guys on our team were teasing me that I could have been in New York that night," Aldrich told Goodman. "But I told them that this proved how much I like you guys.
"I really never even thought about it. I love school. I'm living the dream right now and having so much fun. I love my teammates, and we all get along so well together. I'm greedy. I want to win another title."
KU the favorite: A prominent Las Vegas casino lists KU as odds-on favorite (4-1) to win the 2010 NCAA title. Kentucky follows at 5-1, Louisville 13-2, Michigan State 12-1, Duke 15-1, Missouri 15-1, Texas 18-1. North Carolina, Tennessee, Purdue and Villanova all are 20-1.
Miles update: Two Baylor players — Curtis Jerrells and Henry Dugat — join former KU point guard Aaron Miles on the roster of the Dallas Mavericks NBA summer-league team, set to begin play in Las Vegas this weekend.
More like this story on KUsports.com