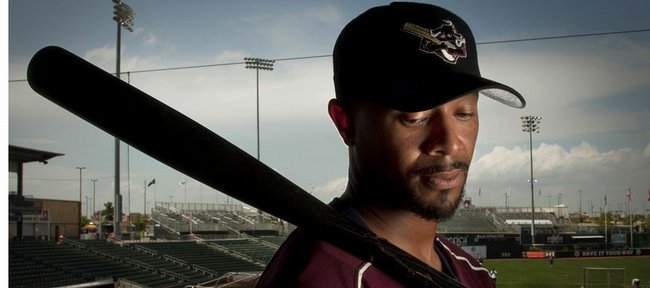 There's a baseball bat in Lawrence, an all-black, Carolina Club model C271, that probably is better suited to be displayed in a memorabilia museum or perhaps even the National Baseball Hall of Fame in Cooperstown, N.Y.
Its owners are Lawrence High football coach Dirk Wedd and his son, Shane, a 1996 LHS graduate. Its previous keeper is former major leaguer and current Kansas City T-Bone Damian Rolls.
Its connection to baseball places it — and Rolls — in one of the rarest groups of all time. On a balmy June afternoon in 2003 at Tropicana Field in Tampa, Rolls became the 10th player in major-league baseball history to hit two home runs off of Roger Clemens in the same game.
The rest of the names in the exclusive club read like an All-Star team: Robin Yount, Eddie Murray, Carlton Fisk, Ivan Rodriguez, Fred McGriff and Ken Griffey Jr. — coincidentally, the player Rolls grew up idolizing — all have done it. Rolls joined them on June 23, 2003, and relives the feat every week to this day.
"It's something that no one can take away from me, and I hold it dearly in my heart," Rolls said. "I have it on DVD, and I watch it often, probably twice a week. It's to reminisce and say, 'Hey, I did that.' It's also to say, 'What was I doing with my swing mechanically.' And it's also a boost; 'Hey, if you can do this off Roger, get your head out of your (butt).' It works in a lot of ways."
Although the six-year anniversary of that two-home-run night — Rolls' first to that point since 1995, during his days with the Lawrence Rebels — has passed, the former Kansas University signee remembers it well.
Rocking the Rocket
The scene sets like this. In June of 2003, Rolls was in the middle of his first real shot at playing time in the big leagues. After being selected No. 23 overall in the 1996 amateur baseball draft by the Los Angeles Dodgers and later traded to Tampa Bay, Rolls made his major-league debut in September of 2000 and bounced around between the minors and the big leagues for the next four seasons.
After a rough series against Florida in mid-June, Rolls once again was concerned about being sent down to the minor leagues. On June 22, 2003, with the Devil Rays about to open a series with the New York Yankees, Rolls found himself praying for one more chance.
"I remember I was sitting there at the house saying to myself, 'I hope and pray that I'm playing tomorrow because Roger's pitching, and I see him well," Rolls said. "Luckily, I got to play that day, and the rest is pretty much history."
Rolls had seen Clemens one time before, in New York, where he fouled off a handful of pitches and earned a walk in a 10-pitch at-bat. Because of that appearance and the relative calm that came with it, Rolls had become one of the few hitters in the history of the game who actually looked forward to facing Clemens.
During his 24-year major-league career, Clemens served up 363 home runs, good for an average of 15 per season. On the third day of summer in 2003, Rolls hit two of those in consecutive at-bats.
In his first at-bat, Rolls ripped a solo home run over the left-center-field fence. The next time up, he launched a three-run shot over the foul pole in left. Of the two blasts, only the first swing triggers any memories in Rolls' mind.
"My first home run off of him, I was there mentally for all of that," Rolls said. "But the second one was a split-finger down on a 1-2 pitch at my foot. I went to swing the bat, and I blacked out. The next thing I know I look up and I'm running down the first-base line saying, 'Stay fair.' I do not remember swinging the bat because it was definitely not a pitch that I would have even attempted to swing at.
"I had help. I was blessed that day."
Two weeks later, when the Devil Rays were playing in New York, Rolls ran into Clemens at Yankee Stadium a few hours before the opening game of the series.
"He saw me walking around, walking out to the cage, and he called me by my nickname (D-Rolls)," Rolls said. "Before, he never said one word to me. But after (the two-home run game), he treated me with respect and everything. It was like I went from being a nobody to him having a newfound respect for me. I haven't seen him or talked to him since."
Just a bat to say, 'Thanks'
For as long as Rolls can remember, athletics — in particular baseball — came easy to him. He was a three-sport star at K.C. Schlagle High and, based on raw ability alone, quickly became one of the hottest pro prospects Kansas had ever seen.
Although the appearance of pro scouts became a regular scene at Rolls' games, his parents raised him on integrity and humility.
"Pops always said you make your money at the end of your career, not the beginning," said Rolls, who signed a rookie contract with the Dodgers five days after being drafted. "Get paid for what you did, not for what you might do."
Rolls' connections to Lawrence run deep. In addition to playing summer ball for Dirk Wedd, Rolls committed to Kansas University, giving then-KU-coach Bobby Randall the most prized recruit of his career. But Rolls never suited up for the Jayhawks. Instead, the power-hitting third baseman became a first-round draft pick, a moment that proved to be the foundation for a professional career that had as many ups as downs and ultimately delivered the noteworthy bat to Lawrence.
"I'll never forget it," Shane Wedd said. "I hadn't talked to Damian in a while, and one day he called me up and said he needed my address. I didn't know why, figured he was getting married or something. Then, a few days later, we get this package. The bat arrives, and I'm just blown away."
Added Dirk Wedd: "To actually see the bat, you're kind of sitting there going, 'Wow.'"
For Rolls, who stockpiled his share of collectibles during a five-year big-league career, sending the bat to the Wedds was a simple gesture of thanks.
"I'm not good with giving gifts, unless they're something of sentimental value," Rolls said. "And that bat had sentimental value. Shane, Dirk, Shane's mom, his sister, everybody in that household had a significant role in how I became a better person and a better ballplayer. To me, that was my way to show them thank you for what they did for me.
"I knew they were going to treat that thing better than I was."
Back to the beginning
The bond between Rolls and the Wedds began the summer between his junior and senior years of high school. After the completion of a high school season that transformed him from raw talent to pro prospect, Rolls joined a traveling team known as the Lawrence Rebels. Coached by Wedd and made up of a dozen or so members of the Lawrence High team that went on to win the state title in 1996, the Rebels were known as one of the best teams in the region. Adding Rolls only made the team better.
In his first game with the Rebels, Rolls hit two home runs and made a defensive play that made Dirk Wedd's jaw drop.
"There was a play above the dugout down the third-base line," Dirk Wedd said. "Damian's running backwards and leaps nine or 10 feet in the air, pulls himself up onto the roof with one hand and backhands the ball above the dugout. That was probably the most athletic thing I've ever seen anyone do."
A few games later, Rolls showed he could deliver at the plate, as well. One game after the Rebels lost to a team that had no business beating them, Wedd delivered one of his trademark postgame tongue-lashings. The focus of the invective was how the Nos. 2 through 5 hitters in the lineup, who were 0-for-14 in the loss, needed to step up.
"The very next game, Damian (who hit third in the order) goes grand slam, three-run homer and nine or 10 RBIs," Dirk Wedd said. "When he circles the bases the last time, he high-fives me real hard and says, 'Is that frickin' steppin' up?' The amazing thing about a first-round draft pick that I learned from coaching him is that every two or three games he did something that made the rest of us just look at each other and go, 'Wow, did he just do that?'"
Added Rebels teammate Nick Wood, now the varsity girls basketball coach at LHS: "Without him, we were good enough to win a state championship. With him, we were able to compete for a national championship. He made that much of a difference. The only time I remember him getting out was on a hard-hit line drive."
Although many big-leaguers will say they remember this coach or that moment along the way, few have seemed as sincere as Rolls. To hear him tell it, the transformation from athlete to ballplayer took place during the days when he rode from game to game on a small, 20-passenger bus known as "The Woody Wagon."
"I had some of the most fun playing summer ball," he said. "That was fun. That showed me how to play the game. Before, I was just going out and playing with athleticism, I didn't really know what I was doing. But they showed me how to play the game of baseball. When I'm out there on the field to this day, I resort back to some of the things I learned playing with the Rebels."
The future for Rolls
Launching two home runs off of arguably the greatest pitcher of all time is a world away from Rolls' humble beginnings in Kansas City, Kan. But the man several members of the New York media referred to as "a light-hitting scrub," "a relative unknown" and "an improbable power source" back on that day in June of 2003, has returned home and is holding out hope for one more dance in the big leagues.
"If I am trying to get back like I want to, I can't B.S. my roots," Rolls said. "If Dirk comes to watch me play, he knows when I'm doggin' it on the field. My pops, he knows when I'm doggin' it, my best friends know. I can't come back here and play mediocre or give a mediocre effort. If I want to get back to where I want to go, I had to bring it back to where it all started. And I'm going to have fun doing it. If it doesn't work out, I can't think of a better place to be."
His family — a wife, three daughters and one son — remains in Clearwater, Fla., while Rolls, 31, continues to pursue the final chapter of a 25-year-old fantasy novel in his hometown. His parents, Al and Janice, live five minutes from CommunityAmerica Ballpark and still come to every game. What they see on the field is what Rolls still feels inside, a young, ultra-talented, fun-loving ballplayer with the ability to turn a game on a single swing.
Rolls, who was named a Northern League All-Star last week, is second on the club with a .311 average and has recorded 13 doubles, seven home runs and 24 RBIs in 42 games.
Like many his age, Rolls has the occasional aches and pains that come with playing the game so hard for so long. But he doesn't dare use the "O" word to describe his current situation.
"Mentally and physically, no, I don't feel old at all," Rolls said. "They tell me I am, but I don't believe 'em. All I'm focusing on is doing everything I can to get another chance. I'd love to play right across the highway (for the Kansas City Royals). That would be an ultimate dream-come-true. But my main goal is to have fun playing at home. Anything else I get is a bonus."