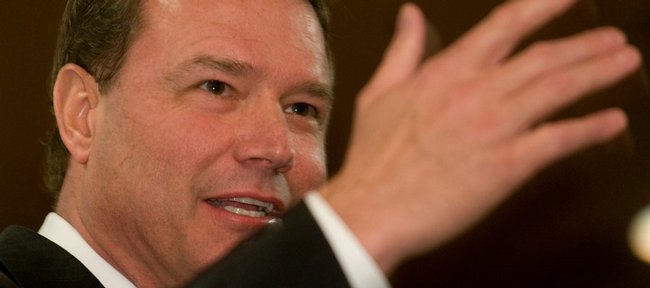 Bill Self will be looking to sign a few good men — up to four, actually — in the recruiting class of 2010.
"We know we have Sherron (Collins) to replace, Mario (Little) to replace, a great chance we'll have to replace Cole (Aldrich) and maybe somebody else (Xavier Henry)," Self, KU's seventh-year coach, said before hitting the road for today's start of the July evaluation period.
Coaches can evaluate high school prospects nationwide today through July 15 and again July 22-31.
"We have multiple scholarships to give, and we need to get the best player at several spots. Knowing what we're going to lose ... we probably need a big (center), a big guard and point guard. Those are areas we're looking at," Self said.
KU long ago filled one of its 2010 slots with Royce Woolridge, a 6-foot-3 senior combo guard from Phoenix. He announced for KU after his sophomore year at Sunnyslope High School.
"It's still early. We have one commitment," Self said, not allowed to talk about Woolridge until the November signing date in accordance with NCAA rules. "I think we're in good shape, but in recruiting you never know. After July, we'll have a better feel where we are."
It's no secret which players Self will be tracking during his trips to AAU events in Ohio, Nevada, Georgia, South Carolina, Florida and various other spots.
Top Rivals.com prospects include: Harrison Barnes, 6-6, small forward, Ames, Iowa; Ray McCallum, 6-1, point guard, Detroit; Brandon Knight, 6-3, point guard, Coral Springs, Fla.; Luke Cothron, 6-8, power forward, Red Springs, N.C.; Cameron Clark, 6-6, small forward, Sherman, Texas; Joe Jackson, 5-11, point guard, Memphis; Cory Joseph, 6-3, point guard, Henderson, Nevada; Doron Lamb, 6-4, shooting guard, Mouth of Wilson, Va.; and Terrence Jones, 6-8, power forward, Portland.
At the top of the list in the Class of 2011 is Bradley Beal, a 6-3 junior from St. Louis. Perry Ellis, a 6-7 sophomore from Wichita Heights, is the prize of the Class of 2012.
"I'm looking forward to getting to see the guys we've been talking to and a lot of young kids I've not seen play," Self said of players in the Classes of 2011, '12 and '13. "It's a great chance for us to get out and evaluate."
Self admits the month of July can be a grind.
"I do like summer recruiting," he said. "I don't think we need quite as many dates as they give us. I do think the level of play plateaus out big-time. I'm a proponent of summer recruiting. I just don't know if it needs to be this long."
Here are some questions and Self's answers concerning recruiting:
Q: Is your goal to land commitments from players when they are sophomores and juniors, as opposed to seniors?
A: I'm not hung up on trying to get kids to commit as freshmen and sophomores. If he's a can't-miss, of course ... s big key in getting guys early is geography. In our location ... I'm not making excuses, it's harder getting kids to us. We're a plane ride away. Times are tough economically, as everybody knows. It's a big advantage when kids are able to get in (on unofficial visits).
Q: Do you worry about getting a commitment from a sophomore and having the player change his mind down the line?
A: In basketball, you make a verbal commitment, chances are it sticks. In football ... I get a kick out of football recruits who say, 'I commit to so and so and am looking forward to visiting another school that week.'
Q: Do you try to recruit a certain area more than others?
A: Our top nine last year (national title team) were from Brooklyn (Russell Robinson), Dallas (Darrell Arthur), Oklahoma City (Darnell Jackson), Minnesota (Aldrich), Chicago (Collins), Kansas City (Brandon Rush), Seattle (Rodrick Stewart), Anchorage (Mario Chalmers) and Siberia (Sasha Kaun). We've had players from all over. The best players who fit what you are trying to do is what we try to go after.
Q: Do you try to recruit close to home?
A: We do want to recruit the best players in our back yard. There's good, young talent in the state. We are pursuing some of that talent. There's something to be said about local flavor because it (playing for KU) means a lot to them. It's important you get those guys close to home, and the flip side is not to let anybody come in and get your guys. There's a turf there you don't want anybody to think they can come in your area and recruit and be successful.
Q: Are you in favor of the early November signing period?
A: I think the early period in basketball is good. In basketball, kids are committing earlier and earlier. You could almost have a signing period their junior year. I know we won't, but it's about what it comes down to.
Q: Do you only want to sign McDonald's All-Americans?
A: I like coaching the most talented guys, but look at our (title) team and the ones coach (Roy) Williams and (Larry) Brown had that were successful. The foundation of those teams were Darnells, Sashas, Russells. In '88, coach Brown had Danny (Manning) and Kevin (Pritchard), but also had the (Jeff) Gueldners and (Chris) Pipers and (Milt) Newtons. Those were guys who came in, worked hard and got better. We've had headliners, but also solid guys who allowed the headliners to be headliners. You need a blend of guys who can get you 20 a night and those who understand their role and help you get 20."
More like this story on KUsports.com