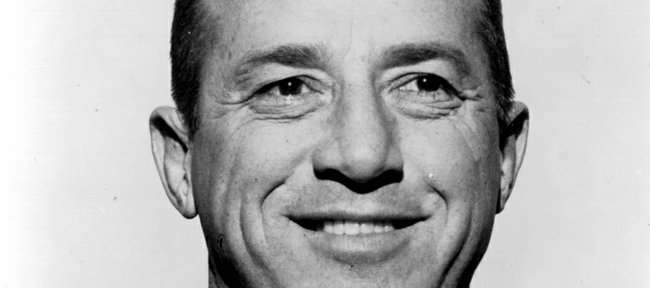 Former Kansas University football coach Jack Mitchell has died in Sun City, Ariz., the Journal-World has learned.
Mitchell, 85, coached the Jayhawks for nine seasons (1958-1966) and left with an overall record of 44-42-5. His best teams were in 1960 (7-2-1), 1961 (7-3-1) and 1962 (6-3-1).
He was fired after the Jayhawks compiled a 2-8 record in 1965 and a 2-7-1 mark in 1966. After leaving coaching, Mitchell bought the newspaper in Wellington, Kan., and was its publisher until he retired to Arizona.
"If ever there was a coach who made football fun, it was him," said Don Fambrough, who was an assistant coach under Mitchell. "A lot of us tried, but he actually did it."
A native of Arkansas City, Mitchell was an All-American quarterback at Oklahoma University. He orginally enrolled at Texas U., but transferred to OU after entering military service during World War II.
Mitchell's first coaching job was at Blackwell, Okla., High. Then he became an assistant coach at Tulsa University and Texas Tech before earning his first head college job at Wichita State in 1953.
After two years with the Wheatshockers, he spent three seasons at Arkansas before accepting the KU job following the 1957 season.
More like this story on KUsports.com