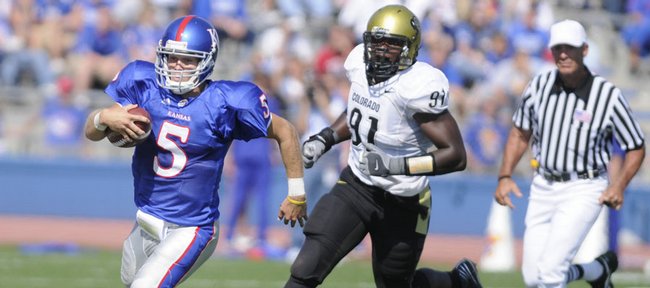 Pro baseball teams do it. So do pro football teams. Why not college football teams, too?
Nebraska's football players will don retro uniforms for their Sept. 26 game against Louisiana-Lafayette as NU celebrates its NCAA-record 300th consecutive sellout.
On that night, the Cornhuskers will wear replica uniforms from 1962, the year the streak began. The '62 jerseys have distinctive curly-q numerals and the white helmets have matching jersey numerals in stark black instead of the iconic red 'N' the Huskers have used for decades.
The replicas won't, however, be exact copies because there will be an adidas logo on the jerseys. Adidas is supplying the total package — helmets, jerseys and pants.
Hmmm … adidas. That's the same company that outfits Kansas University athletes. And that made me wonder how the Jayhawks would look if they staged a Retro Game and were decked out in 1962 togs.
I dug up a picture of Gale Sayers in a 1962 KU uniform and, like the Huskers, the Jayhawks' helmets featured the player's number instead of a logo. I've seen similar Missouri helmets of that vintage so the early '60s were clearly pre-logo days.
Over the years, Kansas football jerseys have just about covered the entire spectrum of blues, from the "mineshaft" blues of the mid-1980s to the powder blues of the early '60s and late 1970s so matching the shade of blue to the year shouldn't be a problem.
Nevertheless, it might make more sense for Kansas to do its retro shtick based on a helmet that features the familiar Jayhawk logo.
Countless KU fans have stumped for the return of the mythical bird to the headgear as a replacement for that insipid Trajan font "KU." So much so, in fact, that they might even want to buy one.
The retail factor is also a facet of Nebraska's marketing plan. Every one of those old NU uniforms — adidas is making No. 1 through No. 99 — will be sold. The price? Limitless.
Those uniforms will be put up for auction with a minimum bid of — are you ready? — $500. Assuming each uniform goes for just that minimum, that's a windfall of nearly $50,000 for NU's athletic department.
Wait, there's more. A commemorative ticket stub from the game that started the streak will be sold for $5 each. And Nebraska officials no doubt will sell more game programs because of the historical impact.
Imitation in the pursuit of revenue is not considered a vice in college athletics so it seems likely KU will sooner or later go the retro route, too. The only questions are when and why.
Obviously, it's too late to stage a retro promotion this fall, so the first available season would be 2010. But what to celebrate? How about the 35th anniversary of the 1975 Kansas team that handed national champion Oklahoma its lone defeat.
That '75 squad, led by Wishbone quarterback Nolan Cromwell and halfback Laverne Smith, also wore what I consider a classic design of solid blue uniforms and helmets with a Jayhawk logo on each side of the headgear.
Could KU auction off 99 of those '75 uniforms at a minimum of $500 apiece? Hard to say, but I'll bet Cromwell's No. 9 and Smith's No. 30 would fetch a pretty penny.
More like this story on KUsports.com