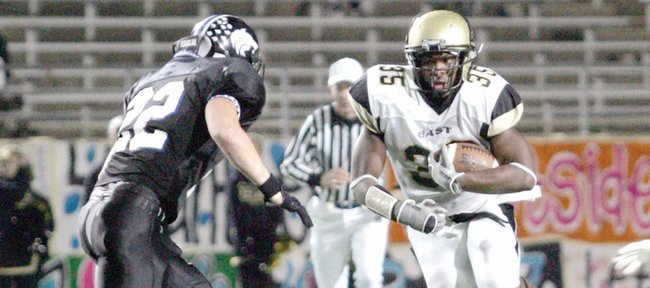 So far this summer, the Jayhawker Towers dorm room belonging to Kansas University freshman football players Huldon Tharp and Tyrone Sellers Jr. has become a refuge of sorts — a place fellow freshmen can go and, while lounging on couches or fiddling with XBox controllers, air out the stresses of their current predicament.
That predicament: the adjustment to the rigors of Div. I college football.
"That definitely happens," said Sellers, a defensive end from McCook (Neb.) High. "We're always complaining about this or that, talking back and forth."
While the team's incoming freshmen appear to be settling in nicely — in addition to workouts and classes, a handful already were volunteering last weekend at the Lawrence Interdenominational Nutrition Kitchen (LINK) — they also have reached the conclusion that the relatively carefree days of high school football, where requirements are far less steep and it's possible to coast through the occasional workout, are a thing of the past.
And it didn't take them long to figure it out.
Players spent the first three days of summer workouts running the stairs at KU's Memorial Stadium, step after grueling step at dawn, a not-so-subtle indication of the kind of workload incoming players can expect at the collegiate level.
"(It was) worse than our conditioning in high school for the whole year," Tharp said.
Added Sellers, "You're going 100 percent all the time. In high school, you take this play off or that play off in practice, but here, you're going 100 percent, and you go until it's the end of the drill."
Since arriving on campus last month, players say, they have fallen into a routine, their days set up with various workouts and appointments. And each night, after a day of weights and running and tutoring and classes, they retire to their dorm rooms, fall onto couches and try to enjoy a couple hours of downtime before rising at 5 a.m. the following morning to do it all over again.
Despite the daily grind, however, players seem to have little problem embracing college life.
For one thing, Tharp says, it's a nice to be surrounded by teammates willing to work as hard as necessary to get better — something that wasn't always the case during his prep days.
For another, the freedom that comes with being away from home for the first time has been welcomed happily.
"Finally being on my own," Sellers said, asked the best part about being in college. "Not having to be in my parents' house — just (doing) whatever I want to do. I still got mandatory things I've got to do, but I can be free and don't have to tell them what I'm doing or where I'm going."
For the time being, it's unclear which of the team's newcomers will be in a position to make an immediate impact in 2009. That likely will be sorted out during August practices, when coaches are able to see what kinds of strides new players have made throughout the course of the summer.
In the meantime, the team's newest members are busy settling in, acclimating themselves to the city of Lawrence and basking in the attention of a Kansas fan base that, after watching the program ascend over the past few seasons, is hungry for a Big 12 North title.
"It's definitely cool," Sellers said of the excitement surrounding the program. "You got a little taste of it in high school, people coming up and telling you, 'Good game.' But I think it's a whole different atmosphere here. People bleed crimson and blue around here, and it's kind of nice to have that."
More like this story on KUsports.com