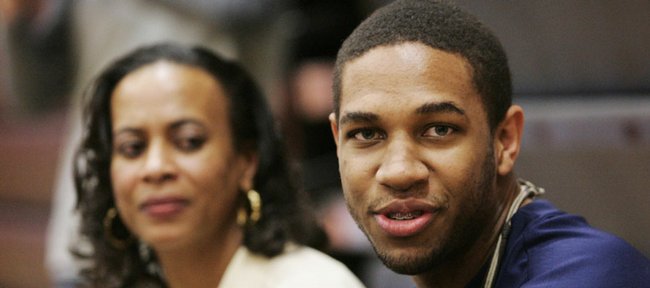 Audio clip
KU coach Bill Self teleconference
All was quiet in Bill Self's temporary basketball office in the northwest corner of Anschutz Pavilion at 3:30 p.m. Wednesday, the day after he, Danny Manning and Joe Dooley met with members of the Henry family in Oklahoma City.
"It's not anything terrible we dealt with. The boys are as committed (to attending KU) as they have ever been," Self, Kansas University's seventh-year coach, said of Xavier and C.J. Henry, who Tuesday were reportedly considering dumping KU for Kentucky because of ill feelings over a Kansas City newspaper article printed last weekend.
"The reasons they are not here are strictly medical reasons. They don't have to do with anything else. People should talk themselves off the ledge so to speak if you are a KU fan, because we're fine, and they're fine. I do think it's over. We should not be talking about this again," Self stated.
"This" is the idea that the Henry brothers might be heading somewhere besides KU to play basketball this season.
"It's resolved," Self said. He was referring to the "firestorm" created when the brothers' dad, Carl Henry, appeared on K.C. 610 radio Tuesday and indicated his boys might be Kentucky-bound because of hurt feelings.
"What happened in their mind was a newspaper article that they felt didn't portray them in the way they thought they deserved to be portrayed. Because of that article there were numerous posts by supposed fans — they could be whoever on the Internet — that created a stir, where, 'Hey, this is how people feel about us. Maybe we should think about going somewhere else,''' Self said.
"They were disappointed and hurt by what they thought the Kansas people were perceiving their family to be. They work long and hard like all families to develop a certain type work ethic and reputation and thought that was being looked at negatively. We talked about it, got it out in the open."
Self — who was asked by the family to come to OKC Tuesday — said it was more the Henrys' parents upset than the future KU players.
"The boys were fine. As a matter of fact, I got down there and they were saying, 'What are you guys doing here?' After we all talked about it, we got to a resolution which really didn't take much ... I think they are fine," Self said.
Carl Henry on Wednesday apologized to KU fans for letting his anger over the newspaper article get the better of him. He also changed his cell phone number Wednesday and doesn't plan to give it to media members.
"What happened was a misunderstanding and I jumped the gun," Carl told Rivals.com. "I don't like anybody attacking my kids or attacking me or attacking my family. C.J. and Xavier are coming to Kansas as planned."
As far as the two looking into playing overseas a few weeks ago ... "Somebody had stirred enough interest, 'You might make this kind of money in Europe.' As a parent, I'd think about that. I encouraged them to do that," Self said of looking into it.
"I didn't think they'd go there. Never did they waver on coming to Kansas."
Self said the Henry brothers and Carl realize Self will be working the brothers hard.
"I am the coach ... When they signed up to have the boys play for us, they gave them to us to coach," Self said. "Carl and I have a good relationship. He is well aware at every institution there is one guy in charge and one only. That's the head coach."
More like this story on KUsports.com