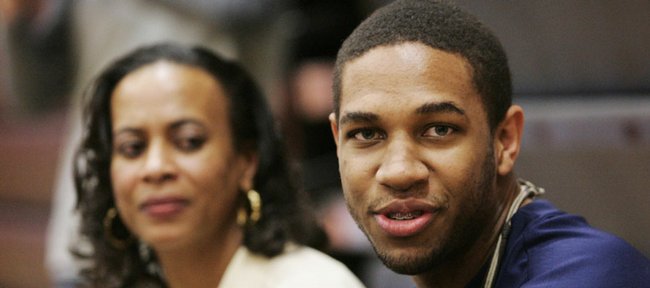 The Henry Saga Timeline
May 18, 2005 — C.J. Henry, a baseball/basketball standout at Putnam City High, commits to play basketball at KU, his dad's alma mater. He admits the June major-league baseball draft ultimately might derail his college hoop dreams, however.
June 7, 2005 — Henry is drafted by the New York Yankees as the No. 17 overall pick in the MLB draft. He says he will definitely choose baseball over college hoops. Shortly after, he agrees to a signing bonus worth well over $1 million dollars. "To be picked by the Yankees is very special," C.J. said.
August 26, 2008 — Henry, who hit .234 in 20 games during an injury-plagued season with Class A Tampa, announces he has quit baseball and decided to play college basketball at Memphis. He said "the hardest phone call I ever had to make," was to KU's Bill Self, informing him he'd decided to resurrect his hoops career at Memphis, not KU.
November 18, 2008 — Xavier Henry, wearing a Memphis cap, appears on ESPN in an early-morning made-for-TV news conference at Putnam City High and announces he has signed with the Tigers over runner-up Kansas. He cited the "deciding factor" as a chance to play for a year with his brother, C.J.
April 23, 2009 — Xavier and C.J. decide to switch allegiances from Memphis to KU in response to Tiger coach John Calipari on April 1 leaving the Tigers' post for the coaching job at Kentucky. Xavier makes his announcement at a late-morning news conference back at Putnam City High's gym. Xavier tells a pack of media members — not just ESPN this time — that he "always loved Kansas ... it's been a dream school for me." Mom Barbara revealed that Xavier wanted to go to KU all along, but opted for Memphis the first time to keep the family together. "I just always dreamed of going to Kansas. I took a step back (because) my brother was at Memphis. I did it to keep the family together. Now that he can play anywhere with the coaching change, I got my chance at Kansas," Xavier told the media.
May 19, 2009 — C.J. Henry officially is admitted to KU. In announcing the completion of paperwork, Self said: "I see him as a guy that's going to challenge to play a ton of minutes. I really believe we're going to be pleasantly surprised with the impact he'll have on our program."
June 1, 2009 — Carl Henry responds to a Twitter post that reported Xavier and C.J. had second thoughts about KU and might reopen their recruiting. "Nothing has changed," Carl Henry said.
June 11, 2009 — KU coach Bill Self tells the media that Xavier and C.J. won't be attending summer school. C.J. would continue to rehab from a cracked bone in his foot that forced him to red-shirt his freshman season at Memphis, and Xavier would work out with a personal trainer while making regular visits to the dentist for a problem with the removal of his braces.
June 30, 2009 — Carl Henry speaks on 610 AM afternoon radio show after 2 p.m. and indicates family is upset at Kansas City newspaper story that was printed the previous weekend and that his sons are now considering Kentucky again. Self acknowledges the family is upset and was looking into the matter.
Xavier and C.J. Henry will remain members of Kansas University's basketball program.
The brothers — who apparently were angered by a Kansas City Star newspaper article that the Henry family felt portrayed it in a negative light — on Tuesday were considering dropping their commitment to KU for Kentucky, the brothers' dad, Carl Henry, said.
However, all was smoothed over by late Tuesday night when Xavier Henry sent a text message to Kansas City 610 radio's Cory Anderson indicating he would remain a Jayhawk.
"I'm goin' to Kansas and that's final," Anderson said in reading the message to the Journal-World.
Henry had sent the message to Anderson at 10:48 p.m.
Shortly after, Henry sent the same text message to Foxsports.com's Jeff Goodman.
Earlier Tuesday, acknowledging there was a possible problem, KU coach Bill Self made plans to meet with the Henry family Tuesday night in Oklahoma City.
Carl Henry told Rivals.com he'd comment on the meeting and his sons' status Wednesday.
"I'm still looking into this," Self told the Journal-World on Tuesday, before the meeting, which obviously cleared up the problem.
"I am ready for the finality of it (on where Henrys are going to school). I believe that will occur very soon," Self added.
Self told the J-W that because of the "article and blogs and people commenting on the article, the family is very upset and concerned about how they'd be treated in Lawrence."
Expressing anger at the newspaper article, Carl Henry said in an interview with KC 610 radio that his son, Xavier, actually had stayed in touch with incoming Kentucky freshmen John Wall and Daniel Orton and recently told Carl he might want to switch his allegiance to UK.
"A couple weeks ago, my youngest son (Xavier) tells me he wanted to go to Kentucky. Said he's thinking about it," Carl told the station. "He keeps in touch with John Wall and Daniel Orton. They are good friends. What happened is those guys get to talking to him, they could probably change his mind. Actually that's what happened. I was talking to Xavier. I'm telling him, 'Hey, man, I know those are your friends, you can't change just like that. You already gave a commitment (to KU). You already said you were coming. Now all of a sudden you don't want to come any more? Just because your friends said, "Hey, this (Kentucky) will be a great place?"'''
Self said the Henrys, who switched their allegiance from Memphis to KU after coach John Calipari headed to Kentucky, gave their word they were coming to KU and thus he is "past the point of being concerned with (their) recruiting. Either they are coming or not coming. There's no reason for fans or people who support the university to be concerned. They gave us their word they are coming. If an article keeps them from coming, of course it'd be disappointing, but it's not anything I can control."
Apparently the article did not sway the Henrys to switch schools once again.
Xavier Henry announced April 23 he would attend KU with C.J. He signed and was released from a national letter of intent at Memphis and was not allowed to sign a second national letter. Thus, the commitment is non-binding.
Carl told 610 radio Tuesday morning that Xavier actually wanted to announce for Kentucky back in April. That conflicts with what Xavier said at his KU commitment news conference: that he wanted to attend KU over Memphis all along but initially chose Calipari's Tigers because of family concerns.
"If it wasn't for his mother saying that 'I would not go to Kentucky,' Xavier would have been at Kentucky,''' Carl Henry said during the radio interview. "So Xavier says, 'I'm going to go to Kansas,' even though what he wanted to do is go to Kentucky, play under coach Cal. That's what he wanted to do."
Carl said that following the printing of the newspaper article, Barbara did not care if her sons switched from KU to UK.
But at least for now — this saga has changed repeatedly — the Henrys remain KU-bound.
More like this story on KUsports.com