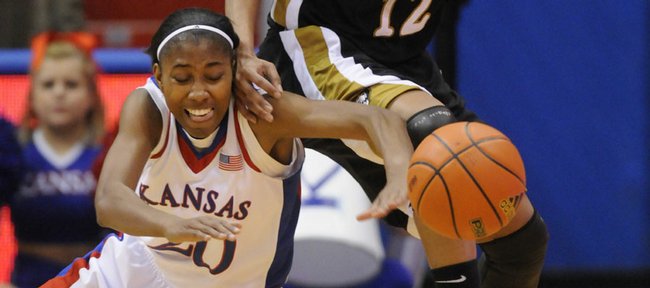 A three-game losing streak. Three of the next four on the road.
Kansas University's women's basketball team sure could use some good news, and they might have it with the return of Sade Morris.
Morris, who missed the last two games because of the lingering effects of a concussion, will be back today when the Jayhawks tangle with No. 7-ranked Texas A&M.;
"She's good to go," KU coach Bonnie Henrickson said of Morris. "She's been practicing since Wednesday. The headache is gone, and so is the sensitivity to light."
Tipoff will be 4 p.m. at Reed Arena. The game will not be televised.
A 5-foot-11 junior, Morris is the Jayhawks' second-leading scorer at 12.8 points a game. She hasn't played since suffering a concussion two weeks ago today against Texas Tech.
"We'll see how she does," Henrickson said.
With Morris out, Henrickson had only three healthy perimeter players in Ivana Catic, LaChelda Jacobs and Kelly Kohn, and the Jayhawks lost at Nebraska and at home to Kansas State.
In that 59-50 loss to K-State a week ago today, Henrickson raised some eyebrows when she used 6-2 freshman Aishah Sutherland for 32 minutes, even though Sutherland hadn't played at all during the previous three games.
Henrickson used Sutherland, she said, because starter Krysten Boogaard was struggling against KSU's Marlies Gipson. A similar scenario could develop again today against the athletic Aggies.
"I'll start Krysten," Henrickson said, "but Aishah will be the first off the bench. My intentions are to go to her."
Texas A&M; (16-3) is riding a wave of momentum after posting a 68-54 victory at Texas on Wednesday night, when senior guard Takia Starks scored 26 points.
"I think Starks is the best one-on-one player in the league," Henrickson said. "She scored 21 points in the second half and willed them to win."
Texas A&M; has won five straight against Kansas (12-6).
More like this story on KUsports.com