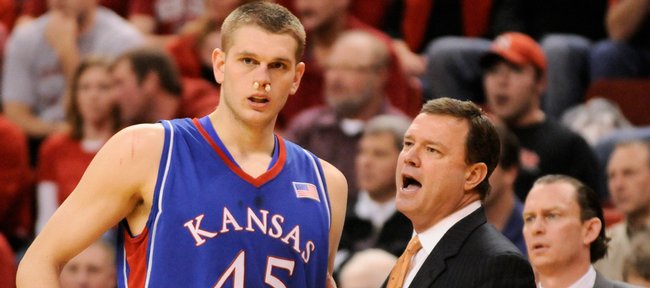 Podcast episode
KU coach Bill Self talks to reporters on Jan. 30, 2009, one day before the Jayhawks' home game against Colorado.
Born and raised in hockey country, Cole Aldrich would love to wear a bulky, colorful goalie mask to protect his broken nose in today's 3 p.m. home game against Colorado.
One with "the back on it, with a big ol' Jayhawk on the side," the Kansas University center joked.
Instead, if the 6-foot-11 Minnesotan does choose to wear a mask, it'll be a simple shield, like the one NBA standout Richard Hamilton has made famous.
"It's just a clear one," Aldrich said, the Jayhawk goalie mask simply a figment of his wild imagination.
"It's got straps on it. It's a regular one."
Aldrich, who had his nose set by doctors Thursday afternoon — a day after taking a hard elbow while chasing a rebound against Nebraska — spoke with reporters Friday sporting a heavy white piece of tape on the bridge of his schnoz.
The tape will remain for today's game.
It's yet to be decided whether he'll wear the protective mask that was fitted Thursday and delivered to him Friday morning.
"If it's comfortable, I'll wear it. If not, I probably won't," Aldrich said, admitting his nose "is a little tender here and there. It's probably going to be a little tender the next day or so, but that's how it is."
He said a broken nose would not keep him out of the lineup today.
"I don't see any way," Aldrich said, asked if he could miss the KU-CU contest. "Worse comes to worse, it'll get hit again, and I'll have to get it set again."
Aldrich joked that he hasn't received much sympathy from teammates, coaches and classmates since getting his nose whacked in the second half of a 68-62 victory over the Cornhuskers.
"I was hoping to get a little more (attention)," Aldrich said. "Maybe here or there. People will say something like, 'I hope it heals well.'''
Aldrich's roommate, Tyrel Reed, feels for his buddy, who has suffered some scars in the heat of battle this season.
"I think he's going to be fine, (but) he looks a little banged up right now from his whole body. He got his tooth messed up earlier in the season," Reed said of Aldrich chipping his front tooth in a home victory over Kansas State on Jan. 13. "I'm sure he'll be ready to go."
Freshman big man Markieff Morris has resisted any temptation to tease Aldrich about the broken nose.
"I got my nose broken twice before (in high school) so I know how it feels," Morris said. "The first time I ran into a divider that divides the court. The pole on the bottom broke my nose. The second time I jab-stepped. The guy went for the jab and hit my nose out of the way."
Morris said he wore a mask as his nose healed.
That's his suggestion to Aldrich.
"I heard he was (going to wear one). He said he didn't want to. Until he breaks it again ... then he'll know why he should have worn it," Morris said.
KU coach Bill Self said, "He'll probably wear tape two or three days. I don't know if he'll wear the mask or not. If he feels comfortable in it, it's fine if he wears it. If he doesn't feel comfortable in it, then he won't. He's not hung up on wearing it though."
Self grinned when asked if he ever broke his nose during his days as a point guard at Oklahoma State.
"I don't think so. Many people have probably suggested it looks like I had," he cracked. "I don't think I've ever broken my nose."
Ah, but did he break the nose of any foes?
"No. No. I was a finesse player," he responded.
On the business at hand ... KU (16-4, 5-0) today will try to defeat the Buffs (9-10, 1-4) for the second time in 14 days. The Jayhawks won, 73-56, on Jan. 17 in Boulder. KU is 3-0 since then; CU 1-2 with a home victory over Iowa State, a home loss to Kansas State and a loss at Texas Tech.
"This is going to be tough. They put up a great fight at their place," Aldrich said. "Their (Princeton style) offense is really tough to guard. We struggled guarding it at times. They can really shoot from the outside. It'll be a tough game."
KU will travel to Baylor for an 8 p.m. tip on Monday.
More like this story on KUsports.com