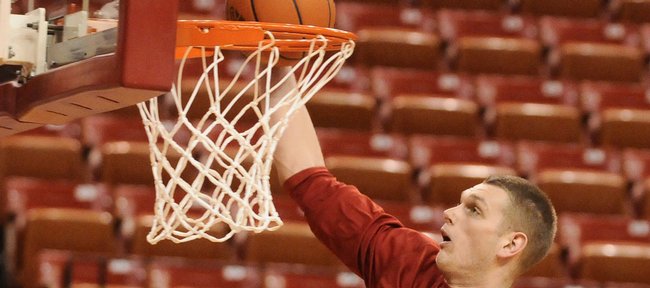 Reader poll
Yes

11%

179 votes

No

87%

1305 votes

Undecided

1%

15 votes
1499 total votes.
It'd be easy to heap all the blame on 6-foot-11 Kansas University center Cole Aldrich for failing to score in the first half of Wednesday's game against under-sized Nebraska.
It'd also be wrong to do so.
"Cole was not a factor in large part because we didn't get him the ball," KU coach Bill Self said after the Jayhawks' 68-62 victory.
"Our guards don't do a good job of feeding the post. They don't. We've got to do better. We had him wide open one time for a layup and threw it out of bounds. He was not going to get too many looks the way the game was going the first half. He should have come away with three or four good ones," Self added.
Aldrich missed his only shot attempt while playing 11 minutes in the first half as NU stormed to an early 11-point lead in Devaney Center in Lincoln, Neb.
"All of us need to do a better job," KU sophomore guard Tyrel Reed said. "The first half, Cole was wide open for a layup. We ran a nice play. Cole had great position. I just threw it out of bounds. Cole does a great job of getting position. We just have to do a better job of getting him the ball."
Aldrich hit three of four shots the second half and two of four free throws. He finished with eight points and eight rebounds (all in second half) while logging 26 total minutes.
"You just can't force it," Reed said of the key to feeding KU's big men. "You've got to be patient with it when you're feeding the post, because at certain times a guy could be fronting him, you throw it over the top.
"That's definitely going to be a point of emphasis, getting the ball to our post man," Reed added. "It makes the game that much easier for us guards for them to kick out the shots and when Cole has the ball good things happen."
Brady Morningstar — his two threes sparked KU the first half while Reed's back-to-back threes ignited KU in the second — agreed with his backcourt teammate that KU's guards must never forget about Aldrich.
"He was open a couple times tonight and we didn't give him the ball," Morningstar said. "Especially against a team like Nebraska ... they don't play a lot of bigs (so) we have to use that as an advantage and just give him the ball because when he gets it, he does damage."
Aldrich — Self said he was to practice Thursday after getting whacked in the nose by a Husker during intense second-half action ("he took a hard hit to the nose," Self said) — did not blame his teammates for failing to find him Wednesday.
"Our whole team came out a little slow," Aldrich said. "Nebraska pressured us and got us out of our comfort zone. They really came out hard at us and made us uncomfortable. It made us make some uncharacteristic passes and plays."
Frontcourt players Marcus and Markieff Morris combined for two points while playing just six combined minutes the first half. Marcus finished with five points in seven minutes; same for his brother. Markieff had five rebounds; Marcus one.
"It was tough for the twins to get in there and play. They are bigger (than Huskers). They struggled like myself (guarding) out on the perimeter," Aldrich said. "They knew it (would be difficult) going in."
Reed said the twins are like Aldrich in they have "great hands. If we feed them a good pass, they are going to catch it. It was my fault for not getting our post players the ball."
Perhaps the beauty of Wednesday's game is KU somehow managed a road victory on a night the Jayhawks put up just 39 shots to NU's 60 and totaled six assists against 21 turnovers.
"I don't know how you win like that. Luckily we did. We're very fortunate," Reed said.
Self let the players know they were quite fortunate to win their fifth consecutive game in Devaney Center and 12th straight overall against NU.
"He was frustrated," Reed said. "We didn't have a solid practice (Tuesday) and it transferred over. We didn't have a lot of energy in practice and at the start of the game. You can't win on the road coming out without energy."
KU will next meet Colorado at 3 p.m. Saturday in Allen Fieldhouse, then head to Baylor for an 8 p.m., Big Monday game.
•
Recruiting: Josh Smith, the No. 1 ranked junior in the country, has KU on his early list of schools, Rivals.com reports. Smith, 6-10, 270 from Kentwood High School in Covington, Wash., is also looking at Arizona, California, UConn, Duke, Georgetown, Indiana, Kentucky, Louisville, North Carolina, Oregon, Oregon State, USC, Stanford, Texas, Tennessee and others.
•
Sadler miffed at Gottlieb: NU coach Doc Sadler is upset at ESPN color announcer Doug Gottlieb for uttering the words "acting like a punk" in describing NU guard Cookie Miller's actions in wrestling the basketball from KU's Mario Little in the second half Wednesday. Miller kept tugging at the basketball after the whistle had blown.
"He (Miller) should let it go. He's acting like a punk," color analyst Gottlieb said on the air.
The Omaha World-Herald reported that Sadler's voice "could be heard Thursday booming through an office hallway asking for a phone number for ESPN."
"I think it's fair for people to analyze coaches and officials," Sadler told the World-Herald. "But I think unless there is something flagrantly done, you don't call out players. When there is a play that is a loose ball and there is nothing done but a jump ball called, to call out a player and say he's 'acting like a punk' is wrong. You don't do that."
Sadler told the Lincoln Journal-Star Gottlieb's use of the word "punk" was "classless and unprofessional." He said he thought Gottlieb owed Miller an apology.
The Journal-Star reported Gottlieb's conversation with Omaha radio station 1620: "He absolutely was acting like a punk. Go back and watch the tape if you guys want, but he was acting like a punk.
"If you look at the replay, there are 10 guys on the floor, (and) nine of them just standing up, dusting themselves off, getting ready for the next play, and Cookie Miller's trying to rip the basketball out of Mario Little's hands. ... He wasn't throwing any punches, and he didn't deserve to be thrown out of the game, but he was acting like a little punk."
The World-Herald said that Sadler on Thursday contacted the Big 12 office. He told the paper he'd be calling Gottlieb and ESPN.
More like this story on KUsports.com