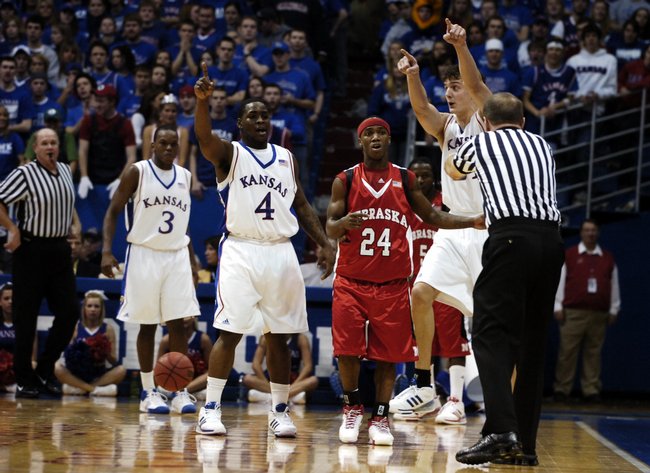 Lincoln, Neb. — Sherron Collins, who is listed at 5-foot-11 on Kansas University's basketball roster, will feel like a big man on campus tonight.
"This is one game I probably won't be the shortest person on the court," cracked Collins.
He'll be matched against 5-foot-7 University of Nebraska sophomore Cookie Miller during the KU-NU game, set for a 6:30 p.m. tip at Devaney Center.
"He's real fast. I am still fast," Collins said. "I'll give him a little more space. I should be able to at least contest his shot because he's small."
Small, but talented and one, tough cookie.
Miller, who is part of NU coach Doc Sadler's four-guard offense, has dished 71 assists against 37 turnovers and plucked 26 steals while averaging 7.2 points a game.
He's made 11 of 29 three-pointers on a team that boasts sharpshooter Paul Velander (49 of 104 treys for 47.1 percent) as well as Sek Henry (18 of 47), Ryan Anderson (15 of 50) and Steve Harley (13 of 39).
"Yes they will be a tough group," Collins said of the NU guards — a contingent led by double-digit scorers Harley (12.1) and Ade Dagunduro (10.7). "With the great environment there, it'll be a dogfight."
Pit bulls Miller and Collins played against each other three times last season.
Collins had 28 points, four assists and seven turnovers in KU's three victories; Miller 13 points, six assists and six turnovers.
KU rolled, 79-58, on Jan. 12, 2008, in Lincoln and won, 84-49, on Feb. 26 in Lawrence. KU overcame a 27-22 halftime deficit to trip the Cornhuskers, 64-54, in a Big 12 Tournament quarterfinal game on March 14 in Kansas City, Mo.
"I remember they played us really tough in the Big 12 Tournament," Collins said of the Huskers (12-6, 2-3), who were led by big man Aleks Maric, sorely missed this season.
Chris Balham, a junior out of Shawnee Mission West, who has been slowed by a strained knee, is now NU's tallest starter at 6-foot-8.
Dagunduro, a senior, stands 6-5; Henry, a junior, 6-3; Harley, a senior, 5-11 and Miller 5-7.
"They are scrappy," KU coach Bill Self said of an NU team coming off Saturday's 76-74 overtime loss to Oklahoma State in Devaney.
"They may be smaller. The NBA is getting smaller. Everybody is spreading the floor four around one with ball-screen action. It's what Nebraska is doing, (a) trap, scramble defense. They make you make plays on the fly. They don't give you an opportunity to run your set stuff.
"If we can't take advantage of our size advantage, then the advantage goes to them because we'll have to get out and guard them on the perimeter," Self added. "Hopefully we'll have success playing big."
Coach Sadler is proud of his undersized Huskers.
"You go bang with a guy they are fixin' to bang with and you are 6-3 or 6-4, you feel it for a couple days. Our guys don't complain. They come in and work hard," Sadler said. "We wouldn't have a chance to be competitive if they didn't do that."
NU may receive a positive reinforcement on the inside tonight.
Freshman Brian Diaz, a 6-foot-11, 235-pounder, was admitted to school and enrolled in classes on Jan. 17. Sadler said he'd like for Diaz to play, but it is the player's decision whether to take a red-shirt season or not.
If Diaz doesn't play, Aldrich figures to be pestered by a bunch of gnats on the inside.
"They fly around," Self said of the Huskers, who average 67 points a game while allowing 57.8. Missouri managed just 51 points in a five-point loss on Jan. 10 at Devaney.
"They'll trap the post. Every time Cole catches it, they'll throw two guys on him. If he brings it to his waist, there's a good chance they can deflect it or steal it.
"They do a great job rotating out of their traps, too. We've got to make good decisions out of post traps," Self added.
Aldrich could wind up with some slam dunks tonight.
"That's one thing we can utilize on the offensive side. We have a little height on them. We can try to throw it inside a little more," the 6-foot-11 Aldrich said.
It remains to be seen how the Huskers react to their last game — the two-point home loss to OSU. NU's only other home loss was a 66-64 shocker to Maryland-Baltimore County.
NU has defeated MU and Kansas State (73-51) at home and lost league games at Iowa State (65-53) and Oklahoma (72-61).
In non-conference play, Nebraska lost at Arizona State and Oregon State. NU's biggest nonconference victories were at TCU and over Creighton at Devaney.
NU has averaged 9,885 fans in 13 dates at 13,595-seat Devaney.
The Jayhawks have won 10 straight over the Huskers, four in a row in Devaney.
"We've played pretty well there the last two or three years," Self said. "This is a new team. They'll be scrappy, geeked up and ready for us. It's another tough challenge on the road, another game we can grow up as a team and improve a bit."
KU will return home to play Colorado on Saturday in a 3 p.m. tip.
More like this story on KUsports.com