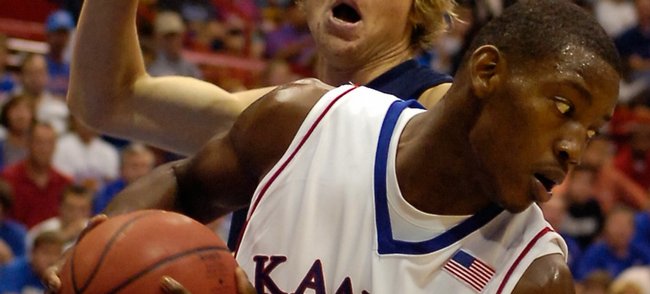 Kansas University basketball coach Bill Self singled out an unsung — some might say forgotten — freshman in the winner's locker room Saturday at Iowa State's Hilton Coliseum.
"Everybody wants to play all the time. I told our guys, 'This is a great example of a guy keeping a good attitude when obviously it could have gone the other way,'" Self said of power forward Quintrell Thomas.
The 6-foot-7, 240-pound New Jersey native busted a recent streak of inactivity by grabbing four rebounds in seven minutes in the Jayhawks' 82-67 victory over the Cyclones.
"When his number was called, he responded. Quintrell played very well," Self said. "Brackins (Craig, 42 points) still scored a couple baskets on him, (but) I thought he defended him well. He rebounded the ball well. He was a good spark for us."
Thomas — he played seven or more minutes in eight of KU's first 12 games — had logged nine total minutes in six games since his season-high 15-minute outing versus Albany on Dec. 30.
"Coach had been talking about that a lot recently," Thomas said of Jayhawk reserves being ready to play at any time. "He brought everybody (together) in the locker room because a lot of people, of course, are not happy with their playing time or whatever. He was like, 'Everybody keep a good attitude, and your time will come.'''
Thomas said, "yeah it is" when asked if sometimes it's tough to keep a positive attitude when sitting.
"Anybody who is used to being a starter and playing all the minutes — everybody that's here, of course, has been there at some point — is going to have a harder time adjusting to that," said Thomas. He averaged 14.7 points and 8.5 rebounds his senior year at St. Patrick High in Elizabeth, N.J.
"At first I was really, really frustrated. It's hard to watch everybody else — real hard. There's nothing you can do about it. It's coach's decision. As time went on, I was questioning my role a little more and see(ing) what I had to do. I just stayed kind of patient."
Thomas and a beloved family member both recently sought out Self's take on what Quintrell needed to do to earn some minutes.
"He had a conversation with my mother, and I had a conversation with him. He was saying he expects me to be doing a lot more with my body type. I guess he just wants me to come in there and throw people around," Thomas said with a laugh.
Thomas grinned when asked if he was willing to be KU's "enforcer."
"Yeah, whatever it takes," Thomas said. "Coach had a conversation with us about that earlier. He said we need an enforcer on the team, and nobody has stepped up into that role.
"He was saying Cole (Aldrich) can't do it because he's playing a lot of minutes, and then he pointed at his legs, like, 'he can't be that enforcer (with thin legs),''' Thomas added.
Always-honest Thomas — in his element joking with reporters Monday — admits he hasn't been all jolly and carefree during his recent period of inactivity.
He said the possibility of transferring to another school at semester, "did cross my mind. I really didn't talk to anybody about transferring. It was something coming up (in conversation) a lot.
"I love it here. Other than the playing-time situation, everything is good, and that (playing time) could change (for the better) at any time."
Self said his four-man big-man rotation still can change "week to week."
He said he sees big things for Thomas down the line.
"So many young players pick a school because they want immediate satisfaction. I think Quintrell did it over time," Self said on his Monday Hawk Talk radio show. "Over time, this could turn out to be a great situation for him. We did not recruit him to play 20 minutes a game as a freshman. We felt he would impact the team in some way as a freshman. We felt he would have a big impact down the line."
It might be tough for Thomas to crack the 2008-09 rotation with Mario Little now playing more power forward than small forward. If Thomas becomes depressed the days he doesn't play the rest of the way ... guys like sophomore Aldrich will be on hand to provide support.
"It's tough to be happy with your playing time. There are guys on the team who wish they'd play more. There's probably only two guys on the team who don't want to play more — me and Sherron," Aldrich said of KU's multi-minute men.
"Everybody goes through that their freshman year. They want to do everything they can to help us win. Sometimes you are in the game. Sometimes you are not. I definitely went through that struggle my freshman year. Quintrell had good production the other night. When his name is called, he has to do every little thing to help us," Aldrich added.
He'll try.
And try to remain healthy, too. Thomas said his left shoulder, which popped out of place at times earlier this season, has not bothered him of late.
"Nah, my shoulder is not bothering me. It's just like that in college basketball. You wake up and it's like, 'Oh what's that?''' he said of nagging injuries. "Over the trip to Canada, my shoulder was bad. Lately it's gotten a lot better. As long as it's not a factor in my playing, I'm all right."
•The leader: Self related a story at Monday's weekly news conference on Collins becoming a true team leader.
"I wasn't having much fun working with our guys six to eight weeks ago because I felt we were coaching 'effort' every play, every possession, as opposed to coaching execution. He said, 'It's my job to make sure our guys provide the effort. It's coach's job to correct it.' I haven't had to get on the guys much at all for playing hard here lately," Self added in praising Collins.
"It is my job," Collins said. "Before we'd waste 30 minutes because nobody was trying. All the young guys have bought into effort, and now he can coach defensive positioning, trapping the post, things like that."
More like this story on KUsports.com