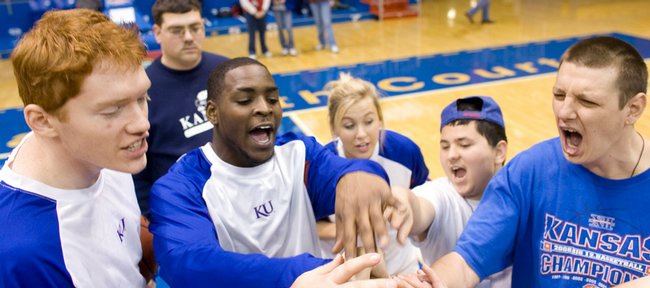 A polite, soft-spoken teenage Special Olympian approached Kansas University basketball coach Bill Self at the conclusion of the 25th-annual Wilt Chamberlain Clinic on Sunday in Allen Fieldhouse.
"I wanted to congratulate you on being 2008 national champions. I watched it on TV," the youngster with "Josh" on his name tag said.
"Let's do it again. Want to?" Self replied.
"I'd love to," the youngster exclaimed, receiving a pat on the back from Self before exiting the building with his parents.
More than 100 Special Olympians from Kansas and the Kansas City metro area spent two hours scrimmaging and taking part in drills with players and coaches on KU's 2008-09 team.
"This is great. Certainly one of the highlights of our year is the Sunday in late January when we do this," Self said of the event, which was started by coach Larry Brown and has continued through the Roy Williams and Self eras.
"It's a great day to share and touch other people's lives and at the same time to feel how fortunate we are to play the game we love and to run up and down the floor without any restrictions," Self added. "I really believe the more people give, the more you get out of it. Our program surely benefits from this event."
Chris Hahn, CEO and president of Kansas Special Olympics, presented Self a framed piece of art recognizing the 25th anniversary of the clinic. The artwork included a 25th anniversary logo, photos from previous years and several Special Olympic medals.
"Our athletes look forward to a lot of events and activities throughout the year, but I think the University of Kansas basketball clinic is probably one of their most favorite events they attend year in and year out," Hahn said. "They absolutely love it."
Some highlights included:
• KU freshman Marcus Morris walking into the stands to personally escort a shy Olympian into the drills.
• KU soph Cole Aldrich and freshman Travis Releford hoisting young Olympians high into the air so they could drop the ball through the hoop when it'd otherwise be impossible to score.
• Self, his assistant coaches and all the players sitting on the floor with the Olympians as they gathered for a group picture.
"Thanks so much for teaching these guys to be young men. They (Jayhawks) did a great job today. These Special Olympians will never forget this day," a woman told Self after a brief autograph session.