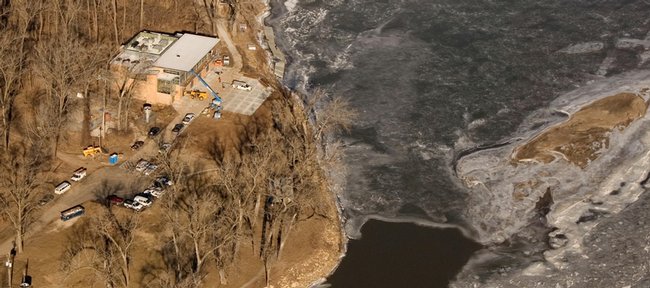 Open house
As part of the University's "40 Years of Women's Sports at KU Celebration," Lawrence community members as well as past and present KU female athletes are invited to an open house at the boathouse from 1 p.m. to 4 p.m. Feb. 28.
Kansas University senior Emily Martin is used to leaving practice filthy.
Martin and other Kansas University rowing team members are used to carrying 200-pound boats through ankle-deep mud. They're used to fixing dents in their boats after a night of hail.
But this will soon become a distant memory once a new boathouse opens Feb. 6 in Burcham Park.
"What we had wasn't a facility," said Martin, of Wellington and a member of the women's varsity rowing team. "This will really make everything a lot easier, a lot nicer and a lot cleaner."
The rowing teams practice from August to May. Until the Kansas River thaws, the rowers will practice in the new facility's indoor training area.
The new building features four boat bays, locker rooms, showers, a kitchen and laundry facilities. The boathouse also has a study area and a separate room for the medical training staff.
With the opening of the new building, team members no longer will have to store their boats within a chain-link fence. The only other amenities in Burcham Park for the teams were two portable toilets. The medical training staff has been working out of a van.
In addition to providing protection for the teams' equipment, head rowing coach Rob Catloth said the facility will boost team morale.
Team adviser Steven Maynard-Moody agreed. "Boathouses are not only a place where boats are stored, but sort of the heart of the program," he said. "Boathouses become places for people to gather together and feel like they're at home."
In 2006, KU students approved a $15 tuition fee to help fund the boathouse. Construction on the $6 million facility began last March.
"We're real excited and thankful for this facility," Catloth said. "A state university is really about students helping students, and that's what happened."
KU currently has more than 140 rowers on three teams — two club teams and a women's varsity team.
More like this story on KUsports.com