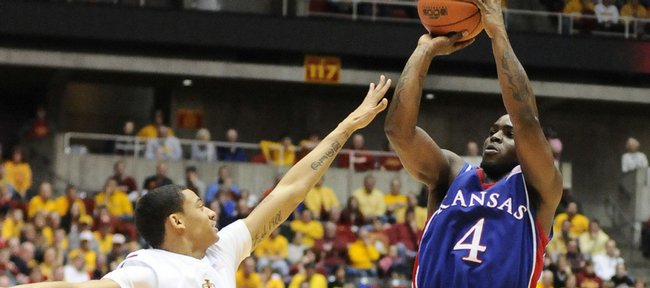 KU scoring
Collins 26 (10-for-19 shooting), Aldrich 16, Taylor 10, Reed 10, Little 9 (4-for-4 shooting), Morningstar 9, Markieff Morris 2.
KU was 31-for-61 from the floor (50.8 percent), 6-for-13 from three (46.2 percent) and 14-for-18 from the free-throw line (77.8 percent).
KU out-rebounded ISU, 39-31, and had 11 turnovers to the Cyclones' nine.
FINAL: KU wins 82-67
You don't see this often: ISU has to foul five times to get KU to one-and-ones. Up to that point, KU had 10 fouls to ISU's two.
From high in the rafters, the "Rock Chalk" chant rains down with two minutes left.
Craig Brackins checks out with 40 seconds left. His 42 points are a career high and also the high for the Big 12 this season.
KU comes away with a 15-point road victory.
KU 73/ISU 60 — 2:49 left in game
KU is having problems in half-court sets. Aldrich misses a pair of shots inside, and Brackins — why not? — hits another three from the top. That's 38 points and 3-for-4 shooting from deep.
Aldrich gets KU a big bucket, as he follows a Collins miss with a stickback jam. That quiets down what was a raucous crowd.
Collins penetrates with the shot clock running down, pitching out to Reed for a three. Reed screams out to the crowd in excitement.
Collins goes one-on-one the next possession, getting to the lane before hitting a 10-foot fallaway. Self claps for his team, which looks to have proven that it will be tough enough to win this game.
KU 66/ISU 55 — 7:42 left in game
KU has hit a run of three turnovers in four possessions. ISU only gets four points closer.
ISU fans are chanting, "Harrison! Barnes!" across the gym during a timeout. Don't think they want their hometown boy going anywhere else.
Charles Boozer (a dead-ringer in the face of older brother Carlos) makes a pair of free throws.
Another turnover by Collins. He's having a poor second half. Little, meanwhile, picks up his fourth foul on a touch call inside. KU has eight fouls to ISU's two this half.
KU 62/ISU 47 — 11:35 left in game
Brackins hits a turn-around from the baseline, giving him his 30th point. It's his fourth 30-point game as a Cyclone, and he's only a sophomore.
Morningstar once again contributes on the defensive end, poking the ball away before throwing ahead to Aldrich. Though I think Morningstar would have beat him in a race to the rim, Aldrich still has enough steam to get to the basket for a thunder jam.
KU 56/ISU 44 — 15:34 left in game
KU shows great post moves to start the half.
Little starts with an up-and-under, finishing with a left-handed layup. Collins gets a pass on a cut to the basket, and he lays one in. On the next possession, Aldrich powers his way to the rim for a tough two.
Taylor gets a steal and puts in a one-handed stuff. Later, Morningstar drains a 16-footer in transition.
KU's starting to pull away, and ISU isn't the kind of team that has the firepower to come back from a big deficit.
KU scoring
Collins 18 (7-for 11 shooting, 3-for-4 from three-point range), Morningstar 7, Taylor 6, Little 6 (3-for-3 shooting), Aldrich 4, Reed 3.
KU made 16 of 32 shots (50 percent), 7 of 10 free throws (70 percent) and 5 of 8 threes (62.5 percent).
ISU was 11-for-26 from the floor (42.3 percent, 12-for-13 from the free-throw line (92.3 percent) and 4-for-12 from three (33.3 percent).
KU out-rebounded ISU, 17-16, in the first half. KU had five turnovers to ISU's six.
Halftime thoughts
• Some games seem like they are blowouts when they aren't. This game, to me, has been the opposite.
Just when I think ISU has almost taken the lead, I look up and KU's still up by 6-8 points. It's the same at halftime, and a lot of the credit can go to Collins.
• Without question, that's the best I've seen Collins play this season, especially in the first 12 minutes. He was confident in his shot and into the game on both ends. KU will need more energy from him in the second half.
• I don't know if it's been shown much on TV, but Self has been especially intense during today's game. Most of his yells have been directed at players, but he's also been visibly upset with quite a few calls. Keep this in mind if KU has a questionable call go against it in the second half. The foundation has already been set for a potential Self blowup.
• Two fouls for the Morris twins and Little. We'll see if the foul trouble affects the Jayhawks late.
• Even with his limited production at times, I would have to say that Little deciding not to red-shirt looks to be a good decision for both he and the team, at least at this point.
KU 44/ISU 38 — Halftime
Little can't miss from the floor. He dribbles in to hit two more mid-range jumpers — draining one even though he was fouled. That's at least nine straight made field goals for him, as he's 3-for-3 today.
Brackins, a 64.5 percent free-throw shooter coming in, has gone 8-for-9 (89 percent) today. He's up to 22 points at half.
Following an offensive rebound, Morningstar drains a 12-footer off the glass just before the halftime buzzer. In true Brady fashion, he runs off the floor with no emotion like nothing happened at all.
KU 36/ISU 29 — 2:45 left in 1st half
KU's offense starts to look sluggish. The Jayhawks look like they're waiting for Collins to shoot it.
Collins gets a steal, and it leads to a fast-break finger-roll from Taylor.
With two fouls on both Morris twins, Quintrell Thomas gets his first meaningful minutes in a while.
Mario Little once again shows that flash of offensive potential, pivoting before swishing a 12-foot turnaround on the baseline. That's an NBA move if I've ever seen one.
KU 27/ISU 19 — 7:49 left in 1st half
Collins has taken this game over. He hits a pull-up jumper, then on the break, he doesn't hesitate, draining an 18-foot jumper. That's 18 points on 7-for-8 shooting (with 3-for-3 shooting from three-point range) and also two-thirds of the Jayhawks' point so far.
KU 23/ISU 19 — 9:36 left in 1st half
Collins gets a three-point play, driving inside while drawing contact. KU hasn't been getting the ball to Cole Aldrich much, but I will say each perimeter player has made an effort to look inside before passing elsewhere.
Brackins has come to play. He was 9-for-33 from three coming in, but he's swished two threes in the last three ISU possessions. Suddenly, the lead has slipped to three. Brackins has 12 points already in just 6 minutes, 42 seconds.
Reed falls behind an Aldrich pick and hits a much-needed three for KU.
Collins hits another three, and he's answering Brackins blow-for-blow. The junior has 14 points on 5-for-6 shooting.
KU 12/ISU 3 — 15:39 left in 1st half
KU comes out like it's the team that like to shoot threes.
The Jayhawks first three attempts are treys, and Sherron Collins hits two of them to give KU a 6-0 lead.
Brady Morningstar continues to play great defense. He's stopped by a hard screen but still manages to get to Staiger on the perimeter, forcing a tough shot.
Morningstar drains an 18-footer, and KU's up 8-0. Timeout ISU. KU seems to start out well every game.
Marcus Morris has been matched on Brackins in the early going, and he's done a serviceable job so far. He has picked up an early foul, though, when he grazed Brackins arm on a shot attempt.
12:56 p.m.
A few quick notes about ISU before we get going:
• Six-foot-10 forward Craig Brackins is averaging 18.8 points per game. His 38-point performance against Houston last month was the highest output from a Big 12 player this season.
• ISU is 12-0 when it shoots better than its opponent. The Cyclones are 0-6 when they shoot worse.
• ISU has averaged just 59.3 points per game in conference play.
• The Cyclones' opponents are averaging just 9 turnovers per game in Big 12 play.
• Lucca Staiger has his multiple three-pointers in eight straight games. He's shooting 42.7 percent from three this year.
• ISU shoots three-pointers on 39.1 percent of its possessions.
12:48 p.m.
Gary Bedore was talking to an ISU student — dressed as a Gorilla — and another event on campus might affect today's attendance.
Evidently, there is a dance marathon taking place on campus, with funds going to the Children's Miracle Network. Students are supposed to remain dancing/standing for 15 straight hours.
Unless we get a huge rush late, this won't be a sellout. Only two rows in the upper deck across from me are full.
Speaking of the students, we have a diversely dressed bunch. There's a life-size banana behind me, and I've also seen red and yellow fake mohawks, overalls and tons of cowboy hats.
It's also "Gold Rules" Day, so be prepared to see yellow when you turn on your TV.
12:23 p.m.
Here's what the Cyclones are saying about today's game. Click on the links for the stories from gocyclones.com.
• "Some people in class the other day, they said, 'So are you ready for the big one?' Everyone's getting a little more excited because there's a national powerhouse team coming in here." — Iowa State senior guard Bryan Petersen
• As Bryan Petersen prepares to head to Hilton Coliseum each game day, roommate Jamie Vanderbeken poses the same question.
"You think it's going to be a full house tonight?" Vanderbeken always asks.
Petersen often waivers in his answer, but this morning, he'll be certain of his response.
"I know for sure I can tell him this time around, 'Yeah, it's going to be full, and it's going to be real Hilton Magic,'" Petersen said.
• Also, gocyclones.com columnist Courtney Linehan questions why Springfield, Mo., writer Allen Vaughan would report the recruiting exchange last week between Self and John Wall. Interesting take from an outside perspective.
11:38 a.m.
Welcome back to the Newell Post Live, coming to you from Hilton Coliseum in Ames, Iowa, where the Kansas Jayhawks are getting set to take on the Iowa State Cyclones.
In the Journal-World sports department, we affectionately call them "chuckers" — those players that, whether in a pickup or organized basketball game, seem to always shoot the basketball.
In today's game between KU and ISU, we will have the Big 12's top two chuckers going at it head-to-head.
Take a look at the stats, brought to you once again by our good friends at Kenpom.com.
Here are the Big 12's top five players in "Percentage of shots taken" — that is, the percentage of shots a player takes when he is on the court.
1. Craig Brackins, Iowa State — 35.5 percent
T2. Sherron Collins, KU — 29.0 percent
T2. LaceDarius Dunn, Baylor — 29.0 percent
4. Jacob Pullen, KSU — 28.2 percent
5. Denis Clemente, KSU — 28.1 percent
I'm going to be honest: Sherron is a little higher on this list than I thought he'd be.
KU coach Bill Self, before the season began, told the Journal-World that Collins needed to be "best-conditioned player in our league because he will take more shots than anybody in our league. I don't know if he'll get 20 off, (but) I really believe he can attempt in that 18-range average for the year. If he does that and makes half of them, you are looking at a guy who averages 22 (points) a game."
Predictably, fans' response to the Self's statement was mixed. Many didn't think Collins shooting a ton would be best for the team.
The statistics, at least early on, seemed to back that up.
Collins only attempted 18 shots in two of his first nine games. Want to guess which games those were?
Syracuse (8-for-22) and UMass (6-for-21). Loss and loss.
Collins has only attempted 18 shots in one other game this season, and that was an 8-for-18 performance in a 71-59 victory over Temple.
Earlier this week, Self admitted that he had changed his thinking regarding Collins's shots.
"I really believe the less shots Sherron has attempted — in some games and in some situations and when he's really focused on getting other guys shots — is when we have looked our best as a team," Self said.
Collins hasn't had more than 14 field-goal attempts in any of his last seven games. During that stretch, KU is 6-1.
"I don't think we should put a number on him — on how many shots he should take — because of certain situations, depending on how people guard us and things like that," Self said. "I will say this: Fourteen (shots) is extremely low based on what I even thought coming into the season. I didn't know that we'd get adequate scoring around him."
What's surprising to me is that Collins is still so high in percentage of shots taken on the Big 12 list.
Where is Colorado's Cory Higgins? Texas' A.J. Abrams? Oklahoma State's Byron Eaton?
From the outside looking in, I would assume all those players would need to take a high percentage of their teams' shots to be successful.
As it stands, despite being more unselfish than his coach predicted, Collins still is the second-best Big 12 chucker.