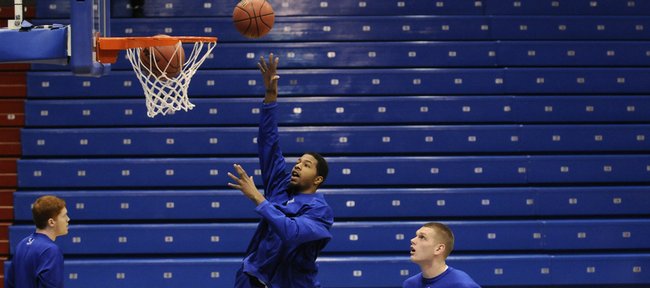 Ames, Iowa — Kansas University basketball coach Bill Self has had better luck than his mentor in Hilton Coliseum, home of the Iowa State Cyclones.
So far, at least.
"Coach (Larry) Brown went there five years and never won in Ames with a guy named (Danny) Manning on the team," said Self, who has led the Jayhawks to four victories in five tries in the 14,356-seat building entering today's 1 p.m. tipoff.
"It's called 'Hilton Magic' when they get on a roll. Hopefully we can eliminate that," Self added.
KU has won 19 games and lost 18 in Hilton Coliseum throughout history.
Some recent Jayhawk standouts have had a mixed bag of success/failure in the building, which today will be full of fans wearing gold as part of a "Gold Rules Day" promotion.
Former KU power forward Raef LaFrentz, a native of Monona, Iowa, had a 3-1 record at Hilton.
Nick Collison (Iowa Falls) and Kirk Hinrich (Sioux City) went 2-2, while Wayne Simien was 3-1.
"The thing about it that amazes me," Self said, "is of all the places we go in the Big 12, Ames is where the least amount of Jayhawks show up. It may be because all the tickets are sold. At Nebraska, we get good support, Colorado we get good support. Ames is one they've been able to keep opposing fans out of there."
KU's national title team won, 75-64, last Feb. 27 in Hilton. Self used just eight players in the game. Returnees Sherron Collins scored seven points in 18 minutes and Cole Aldrich none in four minutes.
ISU's top player — sophomore Craig Brackins — had six points with no rebounds after scoring 13 points with eight boards in KU's 83-59 win on Jan. 23 in Lawrence.
KU won, 68-64, in overtime in 2007; 95-85 in '06 and 71-66 in '05 after losing 68-61 in '04 in Hilton.
"Every year it seems to come down to the last minute," Self said.
KU sophomore Brady Morningstar made the trip to Ames as a red-shirt last year after also experiencing a victory his freshman season.
"It's always filled and it gets really loud," Morningstar said of the building in which ISU has a 10-2 record this season while averaging 12,101 fans.
"They always seem to play pretty well at home. We've got to go in there with the same mindset as we did at Colorado (73-56 win last Saturday) and get a win."
ISU (12-6, 1-2) is 1-0 at home in Big 12 play, with a 65-53 victory over Nebraska on Jan. 14.
"Everywhere in the Big 12 is tough to play. Coach said Iowa State is one of the toughest places," freshman forward Marcus Morris said. "We had half the crowd when we went to Colorado. I never played at a place away where every time we scored the crowd seemed happy for us. This will be a lot different."
Noted junior Mario Little: "I heard it's tough to get a win over there. We'll have to be focused because it'll be on the road, so it'll be 15 versus 14,000 or 15,000. We have to be one unit. We have to be strong together."
KU is 1-0 in the league on the road; 2-0 at home.
"I think we are confident now. We got a good road win at Colorado (after losing nonconference games at Michigan State and Arizona) even though we had a majority of the fans," Little said. "We'll see what happens at Iowa State. I know we won't have many fans there."
Notes:
Bus ride: The Jayhawks decided to ride a charter bus to Ames on Friday, rather than fly. Why? Self gave the answer on this week's Hawk Talk radio show.
"I like taking the bus. I don't if it's more than four hours," Self said. "By the time we get organized, go to Topeka (to board charter flight) and go through screening, get on the plane, off the plane, regroup, it's probably an hour longer (than driving four hours). We practice, bus to Ames. We can't practice in Ames because they have a wrestling tournament going on in Hilton. We bus back after the game is over, hopefully get back by early evening, 8 or so."
Big game today: Iowa State's fans are fired up for today's game against the defending national champs.
"Some people in class the other day, they said, 'So are you ready for the big one?'" ISU guard Bryan Petersen told the Ames Tribune (gocyclones.com). "Everyone's getting a little more excited because there's a national powerhouse team coming in here."
"They are the defending national champions, and they get to hold that crown until whatever that day is in April when the final game takes place," McDermott told the paper. "They're a program that's rich in basketball tradition, so that makes the game probably more fun for them, more exciting for them."
More like this story on KUsports.com