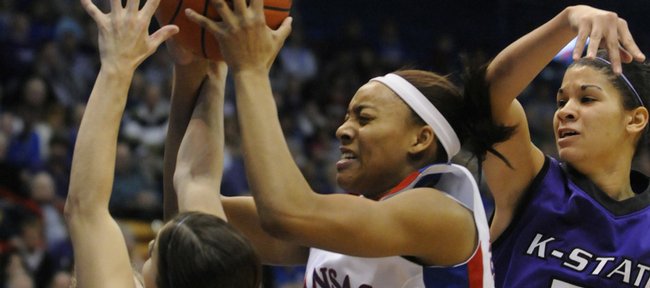 Aishah Sutherland might as well have been an assistant coach.
For three straight games, Sutherland, the only healthy freshman on Kansas University's women's basketball roster, never left the bench.
Then Sutherland logged a surprising 32 minutes in the Jayhawks' 59-50 loss to Kansas State on Saturday afternoon in Allen Fieldhouse.
"It got pretty frustrating," said Sutherland, a 6-foot-2 forward-center from Perris, Calif., of her DNP-Coach's Decision stretch.
But she certainly didn't look rusty in scoring nine points and grabbing a game-high 12 rebounds — both career highs — during her unexpected floor time against the Wildcats.
Check that. Her PT wasn't unexpected.
"We had a lot of reps in practice to get me prepared," Sutherland said.
Coach Bonnie Henrickson went to Sutherland only a couple of minutes after the tipoff when it was clear starting center Krysten Boogaard was having trouble with the Wildcats' smooth Marlies Gipson.
"I thought we could use her athleticism," Henrickson said of Sutherland. "Did I think she would play 32 minutes? No. But I think what you saw is the player she can be."
On paper, it doesn't look like Sutherland really had that much of an effect on Gipson, who made 10 of 15 shots and scored a game-high 23 points. But Gipson was hot and made many of those shots with a hand in her face.
"(Sutherland) altered some shots and she blocked a couple," Henrickson noted. "She has that kind of athleticism."
With Sade Morris, the Jayhawks' second-leading scorer, missing her second straight game because of the lingering effects of a concussion, Henrickson has been forced to turn Danielle McCray into a one-on-one player.
McCray scored a career-high 30 points at Nebraska the other night, and she had 26 Saturday as a go-to player.
"I've always wanted to do that," McCray said, "and now that (Morris) is out, I'm getting more reps."
McCray launched a career-high 25 shots, one more than her teammates combined, and made 10. As noted, Sutherland added nine points, and so did LaChelda Jacobs. Three other Jayhawks scored two apiece.
Point guard Ivana Catic played 38 minutes and didn't take a single shot, while Nicollette Smith logged 37 minutes and managed just a pair of free throws.
"Nicollette really struggled," Henrickson said. "She has to find ways to score when the three-pointer isn't dropping. We need more balance. We need more kids to step up and play."
Sutherland stepped up Saturday, but the Jayhawks needed more firepower against the No. 15-ranked team in the country and the NCAA leader in scoring defense (49.8 points a game).
On the positive side, KU was charged with 10 turnovers, a season low, and had nine steals, three apiece by Smith and Catic.
Nevertheless, Kansas State (17-1) won for the 16th time in the last 17 meetings in the Sunflower Showdown despite the fact the Jayhawks played about as well as they can play with the personnel available.
"There's no such thing as moral victories," Henrickson said, "but I'm proud of our kids' toughness and resiliency. I'm not happy with the result, but I'm proud of the kids for the process."
In dropping their third straight, the Jayhawks (12-6) fell to 1-4 in the conference and will have to play three of their next four on the road, starting with Texas A&M; on Saturday.
More like this story on KUsports.com