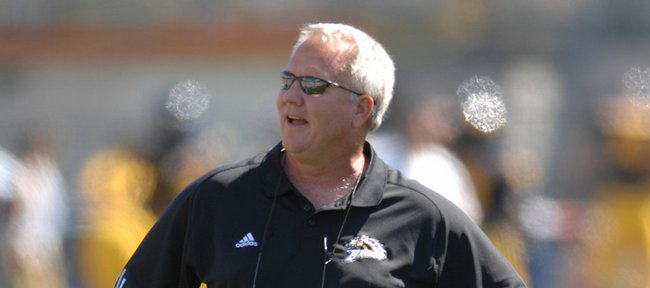 Only seven days after being named linebackers coach and co-defensive coordinator for the Kansas University football team — just a week since he arrived in Lawrence from his previous post at Louisville — Bill Miller was already bustling about the Anderson Family Football Complex with authority.
On an overcast Saturday last week, Miller, dressed in a royal blue KU sweater vest and equipped with a university-issued BlackBerry, looked more like a university veteran than a new hire as he went about his business, which on this day included sitting in on meetings, schmoozing with his new colleagues and explaining to a pair of recruits why, exactly, they would fit in perfectly at Kansas.
Based on the comfort level he seems to have built in such a short period of time — coupled with his surprisingly well-settled office and the whiteboard already filled to capacity with scribbled names and positions — it's safe to assume Miller's done this a time or two before. Which, incidentally, he has.
During a coaching career that has spanned 11 schools and 31 years, adapting quickly to new surroundings is something at which Miller has become greatly adept.
As the coach puts it, taking a seat behind his new desk, "This isn't my first rodeo."
Since entering the coaching world in 1978, as a graduate assistant at Texas-Arlington, Miller has been part of eight conferences, coached in 10 bowl games and helped a great deal of players make the jump to the National Football League.
And entering what figures to be a potentially big year for the Kansas football team — the Jayhawks return nearly all of the major pieces from last season's 8-5 team — he arrives to help restore a defense that struggled for stretches last season.
"With where he's been and what he's been asked to do, his experience and understanding of the game is substantial," says Clint Bowen, who is preparing for his second season as the Jayhawks' primary defensive coordinator. "As far as running teams and being exposed to different styles, he just has a ton of knowledge banked in there."
Experience is widely considered to be Miller's greatest asset, and the coach admits that his various coaching stops have provided him with a unique set of skills and knowledge — even if the number of job changes have also raised some eyebrows.
On occasion, some have glanced at his resume — the one that lists nine coaching jobs that have lasted three seasons or fewer — and determined that he's a coaching nomad, content to hop from one program to another, constantly plotting his next move.
Not the case, says Miller.
"That's one thing that I think some people don't realize," he says. "They think, well, you're just moving around a lot.
"Very seldom has it been by choice."
It certainly wasn't by choice in 2002, when Michigan State fired head coach Bobby Williams and the team's assistants — Miller was a defensive coordinator at the time — were left scrambling to find new jobs. Nor was it in 2004, when Florida fired Ron Zook, or in 2006, when Arizona State let Dirk Koetter go, each firing forcing the teams' assistants to seek employment elsewhere.
In fact, were it not for Pat Jones leaving Oklahoma State following the 1994 season, Miller says he'd likely still be part of the Cowboys' staff.
"Sometimes coaches have to move," Miller says. "It's not their decision to relocate. Shoot, last (week) Jon Gruden's fired. What's that mean for those assistants? In the assistant coaching world, you've got to maintain employment."
At the same time, his recent arrival in Lawrence represents a bit of an anomaly: For once, it wasn't a move made out of necessity.
Despite being promoted to defensive coordinator this offseason by Louisville head coach Steve Kragthorpe — he spent the 2008 season as the team's linebackers coach — Miller jumped at the opportunity when Kansas coaches contacted him with the idea of helping the team's defense rebound from a down year this past season.
A Hutchinson native, Miller had always entertained the idea of returning to his home state. Having played football for two seasons at Hutchinson Junior College in 1974 and '75, and with both his father and brother still living in the area, the Sunflower State always held a certain draw to the 51-year-old Miller.
"I was born and raised in Hutchinson," says the coach. "That's my home, and I've never really had an opportunity to come back. And then this opportunity came up, to be near my dad, who's still in Hutchinson, and to get a chance to coach at Kansas, which is a place that I've always loved."
So much so, in fact, that he was willing to take an apparent bump in title — at Kansas, he'll work as a co-defensive coordinator to primary coordinator Bowen — and enter into a conference that hasn't been kind to defenses in recent years.
It's a situation that both sides are hoping will prove fruitful.
In Kansas, Miller sees a program that has improved by leaps and bounds under head coach Mark Mangino. And in Miller, Kansas sees a man who has succeeded at the highest level, one who has worked alongside some of the nation's most prominent coaches at some of the nation's most prominent football schools.
"Like in anything in life, the more you're exposed to, the more you learn," Bowen said. "He's seen different styles of football and been exposed to different coaches — how they think and operate."
One of Miller's biggest contributions, however, might come in the realm of recruiting. While Kansas has managed to consistently pluck future stars from Texas — Aqib Talib, Dezmon Briscoe and Todd Reesing come to mind — the Sunshine State, despite its supple supply of talent, has represented a rather dormant recruiting ground.
Only two current players — punter Alonso Rojas and backup receiver Tertavian Ingram — are from Florida, although with Miller's history in the state, having spent four years as the defensive coordinator at Miami and two seasons as the associate head coach/linebackers coach at Florida, it is the opinion of some that that could soon change.
"I went with Bill to South Florida (on a recruiting trip), and it's just incredible how many people know him there," says former Arizona State coach and current Jacksonville Jaguars assistant Dirk Koetter. "Bill will get some kids from South Florida to visit Kansas that will surprise some people."
In the meantime, he's learning as much about his new team as he can. Last week, he met the 11 players expected to play linebacker next season, and he's already going about the unenviable task of replacing departed linebackers Joe Mortensen, James Holt and Mike Rivera, each of whom has played his last season at Kansas.
He points to a list of linebackers scrawled across his office whiteboard, going through the names, giving quick run-downs about different players: which ones can help next season, which ones he's heard good things about.
How well the Jayhawks' new linebacking corps is able to perform together this season will likely have a significant effect on the team's level of success, and Miller, by all indications, seems well aware of this fact.
He's dealt with inexperience before. He's confident he can do it again.
"This has been an interesting run," says Miller, before rising from his chair and delving back into the details of his new position. "I hope I've got a few more years left in me. I think I do. I think I can really help us here, and I'm looking forward to that opportunity."
More like this story on KUsports.com