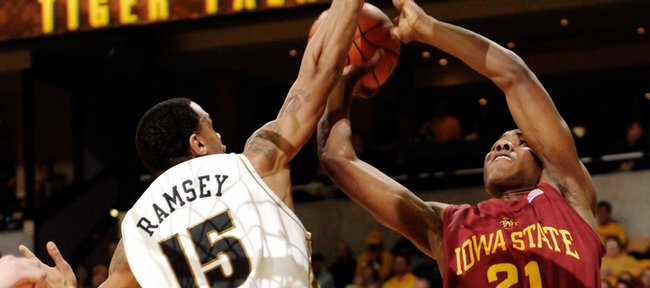 Ames, Iowa — Greg McDermott has had a full week to work on Iowa State's biggest weakness: offense.
"It's important we get quality time in trying to build some things offensively," said third-year ISU basketball coach McDermott.
His Cyclones (12-6, 1-2) scored a season-low 46 points in a 77-46 blowout defeat last Saturday at Missouri.
"We're not sharp. It's where we have to improve. It's been an inconsistency for us all year," he said.
The Cyclones — who are tied with Colorado for last place in the Big 12 in scoring at 66.2 points per game — hope a week of drills end the scoring drought against Kansas University (14-4, 3-0) at 1 p.m. today on ESPN.
"Shooting cures a lot of things," McDermott said.
The Cyclones made 33.3 percent of their shots against Mizzou, including two of 17 threes. For the year, ISU has cashed just 43.9 percent of its shots, 10th best mark in the league.
"Execution determines the shot you get. Our execution was not good at Missouri," McDermott said.
ISU has won its lone Big 12 home game — 65-53 over Nebraska on Jan. 14 — while dropping games at Mizzou and Texas (75-67).
It's been bombs away this season. ISU has made 138 of 385 threes for 35.8 percent. The 385 attempts rank fourth most in the league. KU, in contrast, has attempted 314 threes, making 118 for 37.6 percent.
"This year, 40 percent of their shot attempts are threes. They'll let it fly, especially playing at home," KU coach Bill Self said. Indeed, 39.1 percent of ISU's attempts are from three. "They can put a lineup out there where you have to defend five guys from beyond the arc."
Guard Lucca Staiger has made a team-leading 47 of 110 threes for 42.7 percent. Even leading scorer Craig Brackins (18.1 ppg), at 6-foot-10, has launched 33 threes, hitting nine. He made 21 of 75 a year ago for 28 percent.
Brackins exploded onto the scene as a freshman, averaging 11.4 points and 5.0 boards. He had 13 points off 5-of-14 shooting with eight boards in a 83-59 loss to KU at Allen Fieldhouse and six points off 2-of-5 shooting with no boards in a 75-64 loss in the rematch in Hilton Coliseum.
"I think he is playing to his size more," Self said. "He's the third-leading scorer in the league and up there in rebounding (8.8 per game). He's gone from being a very skilled big guy to a guy who performs well in the post. He's taken less threes than last year. He's matured. He's more an all-around physical presence."
Brackins has made 119 of 233 two-point tries for 51.1 percent.
"I have been really working on my game and trying to be consistent every day in practice," Brackins said. "I need to be more consistent and stronger when I get to the basket and I have worked on being better focused and prepared when I come to practice. I know the younger guys on our team see this and you have to set an example for them."
The Palmdale, Calif., pivot is the face of the program following the shocking transfer of Wesley Johnson to Syracuse last May.
The squad's team leader has had some big games including a 38-point outing (off 15-of-23 shooting) at Houston; 32 off 12-of-23 shooting at Northern Iowa and 28 off 12-of-17 shooting against Jacksonville State.
Of his growing leadership role, Brackins told the Ames Tribune: "It's something I have no choice or no power over. A leader could be anything. It could be showing by example, it could be me giving advice to the freshmen every day. It's something, a situation I got put in because I am here and we are young."
Notes:
Stats, facts: The Cyclones (10-2 at home) have lost to Drake (66-63) and South Dakota State (65-58), while defeating NU, UC Davis, Loyola Marymount, UW-Milwaukee, Mississippi Valley State, Oregon State, Jacksonville State, Mercer, SIU-Edwardsville and Houston Baptist. ISU has also lost nonconference road games at Hawaii and Iowa. ... The team's second leader scorer is soph guard Diante Garrett at 10.6 ppg. ... Sherron Collins' next point will be No. 1,000. In all, 50 players have reached the 1,000 mark at KU. ... KU is 164-58 versus ISU and has won six straight in the series. ... ISU is 25-0 under third-year coach McDermott when holding teams to below 60 points.
More like this story on KUsports.com